Liverpool Football Club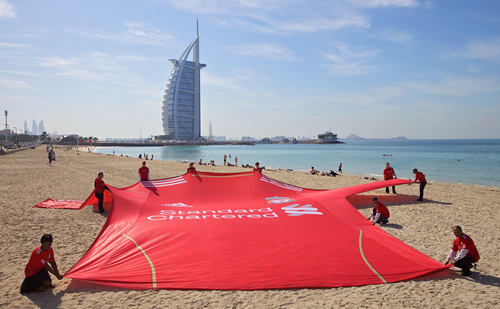 Our global partnership with the Liverpool Football Club began in July 2010. Through this partnership, the Bank gets access to some of the most successful players in football history, past and present, so that we can create a host of unique experiences for our customers and clients around the world.
We have organised four coaching clinics for children in the UAE from different schools in addition to 30 children from Rashid Paediatric Therapy Centre. The coaching clinics were led by Liverpool Football Club's community coaches and Ian Rush, a Liverpool Football Club legend.
We also initiated the Annual Sportsperson of the Year programme in which a student from the Centre is flown to the UK to become a mascot at an Liverpool Football Club's game.
Find out more about our global partnership with Liverpool Football Club »
Run for a Reason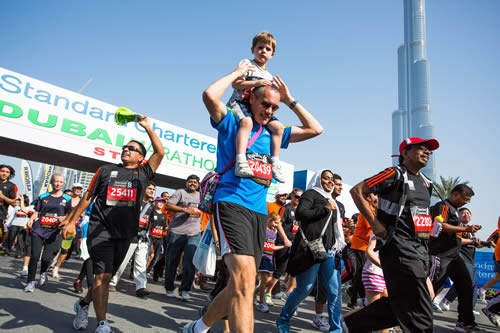 The Standard Chartered Dubai Marathon (SCDM) is held every year in January, with the start and finish location of the race currently located adjacent to the world's tallest building, Burj Khalifa. The Bank has been sponsoring the event since 2005 .The Marathon includes the 42km (Marathon), 10km (Road race), 3km (Fun run). In addition to these races, we have the Corporate Challenge; a team challenge for companies to participate in - and Leader's Cup; a 1km race for Seeing is Believing, the Bank's global programme to tackle avoidable blindness. This race was organised for up to 50 business leaders from across the Middle East region, helping the Bank raise USD34,000.
With a record number of 23,000 runners registered across all three distances, the IAAF has certified this event as the Best Marathon in Asia. The race has also won the Gold Label from the IAAF twice in a row since 2012.
We sponsor thirteen races spanning four continents, giving thousands of ordinary people the opportunity to do something extraordinary.
About Us
News & Media
Sustainability
Insights
Investor Relations