Navigating COVID-19 demands a digital-first approach
The COVID-19 pandemic has exposed significant shortfalls in digital transformations undertaken by organisations, and laid bare persistent operational inefficiencies which are likely to be further aggravated by the unpredictability of consumer demand. Despite having digitalisation plans in place, many companies are still not as data-driven, customer-oriented, and agile as they should be. The once 'good to have' digital capabilities which would have served as differentiators are now a 'must have'; they are no longer a choice but a necessity to give companies the agility and resilience to efficiently manage suppliers, optimise operations and better serve customers.
COVID-19 represents a turning point for digital transformation of businesses. It is a time for mid-corporates to shift to a digital-first model, and to prioritise and accelerate long-term digitalisation goals.  To operate successfully in a post-COVID world, companies need to keep pace in terms of their digital capabilities and implement their digital transformation plans.
Digital value chains are an imperative
A value chain covers the entire series of activities and processes required by an organistion to serve the customer and deliver 'value'. The pandemic has made it clear that adopting digital technology across key areas of the value chain is now critical for survival. These areas include, but are not limited to, managing operations and inventory, overseeing key supply chain partners (especially suppliers, distributors and logistics service providers), driving sales and engaging with customers as well as enabling functions such as finance and payments, human resources and workforce management etc. Developing digital value chains are a necessary step towards achieving resilient growth, helping mid-corporates respond with agility, and providing reliability when faced with significant disruptions and uncertainty. Mid-corporates must therefore take advantage of their greater flexibility to pivot their digital agendas to the forefront and prioritise their digital transformation plans.
Our survey1 shows that mid-corporates are planning to, or have already begun to, digitalise their value chains. The majority of respondents (67 per cent) are considering digital tools to improve supply chain visbility and resilience, while more than 60 per cent are looking at inventory management and warehousing as well as production monitoring and optimisation solutions.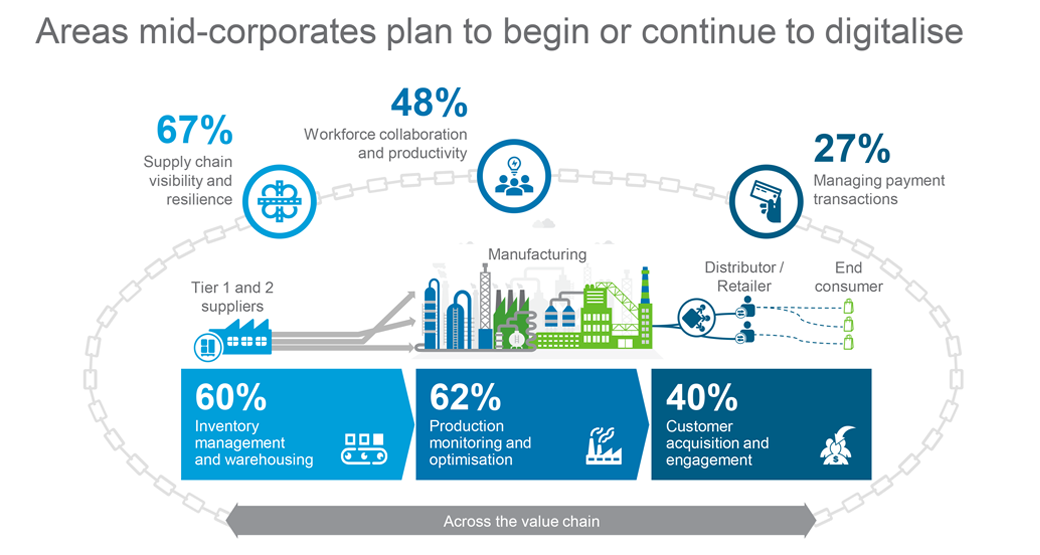 Overall, the digital transformation agenda for mid-corporates should be centred around three main dimensions:
Operations improvement
Customer engagement
Workforce enablement
1. Operations improvement
Mid-corporates need to devise a holistic plan built on a robust and flexible digital foundation that ensures operational continuity whilst anticipating and accommodating disruptions and fluctuations in demand patterns. Our survey1 shows that over 60 per cent of mid-corporates have already planned to digitalise major operational processes, from improving supply chain visibility to optimising inventory and production processes. Below we explore areas where mid-corporates can consider deploying digital solutions to drive efficiency, resilience and reliability:
In 'Transforming operations to succeed in a post-COVID-19 world' we highlighted the strategic shift from 'just-in-time' to 'just-in-case'2 approaches to supply chain management.  As priorities move from efficiency to resilience and reliability, creating more redundancy in supply chains will require mid-corporates to look beyond the flow of products and cash, to the flow of information. Technology can facilitate this and generate the end-to-end visibility necessary to identify risk with suppliers and swiftly respond to changes in demand to minimise disruptions in fulfilment.
Given the degree of disruption caused by the pandemic, mid-corporates will need to re-evaluate current forecasting and planning models, along with the data, to guide operational decisions. Upgrading and incorporating new technology that is able to assimilate internal and external data can significantly improve the effectiveness of companies' responses to changing dynamics and external shocks, enabling them to provide a positive customer experience.
Inventory and delivery management
With companies increasingly moving to online channels, there is an even greater need to automate inventory and delivery management processes. Mid-corporates should consider the easier and lower-cost digital tools to start with, and later progress to more advanced solutions that can provide real-time updates, giving an accurate view of inventory stocks, and helping mid-corporates better forecast procurement needs and manage customer expectations on order fulfilment.
Manufacturing process optimisation
COVID-19 has disrupted operations across many levels - safe-distancing measures, restricted labour movement, staggered workforce schedules, ceased operations and supply shortfalls. Digital technologies can help mitigate the impact of such disruptions by improving worker safety, driving operational efficiency, increasing asset and worker productivity, and enhancing product quality.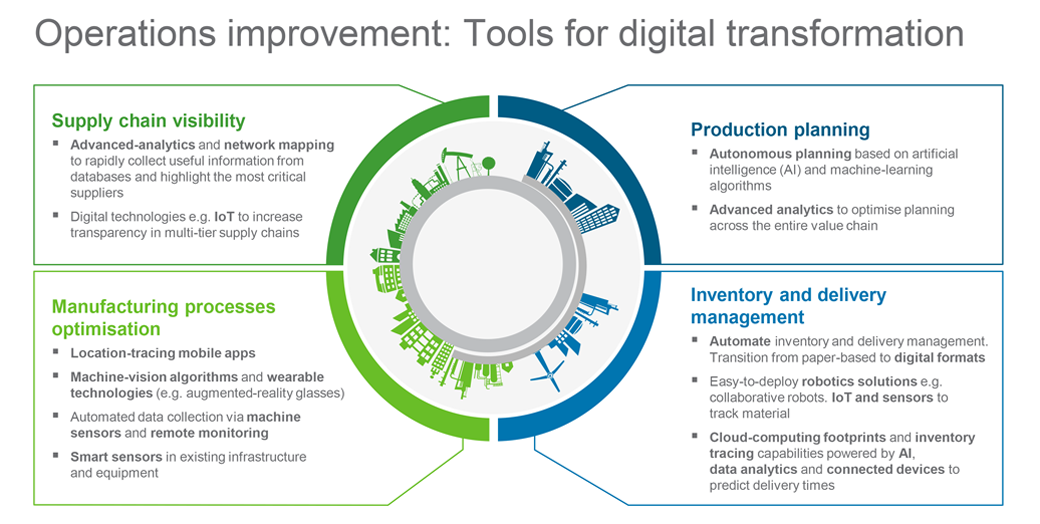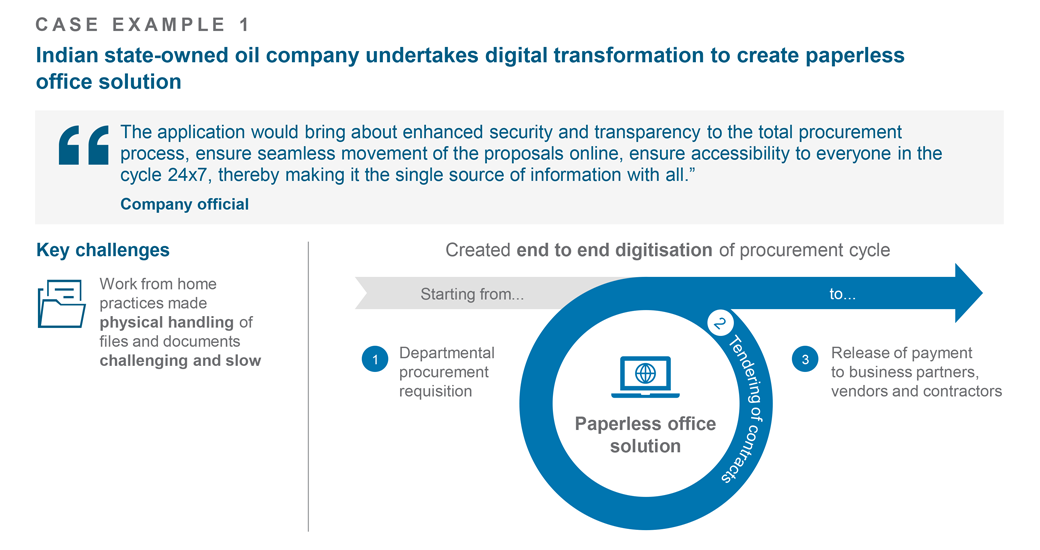 2. Customer engagement
As the pandemic hit, many companies suddenly lost the face-to-face interaction that establishes a personal connection between the firm and their clients, be it businesses (B2B) or consumers (B2C). Mid-corporates were left to figure out how to best apply the principles of that personal interaction in a digital reality. They had to quickly innovate and create new offerings to replace or complement traditional, in-person experiences.
It is unlikely that this shift will be fully reversed, and companies are now compelled to rethink the digitalisation  of business models to adjust to a new reality. At a time when consumer trust is at a low, companies must work on re-establishing that trust, ensuring that consumers are able to safely rely on digital solutions. This will help ensure that reliability is maintained, and resilience is strengthened. Their customer experience efforts will need to be recalibrated to suit digital channels whilst incorporating safety across products, services, and processes to put customers at ease and increase their satisfaction.
With changing consumer needs, accelerating their digital transformation journey will set the foundation for mid-corporates to reap long-term benefits of customer engagement and loyalty, and build resilience in the process. We explore a few areas which can be enhanced by the adoption of digital solutions:
The pandemic brought about significant change in consumer behaviours, attitudes and expectations. Mid-corporates must be proactive about anticipating new consumer needs. Those who can understand customers better and faster are likely to stay ahead of competition. Digital technology is a key enabler for understanding and predicting consumer behaviour and capturing new consumers. In fact, our survey1 shows that 40 per cent of mid-corporates have already started leveraging digital technology for customer acquisition and engagement.
With mass consumer migration to online and minimal-contact channels, companies have had to redesign their approach to digital marketing and omnichannel engagement. Experiences must be tailored to the target audience and communication with customers must happen seamlessly across all channels. At a time when consumers are facing anxiety and uncertainty, the new standard of engagement is empathy and authenticity. These will become the differentiators for brands, and trust will be more critical than ever, particularly in areas of high concern. Mid-corporates that swiftly build and deploy digital capabilities to make their interactions with customers more genuine will benefit from greater consumer mindshare.
Customer experience and retention/loyalty
Companies are re-orienting their customer experience efforts to meet their customers' primary needs, such as safety, security, reliability and convenience, prioritised over traditional benefits such as speed and accuracy. Mid-corporates must keep in mind customers' preference for more human, meaningful and relevant interactions, which will be key in strengthening relationships going forward. The impact of actions taken today will likely outlast the pandemic and establish or enhance consumer loyalty towards brands and products for the long-term.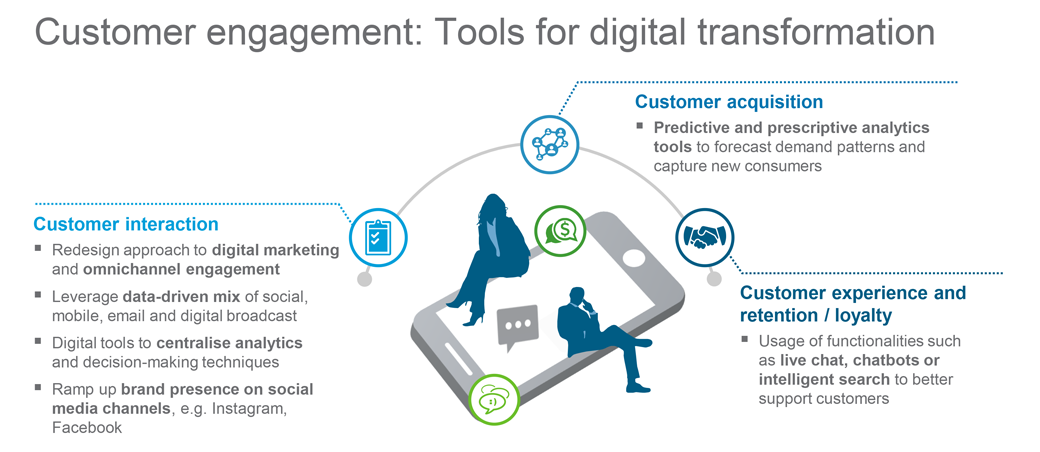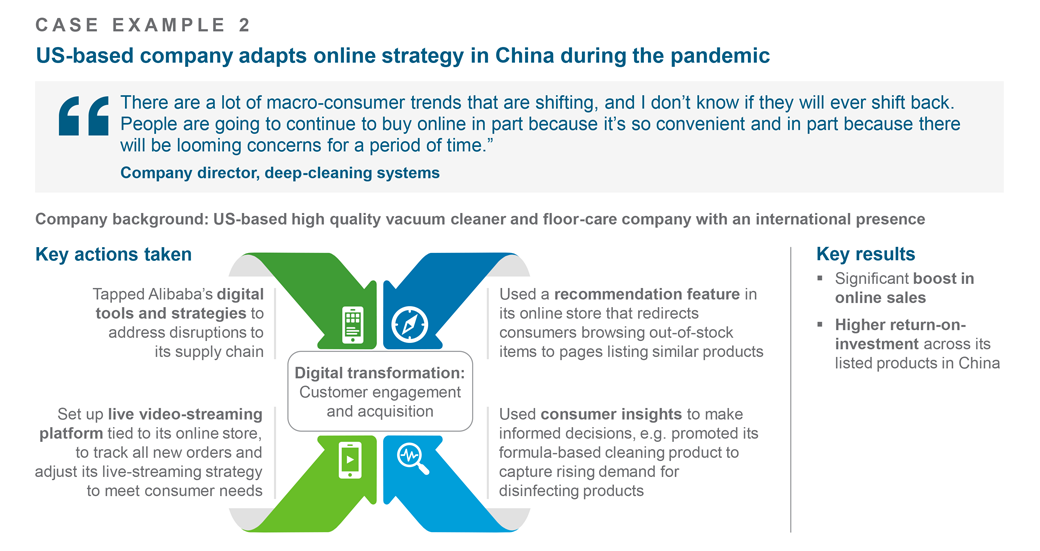 3. Workforce enablement
As companies regain operational momentum and prepare for resilient growth, they need to comprehensively re-assess their workforce strategy and prepare for a post COVID-19 work environment through end-to-end digitalisation efforts, e.g. in the ways people function, tools they require to be more efficient, and skills they will need to develop to help reinstate trust, reliability and ultimately improve customer experience in a digital reality.
Below we explore areas and tools for mid-corporates to consider in their workforce digitalisation efforts:
Enhance workforce collaboration and experience

Engage – Leverage digital tools to allow geographically dispersed teams to maintain interaction and engagement and collaborate effectively in a remote working environment.
Enable – Set in place digitally-connected platforms that allow employees to access information in a fast and secure way and effectively liaise with decentralised teams.
Empower – Support the workforce by providing basic digital devices, communications systems and virtual collaboration tools.

Educate and reskill workforce – With the rapid adoption of technological solutions, companies will have to upskill and retrain employees in using new tools that can improve their performance as well as train in cybersecurity norms. Workers will need to learn new applications and ways of interacting, acquire new digital skills, and form new habits e.g. adopt best practices for data protection.
Ensure data security – In order to implement remote working practices, companies have increasingly adopted easy and fast to deploy cloud-based collaboration tools. However, cloud-based systems create a shadow IT infrastructure that poses heightened risks for cyber-attacks. Digital tools will be crucial to ensure systems and data are protected and connections, applications and communications are appropriately secured. These measures should ideally be deployed in a phased approach to minimise the initial exposure and associated risks.
Elevate employee productivity – In the near term, companies can upscale technology to support employees through investment in remote working infrastructure and ensuring that the required licenses for remote work are available. In a longer timeframe, companies can adopt an integrated workspace infrastructure that connects the remote worker with all its business systems, applications and IoT systems, boosting productivity and work-life balance, and enhancing user experience.
Establish safe workplace – Workplace safety standards will be a priority to instil trust among employees and allow them to feel safe at work. Digital tools will be key in equipping workplaces to adhere to safety regulations and future-proofing them to potential new infection surges.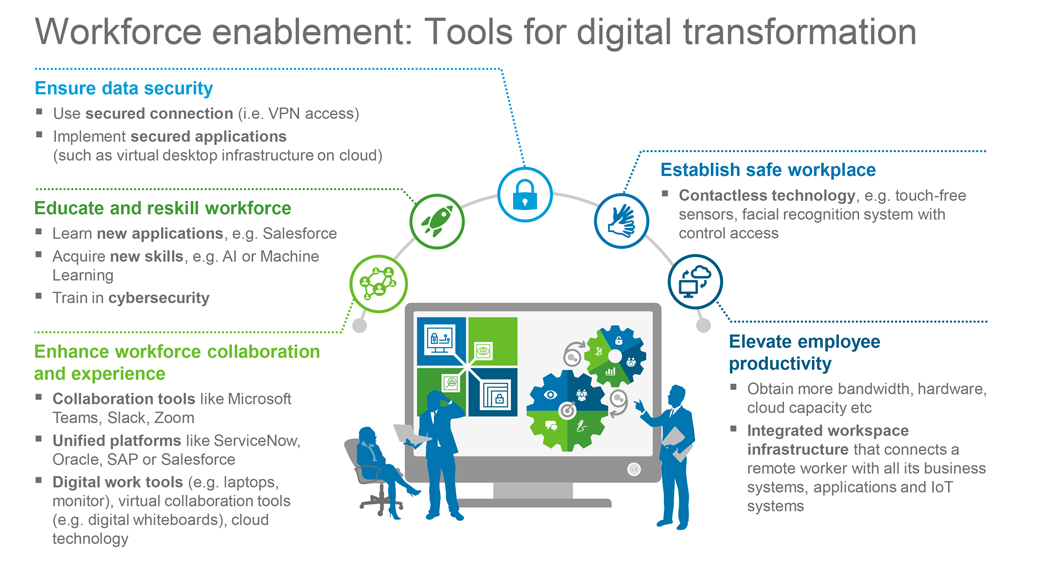 Overcoming challenges to digital implementation
Our survey1 of over 200 mid-corporates cited a lack of internal expertise, budgetary constraints and lack of an overall digitalisation strategy as some of the top challenges faced when looking to digitalise operations.
In devising a new and accelerated digital transformation strategy mid-corporates will need to reassess their digital priorities, focusing on those which directly impact their organisational objectives, and overall strategy and purpose.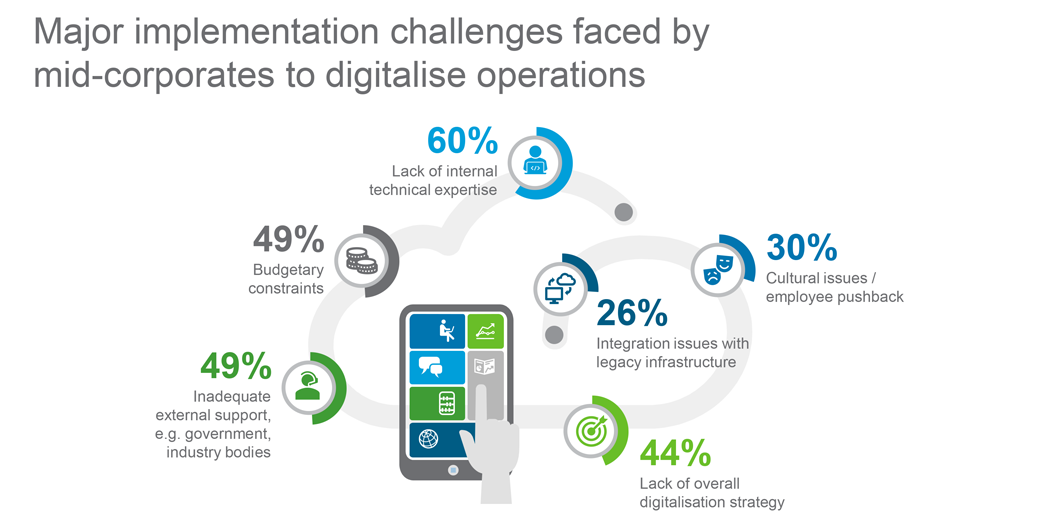 Here we explore some actions mid-corporates can consider to overcome digital implementation challenges.
The urgent need for resilience and future-proof digital capabilities has raised the importance of having robust digital talent in-house. Majority (60 per cent) of surveyed mid-corporates expressed they currently lack the internal expertise required for digitalisation. Companies must urgently look at revamping their tech talent strategies, in a phased manner, by prioritising development of existing expertise, combined with enhancing talent sourcing strategies and revisiting the role and ways of working of the tech function.
Budgets and financial viability
Most companies are well aware of the benefits that digital capabilities can bring, however many are facing financial pressures and economic uncertainty, which poses an obstacle for executing complex digital transformations. Such companies should prioritise lower-cost and easy-to-deploy 'vanilla' initiatives, which can already bring significant benefits and pay off in a shorter timeframe, and which companies can then customise over time.
Strategy and cultural mindset
Previously, obstacles that prevented companies from adopting digital innovations were more related to bureaucracy and reluctance to adopt new ways of working than the technology itself. Companies' swift adoption of remote working at the outbreak of the pandemic has paved the way for a more experimental mentality and it is imperative that this 'let's try and see if it works' attitude continues as companies progress on their digital transformation journeys. Digital transformation must be demystified and leaders should acknowledge that it is more of a transition, which does not have to be perfect at the outset. A focused approach, with full endorsement from top management will also be required to speed up decision-making.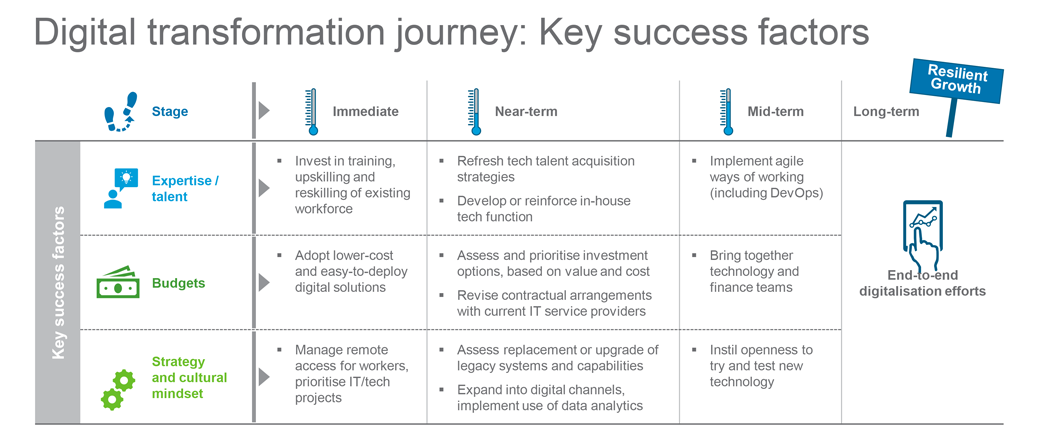 Digital transformation is an imperative for resilient growth
COVID-19 is providing a glimpse of what the future world will be like and it is clear that digital will be central to most interactions, both in the corporate and the consumer world. This pandemic has changed things for good; companies no longer have an option to carry out digital transformation – whether it is done in a piecemeal manner or fully, there is no question now that building digital capabilities will be the key to unlocking resilient growth for mid-corporates going forward.
Moving to the next stage of the 'Road to Resilient Growth'
In this series on the 'Road to Resilient Growth', we have explored challenges mid-corporates have faced in relation to their manufacturing and supply chains, their working capital and alternative sources of financing, new ways of working and digital transformation, as countries emerged from lockdown and moved from the 'Immediate response' stage to 'Preservation and stability', and actions they should consider to mitigate such challenges.
Hopefully by early2021, mid-corporates will be better prepared and ready for progressing to the next stage of their journey towards resilient growth, 'Preparing for Growth'. This will require stabilising their operations by aligning their resources to capacity, securing adequate working capital to ensure business continuity, revising arrangements with suppliers and customers and putting measures in place in case of a 'second wave' of infections.
In this next stage of Preparing for Growth, mid-corporates will need to focus on scaling up operations, implementing digital solutions, building transparency and harmony across supply chains, further strengthening their financial positions and enhancing their risk protection measures to further build resilience into their growth trajectories and succeed in a post-COVID-19 reality.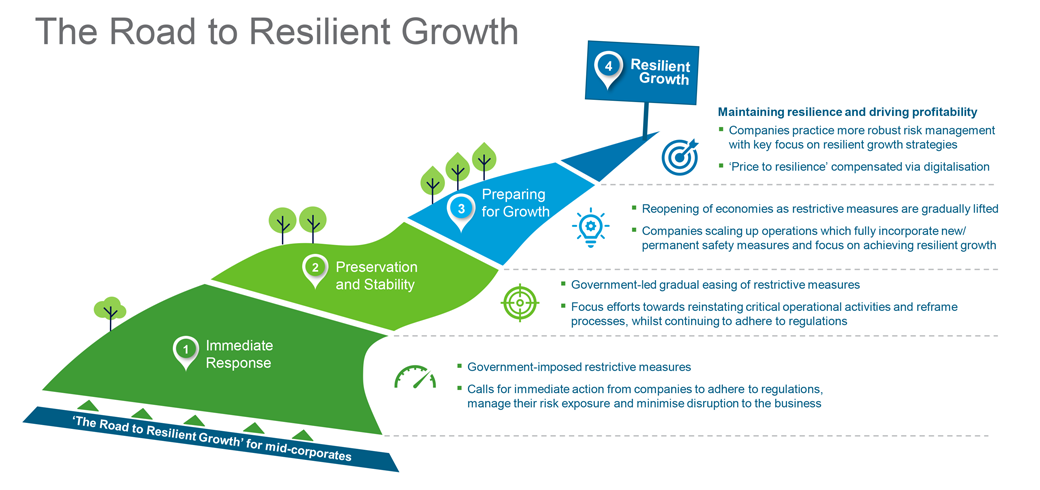 1 Survey commissioned by Standard Chartered in June 2020 and completed by 205 mid-corporates (annual revenue USD100m-500m) based in Mainland China, Hong Kong, Singapore, Malaysia and India.
2 Just-in-time practices are aimed at the total elimination of waste, to minimise the costs of holding stocks of raw materials, work-in-progress and finished goods by supplying to each part of the production process exactly what is needed, when it is needed and in the quantity it is needed. On the other hand, the just-in-case system has buffer stocks held at every stage in the production process 'just in case' there is a production problem or demand rises unexpectedly.
---
References
World Economic Forum, 'Digital Transformation: Powering the Great Reset', July 2020
PwC, 'Accelerate the Digital Agenda for restart post COVID-19'
PwC, 'COVID-19 A digital technology agenda driving an accelerated transition to the new normal', June 2020
Atos, 'What the world will look like after the COVID-19 crisis'
NTT, 'How COVID-19 is accelerating digitalization', April 2020
Supply Chain Drive, 'COVID-19 spurs a leap to digital supply chains', June 2020
Supply Chain Digital, 'COVID-19 - accelerating the digitalisation of operations', April 2020
Strategy+business, 'Redefining customer experience: Connecting in the time of COVID-19', April 2020
Forbes, '3 Key Considerations for Managing Customer Experience During COVID-19', April 2020
Forrester, 'Customers Are Staying Home — So Prioritize Digital UX', March 2020
NCS Singapore, 'The 3 New Lenses to View Digitalisation in the Post-COVID-19 World', June 2020
Broad Group, 'AI and Digital Workspaces to Empower Remote Workers in a Post-Covid Era, June 2020
This material has been prepared by PricewaterhouseCoopers Consulting (Singapore) Pte Ltd. ("PwC") at the request of Standard Chartered PLC and its affiliates ("SC Group") in accordance with the agreement between PwC and SC Group. Other than to SC Group, PwC will not assume any duty of care to any third party for any consequence of acting or refraining to act, in reliance on the information contained in this report or for any decision based on it. PwC accepts no responsibility or liability for any use of this report by any third party, including any partial reproduction or extraction of this content.
It is not independent research material. This material has been produced for information and discussion purposes only and does not constitute advice or an invitation or recommendation to enter into any transaction or to subscribe for or purchase any products or services and should therefore not be relied upon as such. It is not directed at Retail Clients in the European Economic Area as defined by Directive 2004/39/EC, neither has it been prepared in accordance with legal requirements designed to promote the independence of investment research and is not subject to any prohibition on dealing ahead of the dissemination of investment research. The information herein may not be applicable or suitable to the specific investment objectives, financial situation or particular needs of recipients and should not be used in substitution for the exercise of independent judgment.
Some of the information appearing herein may have been obtained from public sources and while PwC and SC Group believe such information to be reliable, it has not been independently verified by PwC or SC Group. Information contained herein is subject to change without notice. Neither PwC nor SC Group is under any obligation to update or revise the information contained herein. Any opinions or views of PwC or SC Group or any other third parties expressed in this material are those of the parties identified. PwC and SC Group do not provide financial, accounting, legal, regulatory or tax advice. This material does not provide any investment or tax advice. Please note that (i) any discussion of U.S. tax matters contained in this material (including any attachments) cannot be used by you for the purpose of avoiding tax penalties; (ii) this communication was written to support the promotion or marketing of the matters addressed herein; and (iii) you should seek advice based on your particular circumstances from an independent tax advisor.
While all reasonable care has been taken in preparing this material, PwC, SC Group and each of their affiliates make no representation or warranty as to its accuracy or completeness, and no responsibility or liability is accepted for any errors of fact, omission or for any opinion expressed herein. You are advised to exercise your own independent judgment (with the advice of your professional advisers as necessary) with respect to the risks and consequences of any matter contained herein. PwC, SC Group and each of their affiliates expressly disclaim any liability and responsibility for any damage or losses (including, without limitation, any indirect or consequential losses or damages) you may suffer from your use of or reliance on this material or as a result of any information being incorrect or omitted from this material.
Any financial projections or models included in this material are based on numerous assumptions regarding the present and future business strategy of the entities to which such projections or models relate and the environment in which such entities may operate in the future. These future events are not a guarantee of future performance and are subject to certain risks, uncertainties and assumptions.
SC Group or its affiliates may not have the necessary licenses to provide services or offer products in all countries or such provision of services or offering of products may be subject to the regulatory requirements of each jurisdiction. This material is not for distribution to any person to which, or any jurisdiction in which, its distribution would be prohibited.
The SC Group may be involved in transactions and services with clients or other persons who are, or may be, involved in the transactions that are referred to in this material or who may have conflicting interests with you or any other person. The SC Group's ability to enter into any transaction (or to provide any person with any services) will be subject to, among other things, internal approvals and conflicts clearance.
The distribution of this material in certain jurisdictions may be restricted by law and therefore persons who receive this document or any Information should inform themselves about, and observe, any such restrictions. Any failure to comply with these restrictions may constitute a violation of the laws of any such jurisdiction. No liability to any person is accepted by SC Group or PwC in relation to the distribution of this document or the Information in such jurisdictions.
The distribution of this material in any other country locations may require suitable disclosures to be made by the SC Group. Should you receive this material in such other country location, please contact the relevant SC Group member.
Copyright in this document and all materials, text, articles and information contained herein is the property of SC Group or its licensors (save for any copyright in materials created by any identified third parties which remain vested with the respective third party), and may not be copied, distributed, adapted, translated or otherwise used (in whole or in part) without the prior written consent of SC Group.
Copyright © 2020. SC Group. All rights reserved.
The Road to Resilient Growth