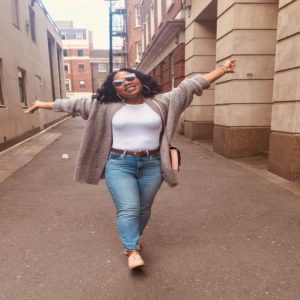 Ashantina Johnson
Environmental and Social Risk Management Analyst, Sustainable Finance
I was born in London to Jamaican and Guyanese parents and I joined the bank in 2017 where I  currently work in Sustainable Finance - Environmental and Social Risk Management. Prior to working at Standard Chartered,  I worked in Legal Practice.
What makes me proud is my heritage, my ancestral history; the unspoken and hidden truths. I love history, it was one of my favourite topics at school and I love researching and learning new things about history and culture. My grandparents are also a big part of my love of history and have always encouraged me to embrace my culture. They make me proud of my heritage and have played big part in the woman I am today. Listening to the stories my grandparents used to tell me about growing up in the West Indies and coming to the UK, the struggles they went through and the battles they endured makes me proud to know that my grandparents were actively a part of a lot of change in the UK.
I am also proud to be a part of ONE UK as a committee member. Equality, Diversity and Inclusion is extremely important to me and gives me the opportunity to do what I can to promote, as well put into action, diversity and inclusion within the bank.
My proudest achievement is my son. I would never have guessed a child could teach me some of the most valuable lessons I have learned in life. Though it was tough being a young mum, being a mum gave me strength I never knew I had and resilience I thought could only be possessed by immortal beings. I am proud to be his mum.
Black History Month is the story of my lineage, the story of my today and the story of my future.
To celebrate Black History Month means recognition of my history, my culture and who I am as a Black woman. It celebrates those who are proactively and actively seeking change as well as educating those who are not aware of why Black History Month is celebrated.
There are several things that would bring pride over the next few years if it were to happen. I would love to see Black History to be part of the school curriculum in the UK. I would love to see more support in schools for those with special educational needs, less permanent exclusions, and more solutions to help children with behavioural issues achieve. I would love for there to be scholarship programmes for underprivileged children especially for children from an ethnic minority background.