Convergence and the path to a net zero future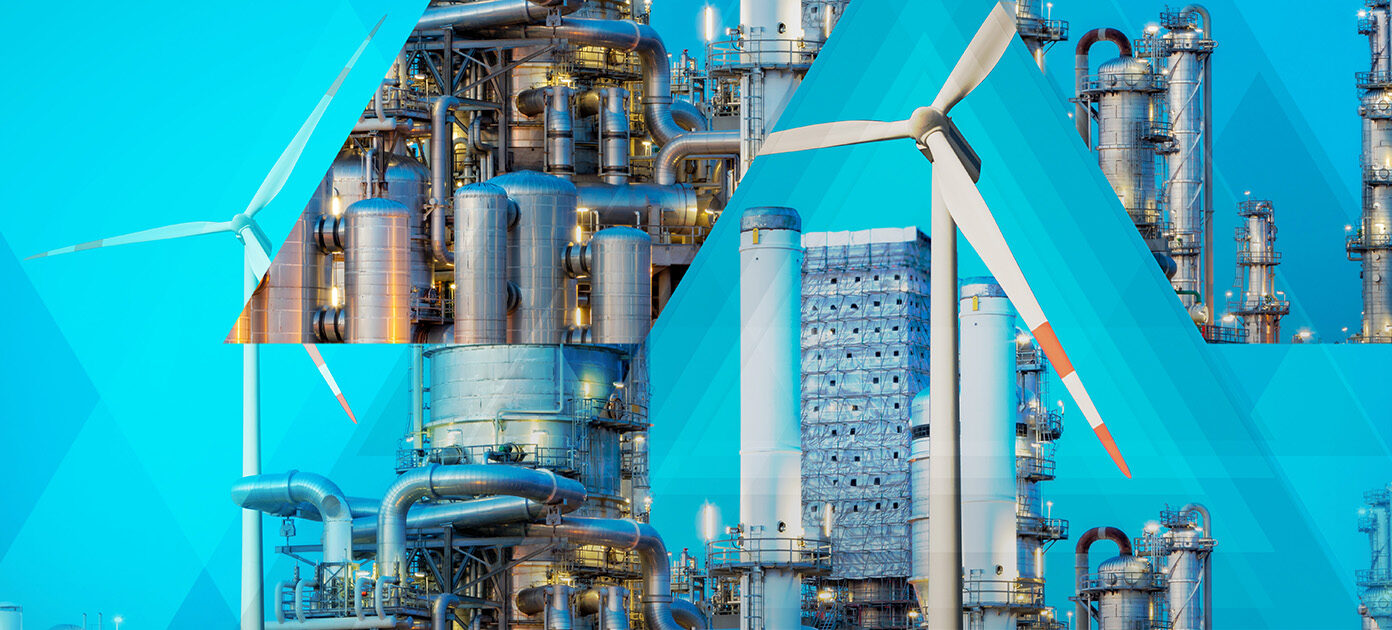 Ample liquidity, decarbonisation strategies and new business models are driving industry convergence around clean power. How can we support this convergence to realise a net zero future?
A confluence of ample liquidity, attractive new revenue streams and decarbonisation strategies is accelerating cross-industry convergence around clean power — a trend that could prove vital in the global drive to net zero carbon emissions.
Once unthinkable partnerships are unlocking opportunities against that backdrop. Oil and gas companies are partnering with new energy companies on green hydrogen projects. Shipping companies are building wind turbine installation vessels to facilitate the offshore wind industry. And mining companies are investing in and even building renewable power generation.
"From oil and gas to metals and mining, we're seeing so-called 'brown industries' funding renewables, while clean-tech companies are supplying low-carbon power to mines, smelters and other high-emitting facilities," says Richard Horrocks-Taylor, Global Head, Metals & Mining at Standard Chartered. "Whether it's putting up new facilities with wind and solar or producing green hydrogen, new solutions are coming from a combination of cleantech, power and utilities."
The growing consensus that industries must eliminate their greenhouse gas emissions continues to spur new projects and possibilities. As the urgency to act grows, a broad range of investors continues to accelerate investment into cleantech.
"Cleantech start-ups raised around $15.7 billion in the first quarter of 2022, more than double the level seen a year ago," says Sujay Shah, Global Head of Clean Tech at Standard Chartered. "The transport, energy and buildings sectors led the way, underscoring the need for decarbonisation solutions across a broad range of sectors."
Striving toward decarbonisation
At the heart of convergence lies an urgent need to decarbonise. The latest Intergovernmental Panel on Climate Change report indicates that global efforts to battle climate change fall short of what is needed.1
Today, the industrial sector accounts for over a quarter of global CO2 emissions.2 The sector's fossil-fuel-heavy energy mix has remained little changed over the past decade. And the process of extracting oil and gas from the ground and getting it to end users accounts for 15% of global energy-related greenhouse gas emissions.3 In turn, industry players face increasing pressure from investors to change their ways.
"A lot of companies are asking, 'what is the fastest route to decarbonisation?" says Alok Sinha, Global Head of Oil & Gas and Chemicals at Standard Chartered. "One of the fastest routes is using green electricity for your operations. In some cases, companies are investing in or buying cleantech companies to make that happen. For example, a consortium led by Singapore's Keppel Corporation, which specialises in offshore and marine, property, infrastructure and asset management, recently acquired a 51% stake in Cleantech Renewable Assets as part of its drive to grow its renewables business."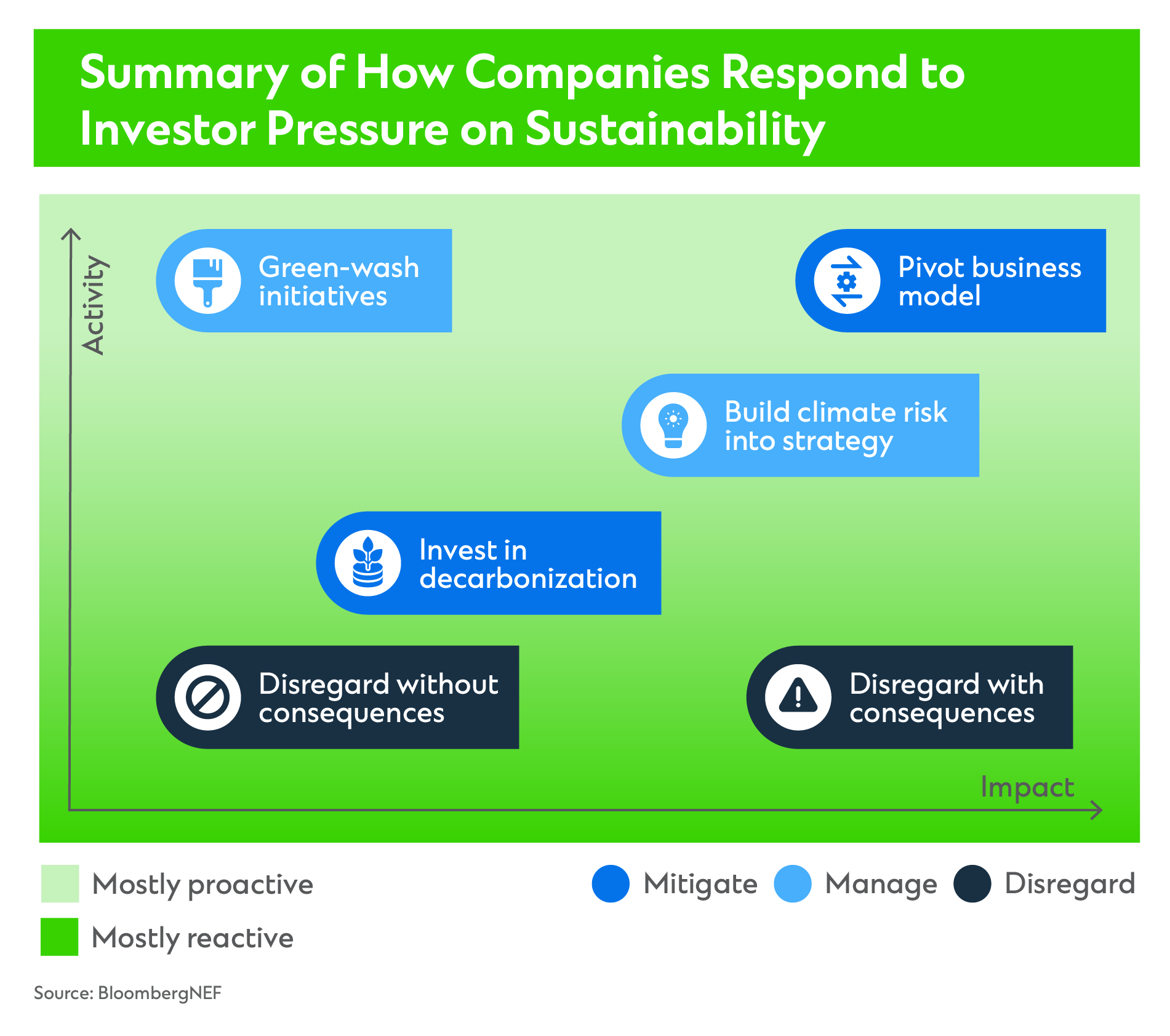 Other companies are changing from within. Oil giant Equinor—formerly Statoil—serves the point. It's building an 88MW floating wind farm called Hywind Tampen in the Norwegian North Sea that will be both the world's largest and the first to power offshore oil and gas platforms. The project promises to offset an estimated 200,000 tonnes of CO2 emissions per year,4 benefitting Equinor and a group of oil and gas partners including OMV Norge, Petoro, Idemitsu Petroleum Norge, DEA Norge and Var Energi.5
Deploying excess capital
The recent commodity price boom provides another accelerant. Oil, copper, aluminium, natural gas and several other commodities soared last year as major economies reopened amid fading concerns about Covid-19, heightened geopolitical tensions and the ongoing war in Ukraine. That left many industry players with excess capital to redirect toward the energy transition.
"Convergence is in part about capital deployment," Richard says. "Keeping part of your existing business enables you to fund the investments needed to transition. Producing oil and gas, for example, provides those companies with the means to fund new activities and investments as they transform themselves into more than just oil and gas companies. The same is true in mining."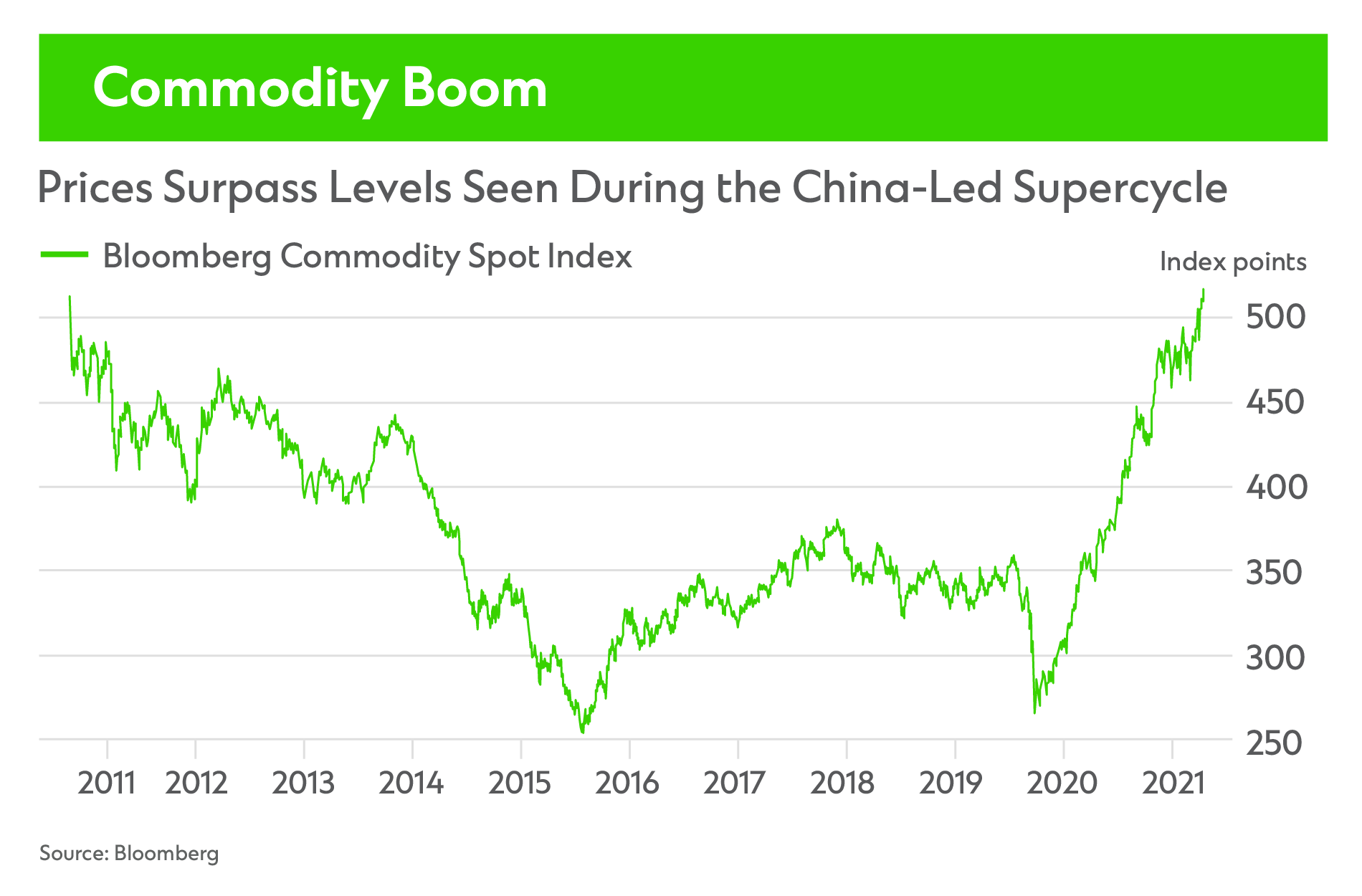 Oil and gas companies stand out. According to a recent report, BloombergNEF expects them to bid in all subsidy and seabed lease auctions that take place throughout 2022 and to engage in more joint venture and acquisition activity in the offshore wind market. The report adds that deep pockets could see them come out on top in auctions where project sites are large and commitments to upgrading supply chains are highly valued.6
"Reliance Industries provides a classic example of convergence," Alok adds. "Around 60% of its revenue comes from oil refining and petrochemicals. In the past, it used some of that revenue to set up telecom and retail platforms. Now it plans to invest $10 billion over three years to make solar modules, hydrogen and fuel cells. It also plans to build a battery grid to store electricity. We expect to see similar investments from other oil and gas players ahead."
New revenue streams and unlocking value
Awash with capital and committed to decarbonisation, companies in sunset industries are pivoting their business models to attract resources and create new revenue streams while reducing emissions.
"Any business that faces threats to its existing operations and foresees diminished growth opportunities will start thinking hard about the future," Simha says. "Where are the most promising new opportunities? How can I diversify using my current capabilities? How can I put my legacy infrastructure to work in new ways? It's logical. You're going into cleaner forms of energy, fulfilling wider stakeholder requirements and getting into new areas of business with longer-term growth potential."
French oil giant TotalEnergies is doing exactly that. It aims to install 100GW of wind and solar power generation capacity by 2030 as part of its plan to become one of the top five players in renewables.7 Recent investments, including a $60 billion plan to produce biofuel and biogas in Nigeria along with the installation of electric vehicle charging stations, reflect the company's ambitions.8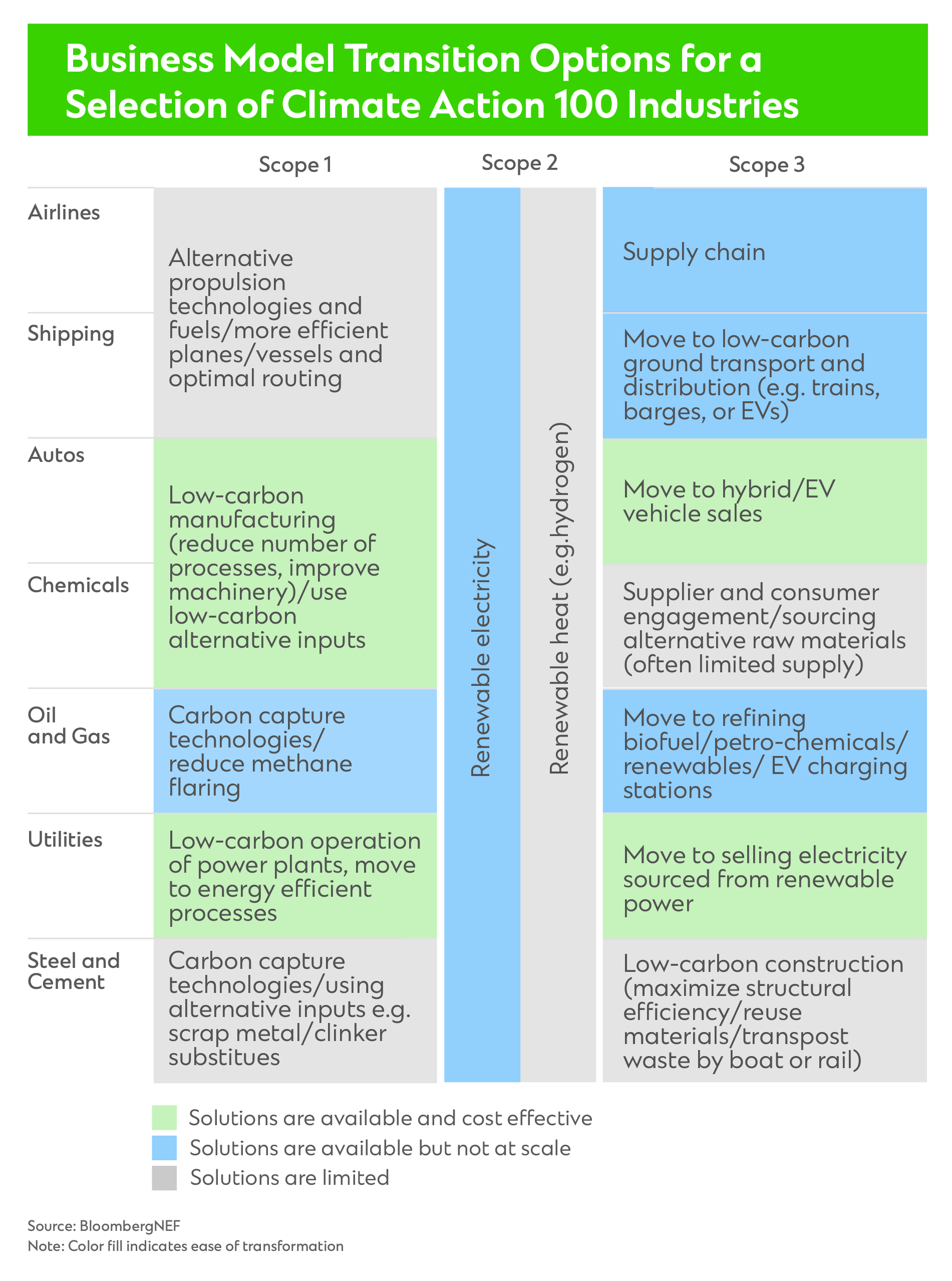 Oil and gas companies are not alone. Last year, shipping giant Maersk invested in Prometheus Fuels, a start-up with direct air capture technology to enable cheaper, carbon-neutral fuels.9 United and Honeywell invested millions in Alder Fuels — a company that produces sustainable aviation fuel using biowaste.10 And a syndicate of banks including Standard Chartered executed a green trade facility for Polestar, helping the electric vehicle maker mitigate its environmental impact from vehicle concept all the way through production.11
"Standard Chartered is at the heart of the fight for a 'just transition'," Richard adds. "That means not leaving large sections of the population in emerging economies behind. It's a matter of how we enable companies to reduce emissions and transition to cleaner power and more sustainable activities as opposed to walking away from relationships. As the trend towards convergence picks up, we'll be there to support our clients along the way."
Produced by Bloomberg Media Studios in partnership with Standard Chartered.
1 IPCC
2 IEA
3 IEA
4 Equinor
5 Power Technology
6 BloombergNEF
7 TotalEnergies
8 Nigerian Investment Promotion Commission, Energy Capital Power
9 Maersk
10 Honeywell
11 Standard Chartered
Industries in Transition
With topics around urban transformation, energy transition, the future of transport and critical infrastructure across Asia, Africa and the Middle East, this content series will unearth fresh trends and showcase how we are supporting clients in the transition towards a more sustainable and inclusive future.