At present, the world is failing to make progress towards net zero – in fact, we are going backwards. No sector can build the circular economy alone. Governments, businesses, and investors must work together to reinvent the prevailing economic model for the benefit of the planet and the species that live upon it. Some areas for discussion could be around technological innovation and sustainable policy support.
According to the World Business Council for Sustainable Development, the global circular economy market has the potential to reach USD7.7 trillion by 2030(1), representing significant economic opportunities associated with transitioning to a circular economy.
We spoke to a few leaders in this field at the recent Ecosperity event in Singapore on what needs to happen to drive adoption of the circular economy.
While a truly circular economy would involve no new material inputs, the fact remains that some new input will always be necessary, and some waste always created. Still, adopting circular practices will reduce emissions, waste, and costs. Recycling not only conserves resources but creates value by supplying raw materials for manufacturing.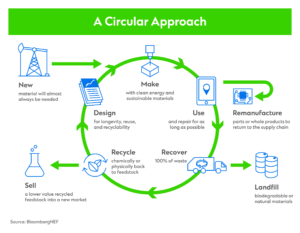 Upcycling and repurposing are equally important. Rather than treating waste as a disposal item, it can be transformed into higher-value products through upcycling or repurposing.
"If you can pick up material from the floor and turn it into a new material or sell it to someone else as a secondary material, what's not to love about that," Hannah Jones, CEO, The Earthshot Prize, said during in a panel session at Ecosperity Week 2023. "We have invented this ridiculous idea of a linear value chain that has a start and an end, and we take no responsibility for what happens when [goods] go into a consumer's cupboard. What if you could take all those pieces of your value chain and make them more circular?"
The challenge of circular innovation
While corporations increasingly acknowledge the need to embrace circular practices, building a circular economy won't be easy. Investing in new technologies, educating employees, and pushing consumers to adapt new habits comes with high upfront costs. In turn, some companies are developing circular systems in only parts of their operations.
"You need the adoption of suitable technologies to bring it further," Jackson Goh, Managing Director, Environment, Keppel Infrastructure Holdings. "Awareness will create opportunities for some of these technologies, which have been nascent or on the sidelines for a long time, to take centre stage. When adopted at a bigger scale globally, the entire consumption pattern will become more sustainable."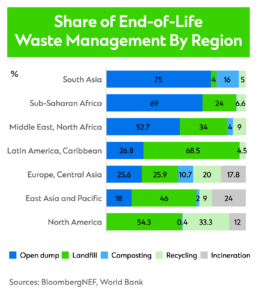 Chemical recycling, for instance, is ready for market. This class of relatively new technologies recycles plastic waste into virgin-grade material. Yet several barriers stand in the way of widespread adoption. Among them the risk that early commercial plants do not operate as well as demonstration plants, either due to larger-scale operations or lack of control in feedstock quality.1
The adoption of chemical recycling also requires mobilising the entire supply chain. Technology providers must collaborate with adjacent sectors, like waste managers and chemical companies, to enable adoption. This is a slow process that depends on more than the profits of any one sector.2
"For circular economy to be successful, we will need partnerships and collaboration; nobody can do this alone as they do not necessarily have all the expertise, for instance, in the case for us, chemical or advanced recycling technology or the network such as waste collection or logistics capabilities," Paul Fong, Country Director, Dow Singapore & Malaysia.  We need a robust ecosystem to make circularity happen."
Putting circular economy policy in place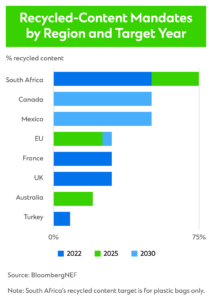 Recycled-content mandates are currently the most impactful form of circular economy policy, according to BloombergNEF.3 These measures require certain products to contain a specified amount of recycled material. To date, only a few countries have imposed recycled-content mandates.
"We need policy to create a level playing field and put incentives in the right place so that we can now go from linear value chains to circular value chains," Jones said. "How does policy enable, steward, push, suggest, design for disassembly, and design for circularity? I think that also comes down to educational institution, innovation institutions, technology institutions, and chemical institutions. How are we thinking about design from the very beginning and closing that loop?"
The EU has long been at the forefront of circular economic policy. In March 2020, the European Commission adopted a circular economy action plan designed to reduce pressure on natural resources and to create sustainable jobs and growth.4 The plan includes initiatives along the entire life cycle of products. It targets how products are designed, promotes circular economy processes, encourages sustainable consumption, and aims to prevent waste.5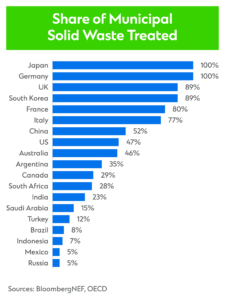 Whether such policies are effective remains to be determined. For example, the EU's Single-Use Plastic Directive went into effect in 2021, banning several single-use plastic products, such as cotton bud sticks, cutlery, plates, straws, stirrers and expanded polystyrene containers.6 And in November 2022, the EU announced a new proposal stating plastic packaging would need to include a certain percentage of post-consumer recyclate.7 Yet a warning report published in June 2023 indicates that 19 of 27 EU countries risk missing the target for recycling 50 per cent of plastic by 2025.8
"The tough part is municipal waste comes in all shapes and sizes," Goh said. "Food, plastic, paper, glass, wood—these are the main components of waste. They are things that can be easily recycled provided they are sorted and not contaminated.
"If they are contaminated, the cost of recycling or extracting them from that combination [of waste] becomes too expensive. That's why a lot of these components are still coming to the plant to be treated, rather than being taken upstream to be reused and recycled. Technology is trying to catch up. But the upstream behaviour is very important."
Getting consumers to play their part
Transitioning to a circular economy also requires significant changes in consumer behaviour. Over three-quarters of consumers want to make more sustainable choices at home including recycling products.9 Yet their actions and intentions do not always align.
"What a consumer says, and what they do are two different things," Jones said. "It doesn't matter how much they say they're sustainable; if it's not easy, cheap, well-performing, and good, they're not going to move over… The issue is that we haven't built into our consumer behaviours the idea of reuse and value."
A mix of policy measures and corporate initiatives must transform customer journeys into continuous loops of engagement with organisations to ensure products and resources retain their value and are kept within the system.10
According to the European Environment Agency, policies should take into account the factors shaping individual behaviour and nudge consumers towards making choices that favour the greatest circularity.11 Factors includes quality, price, convenience, identity, trust, hygiene, contamination, and more.12
"Economics—the invisible hand—is still creating a lot of the problems that we're facing today," Goh said. "If you come up with very recyclable products that are also very nice to look at, it will encourage people to use them. We need to spend effort redesigning products [in a way] that helps the reuse and recycling."
"People today, particularly the younger generation, are all better informed," Goh added. "That is translating into a very strong force, a signal to both the market and producers."
The role of finance
Finance can facilitate collaboration between stakeholders in the circular economy ecosystem. This can involve bringing together investors, businesses, policymakers, and NGOs to develop innovative financing models, share best practices, and address barriers to circularity.
At Standard Chartered, we are committed to supporting the sustainable economic growth aspirations of our clients and the geographies we operate in. We have supported several clients in the circular economy space including a Keppel Consortium on their acquisition of a 100 per cent stake in Eco Management Korea Holdings Co., Ltd, a leading integrated waste management services player in Korea.
Overall, finance has the power to allocate resources, influence decision-making, and drive the adoption of circular practices. By aligning financial flows with circular economy principles, we can accelerate the transition to a more sustainable and regenerative economic model.
Produced by Bloomberg Media Studios in partnership with Standard Chartered.