Financing a giga green future
To accelerate decarbonisation, the development of giga green technology must also pick up pace.
We are at a critical juncture in the journey towards net zero and a giga green future. Without a major acceleration in clean energy implementations, net-zero emissions targets will not be achievable. Even though the European Union has ploughed enormous sums into renewables in recent years, including wind and solar, under its pledge to reduce emissions by at least 55% compared to 1990 levels by 20301, the bloc has far to go to. It must add 27GW of wind-power annually by 2030 and 24GW of solar – 2.3 times and four times respectively what it managed between 2015-2019.2 It also needs an extra 3GW per year of batteries to provide the flexibility necessary for renewables – four times the historical rate.3
At the same time, the EU must overcome challenges in areas like mining (with far greater quantities of lithium, nickel, copper, cobalt, nickel and rare earth minerals needed), better policies to incentivise the development of less mature areas of the renewables sector (like green hydrogen), improved permitting, and a focus on market design and interoperability.
Not the least of its challenges, though, will be financing the extra capacity that is required. Conservatively, the EU must spend EUR519 billion in capex on renewables and batteries alone by 2030, and a further EUR565 billion to ensure these renewables can access the grid.4 In other words, it must deploy at least EUR1 trillion.5
The final figure, though, will be higher than that, after factoring in the entire supply chain – from mining to production to sales to transmission, said Alper Kilic, Global Head of Project and Export Finance at Standard Chartered
Creating a sustainable future for Europe, then, will require vast sums of capital. The planet will need far more still – USD5 trillion a year by 2030, according to the International Energy Agency (IEA).6
The good news, said Kilic, is that there is sufficient capital: Standard Chartered alone has pledged to finance USD300 billion by the end of the decade for transition financing and green financing; other banks have also stepped up, and many equity and debt investors are interested in the opportunities presented by the so-called giga green revolution.
"The capital is there, the opportunities are there," said Kilic, referring to bank financing in the form of equity and debt sources.
Kilic added, "Standard Chartered has unique expertise in the energy sector at large, and a leading track record in financing the first generation of renewable projects in particular. Given this background, we have the capability to look at the right projects and ensure they're bankable so that the capital goes to the right projects. But we can't do it alone."
As the example of the EU shows – where the sums needed by 2030 are greater than the market capitalisation of its ten-largest banks and utilities – bank financing alone won't be enough. Meeting those goals will require capital from, among others, institutional investors, governments, Export Credit Agencies ("ECAs"), multilateral development banks and development finance institutions.
Usefully, said Kilic, "such partnerships can help borrowers access the long-term financing they need and also allow banks to mitigate some of the risk factors which in turn, improves the bankability of the projects."
The evolution of the bankability of solar and offshore wind projects in Europe over the past decade – a huge success, Kilic said – offers lessons that can be applied elsewhere. One of the key lesson learned is the importance of regulatory stability which has had a big impact on incentivising investors. The outcome is lower tariffs and costs and more bankable projects.
New technology requires new financing approaches and tools
Kilic said success also requires that banks be more innovative with their products – something that has potential to become scalable since a broad range of stakeholders, including the ECAs, insurance companies and institutional investors share the same vision and are helping to create new financing tools to modernise debt financing.
The development of new financing tools comes in parallel with technological advances in renewable energy solutions, with the promise of more, as significant sums are spent on research and development for next-generation solutions.
Among those highlighted by the IEA are advanced batteries, direct air capture and electrolysers for green hydrogen.7 Other areas of disruptive innovation include progress in clean transportation, smart cities (where the use of 5G technology to monitor traffic and buildings helps to lower energy consumption, cut pollution and conserve water), and smart agriculture, which results in the use of less water, fertiliser and pesticides.8
The UK is among those funding disruptive innovations: last year, for instance, the country's government announced it would channel more than GBP90 million to help innovators develop solutions for energy storage, floating offshore wind power and biomass production9 – part of its larger GBP1 billion Net Zero Innovation Portfolio to fund low-carbon technologies and systems.10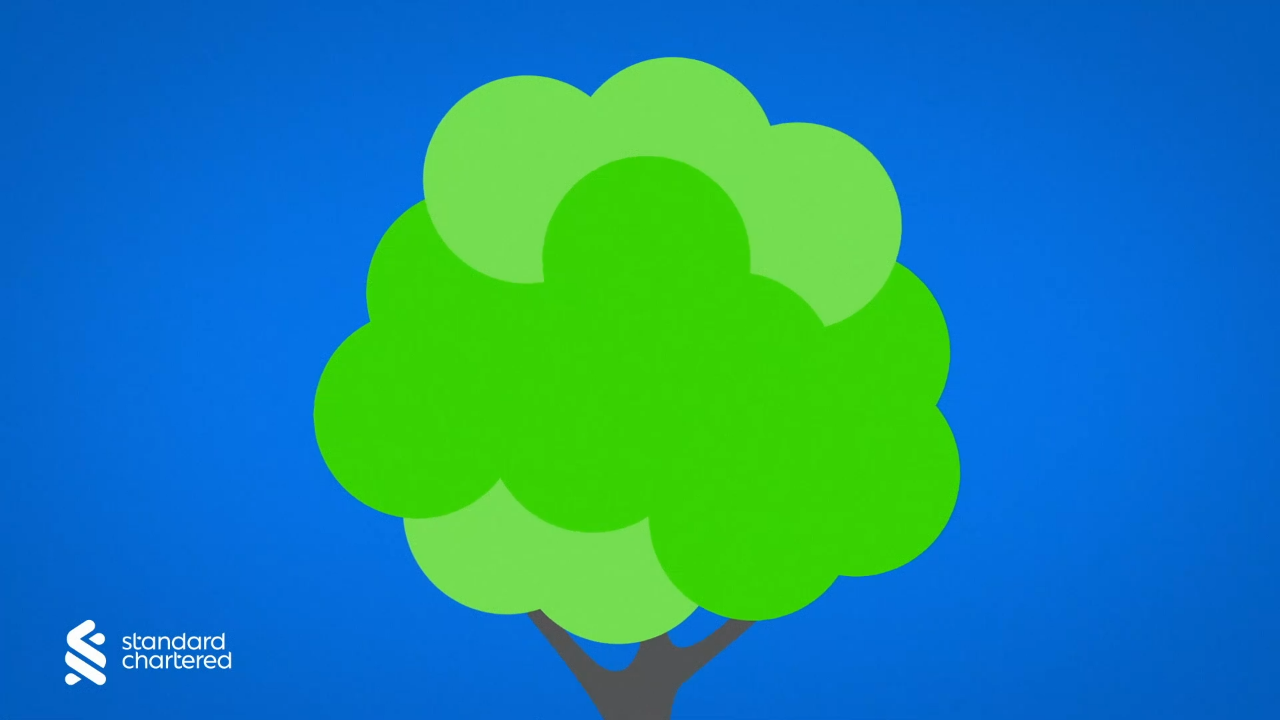 Emerging markets: Solving for higher risk
If funding the transition will prove difficult for wealthy countries, it will be far harder for developing nations, with many disadvantaged by poor credit ratings – which affects affordability – and which are in need of investor-friendly domestic regulations. All of this also feeds into investor perceptions that projects in emerging markets are riskier.
A further challenge is the capital gap between what low- and middle-income countries need to attain their Sustainable Development Goals (SDGs) and the funding they can access. According to the UN, prior to 2020 less than 60% of the funding was being met – with the figure for Africa just 10%.11
In meeting these challenges, Kilic reiterated, reliable partnerships and collaborative financing can help. Blended finance, for instance, sees non-bank players like governments, multilaterals and ECAs getting involved in project funding, including by providing long-term support to banks.
Standard Chartered, for instance, has partnered with UK Export Finance, an ECA, on several sustainability-linked projects in recent years, including helping to arrange EUR2.4 billion of financing for Turkey's Ankara-Izmir high-speed railway12, EUR133 million to reconstruct road infrastructure in Cameroon and EUR 150 million for a hospital project in Angola.13 Standard Chartered has also partnered with:
The ECAs of Denmark and Sweden for an innovative EUR1.24 billion green loan to fund a 200-kilometre high-speed railway connecting Turkey's cities of Bandirma and Osmaneli.14
The Asian Development Bank to provide USD186 million for a 257MW solar plant in Vietnam, the country's largest, in which we also provided our debt-structuring expertise and long-term interest rate hedging solutions.15
Partnering in these ways not only helps to funnel funds to projects that are needed to boost countries' sustainability; it also alleviates investors' concerns and ensures banks can focus on providing advice, including helping to identify feasible projects and optimal technologies. All of that, said Kilic, comes as banks are increasingly prepared to step up in supporting sustainable infrastructure projects.
"We all realise that we can't have the same conventional or conservative view," Kilic said of banks' understanding of the need to finance the energy transition. "It has to change – and it certainly is."
And yet, he added, much more is needed. Take the example of a 145MW floating solar power plant in Indonesia that Standard Chartered was involved in financing.16 The Cirata project in West Java will, once completed, be among the largest floating solar developments in the region, and will generate electricity sufficient for 50,000 homes, offsetting 214,000 tons of CO2 emissions.
Impressive though the project is, said Kilic, it stands out because there are too few others like it to help meet the world's sustainability targets. "And the question I've been asking is … we need 10s of these projects around the world to get to the scale [where we can say]: 'You know what, we are finally making some moves,'" he said.
A brighter, decarbonised future
Progress, then, is being made, even though more is needed. And, Kilic added, geopolitical and macroeconomic concerns – not least the impact of the war in Ukraine – are unlikely to derail progress towards a low-carbon future because there is "no other option" in the long-term, or even in the medium-term. "Everybody will have to invest into the transition, everybody will have to invest into green technologies," he said.
Admittedly, the transition might be more costly than was envisaged just a few years ago, "because since 2014 – if you look at offshore wind and solar across the world – tariffs and production costs have been coming down, and perhaps it's not going to be like that over the next two to three years. But, in terms of the bigger agenda of the green transition, I don't think we have an option, so we're going to have to find a way to support that."
This article is based on themes discussed during a panel at Standard Chartered's recent Global Credit Conference: Riding the wave. View the recording.
1 https://ec.europa.eu/info/strategy/priorities-2019-2024/european-green-deal/delivering-european-green-deal_en
2 Figures provided by Aurora Energy Research at the Standard Chartered Global Credit Conference 2022.
3 Ibid.
4 Ibid.
5 Ibid.
6 https://www.iea.org/news/pathway-to-critical-and-formidable-goal-of-net-zero-emissions-by-2050-is-narrow-but-brings-huge-benefits
7 https://www.iea.org/news/pathway-to-critical-and-formidable-goal-of-net-zero-emissions-by-2050-is-narrow-but-brings-huge-benefits
8 https://www.forbes.com/sites/forbestechcouncil/2021/04/28/how-technology-is-driving-a-sustainable-future/ 
9 https://www.gov.uk/government/news/over-90-million-government-funding-to-power-green-technologies
10 https://www.gov.uk/government/collections/net-zero-innovation-portfolio
11 https://perspectives.sc.com/story/industriesintransition-ed-1/page/1
12 https://www.sc.com/tr-en/2022/03/17/standard-chartered-and-credit-suisse-arrange-eur-2-4-billion-of-financing-to-expand-railway-network-in-turkiye
13 https://www.sc.com/uk/2022/03/10/standard-chartered-arranges-eur-133-million-of-financing-to-restore-crucial-transport-infrastructure-in-cameroon/
14 https://www.sc.com/en/news/case-study-eur1-24-billion-eca-backed-financing-develop-high-speed-railway-infrastructure-turkey/
15 https://www.sc.com/en/news/case-study-project-financing-vietnams-largest-solar-plant-usd186-million/
16 https://www.sc.com/en/news/powering-the-floating-solar-revolution/
Discover credit opportunities in the world's hardest-to-reach markets with us.

Turning expertise into actionable insights. Explore our views on what to watch out for.