Name: Funmi Adu, Associate Director, ARM, Energy and Natural Resources
I've been with Standard Chartered for over eight years; I started my career as an International Graduate with Standard Chartered Nigeria, before moving to the London office, and most recently joining the US team in Houston, Texas.
I have been privileged to work in various functions, in three different countries, across three different continents, which has helped me build an international career, broaden my global view and how I see the world.
I was born and raised in Nigeria, an African country with predominately black people. After college, I moved to Newcastle, UK for my graduate program and not until then did I truly understand the impact of diversity. I was the only black person in my class and the only black female, which was intimidating at times. However, I was very encouraged to not only stand out because of the colour of my skin, but to also excel academically, which I did. I graduated the best student in my graduate class with a distinction. That gave me confidence that I could go into the industry and succeed in the western world, which shaped my decision to return abroad.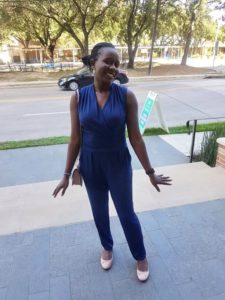 As a black immigrant, the challenges I face are particularly unique, partly due to my background and culture. Where I come from, racism wasn't an issue – we are all blacks, but when you migrate, you quickly come to the realization the impact that the colour of your skin, your African accent or the way you talk can have. There are biases and blind spots all around us. Some of the complexities relating to race include the fact that different ethnicities have different nuances which can impact behaviours. As a woman, black and African, the way I see the world and matters that affect me differs from the way a white African woman might see it for example, and that's fine. The diversity is what makes us different in our own special way. So, because someone is quiet, an introvert or speaks with a certain accent, doesn't define how smart or intelligent that person is, but most people make their judgement even before they see the quality of your work, and that can be frustrating at times.
My current team in Houston, Texas is very diverse consisting of 16 team members representing all major continents: six from Africa, five from Asia, two from Latin/ South America, 2 from Europe, and one from the United States. The gender diversity consists of 9 women and 7 men. I am proud to be part of this diverse team and diverse Bank because it has helped reduce the challenges that I face as a black immigrant working in the US.
Best advice you would give to someone:
Impact! Make an impact; leave a footprint.