How agri-business unleashed Sanam's earning power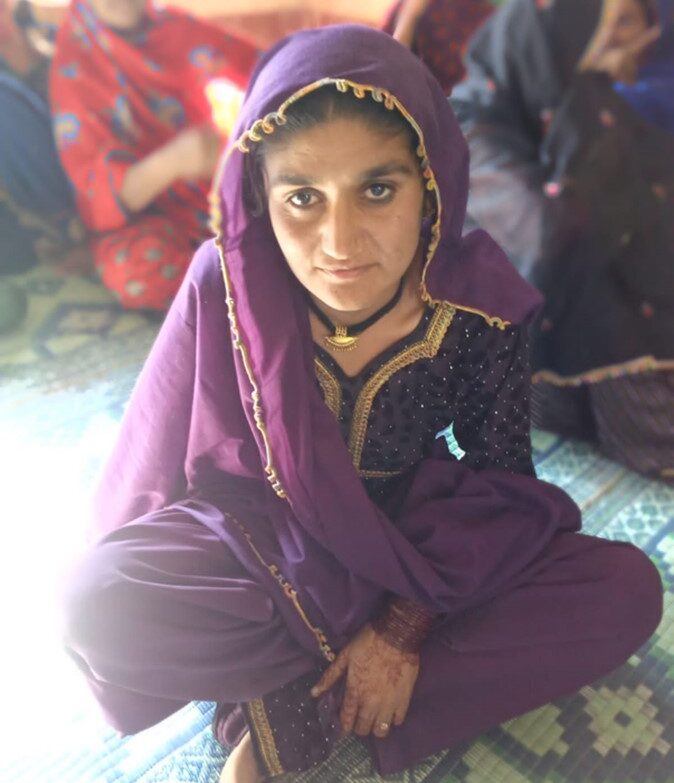 The Agri-preneurs project in Pakistan, funded by the Standard Chartered Foundation, has given Sanam and the women in her village the entrepreneurial skills to earn their first income from livestock fodder production.
Sanam is 29 years old and comes from a village of 80 homes in the Sanghar district in Sindh. Based in an area known as the White Desert, no significant agricultural or horticultural crops can be sown or grown. The villagers must travel 42 miles to Khipro for their basic needs, including buying feed for their livestock.
There are no educational opportunities beyond primary school, and the literacy rate for women and girls is negligible. Sanam and the women in her village struggled to earn a living. The project helped change their futures.
Training women villagers as agri-preneurs
The British Asian Trust, in partnership with Shirakat and Sindh Agricultural Forestry Workers & Coordinating Organization delivers the Agri-preneurs project as part of Futuremakers by Standard Chartered. The project aims to help disadvantaged young people in rural areas of Punjab and Sindh to grow profitable, sustainable agricultural enterprises.
Women in the village with the potential to develop and sell livestock fodder in a production value chain are identified. Training provided in the local language with pictures addressed low literacy, encouraging the women to participate effectively.
Having gained a better understanding towards fodder production, Sanam and other young women were taught enterprise development; learned skills in packaging and marketing, and how to run a small business.
The rise of earning power among women villagers
Sanam had been making handicrafts, but this opportunity created new avenues to enhance her household income. She is now selling fodder in her village and villages nearby, and her neighbours and relatives are buying it from her, boosting her earnings from zero to PKR1,000 to 2,000 (USD4 to 9) a year.
Sanam said: "My dream is to support my family with an income, which I can now do through the fodder production value chain. I have become a useful and productive member of my family."
Her mother added: "I am thankful that this opportunity has made my daughter an earning part of the family, and I am advising her to continue the business on her own."
Sanam plans to continue her agri-business to support her family and welcomed the opportunity to market fodder through different channels. Other women in the village who participated in the project are also keen to continue after increasing their incomes and savings for their families.
Futuremakers by Standard Chartered
Our global initiative to tackle inequality by promoting greater economic inclusion, supports young people from low-income communities to learn new skills and improve their chances of getting a job or starting their own business.
Since 2019, Futuremakers programmes have reached more than 849,000 young people across 43 markets.
Futuremakers Forum
The Futuremakers Forum was successfully held virtually between 6 – 7 July 2022 with the focus of 'Lifting participation through financial inclusion'.
Download the insight papers to learn first-hand from our young Futuremakers participants about their big ambitions, the problems they are facing and some of the solutions that are needed to lift participation in an inclusive economy.
Lifting Participation
We're determined to transform the lives and communities of people across our markets by unleashing the financial potential of women and small businesses. Between 2019 and mid-2022, Futuremakers has supported more than 35,000 young women through entrepreneurship projects in 29 markets.
Watch Naom, a female entrepreneur supported by Futuremakers in Kenya, tell us about her biggest challenges, ultimate goals and lessons learned.