Name: Jennifer Duesbury, Personal Assistant, O&G Financing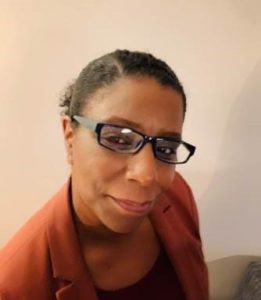 I was born in Islington, London and my heritage, St Lucian. I joined Standard Chartered Bank in 2015 as a temporary Team assistant with the GSF Compliance Team. I have been working throughout the bank in various PA roles and to date I am now working within the Africa PEF London & PEF, Europe & Americas teams.
There are several things that make me proud but to date, I am proudest of my husband. He is from Guyana and came to the UK when he was a young boy. He was unaware of what to expect and had to adapt to and overcome multiple hurdles that came his way. Racism was something that he could not get his head around for a long time and still struggles with it, but he stands tall. He has a good sense of humour, is intelligent, smart and adores his two girls. He enlightens them to what he faced growing up and makes them aware of how to deal with it. He talks about where he is from and we all enjoy his stories of his childhood. When he talks about the food and the culture, our imagination takes us to faraway places and our minds are full of beautiful pictures. People naturally gravitate to him and they feel at ease with him.
He is a good cook and treats us to amazing Guyanese dishes … 'Pepperpot' – this is a slow cooked stew made with meat, Caribbean peppers, cinnamon, and a special local sauce called cassareep which is derived from the cassava root. 'Cook up' rice is another one pot meal – this is common across Guyana. You cook this with brown rice and the best part about this dish is that it can be suited to any preference you can have it with chicken or fish and instead of black-eyed peas, you can add chickpeas or callaloo. Guyanese people love the heat so add a scotch bonnet pepper!
My husband's qualities have been instilled by his grandparents who looked after him and his sisters while his parents were in the UK. That is something most grandparents did.  They later sent for him and his sisters to join them.
I was lucky to know his grandmother who everyone called 'Nana'. She was an amazing woman with a heart of gold, and we all miss her. She used to always say to him and his sisters when they used to leave the house, 'Jesus saviour, pilot me, god is light'. This is to protect us and keep us safe, and till this day he still quotes this and tells us all to say this too.
I have so many achievements that I am proud of in life. I have been lucky to have worked with amazing companies and had some amazing experiences but my proudest achievement is my girls. They have become great women. They have strong opinions which they aren't afraid to share, they embrace their culture and never settle.
Black History Month to me means that we as a race, are and should not be forgotten.  It is a shame that this celebration is only for the month of October. Our race should be recognised and shared with all races, especially in schools. There is a lot to learn and I am still finding out things I did not know. Our race is powerful, beautiful and as a black woman, I am so very proud.
When asked what would bring me pride in the years to come, I would like to see that more young black people are encouraged to work in industries that seem untouchable, and this should be encouraged in schools. It should never be assumed that because of your skin colour, it won't work. It will! 'Always stay true to yourself, and be the best that you can be and more.'