Signs of a slowdown in the pace of Belt and Road (B&R) development since 2016 have been emerging. But regardless, significant progress has been made since the initiative was first announced in 2013. Inevitably there have been missteps – and B&R's critics have been eager to seize on these – but there have also been notable accomplishments, particularly in Africa, South and South-east Asia.

In Africa, B&R has provided some of the development tonic many nations sorely need. According to the International Monetary Fund, B&R funding is filling many of the continent's long-standing infrastructure gaps and generating positive ancillary benefits. Chinese railway projects in East Africa are one example, with the Nairobi-Mombasa and Addis Ababa-Djibouti lines opening potential for a flow of international investment.

The China-Pakistan economic corridor is one of the salient components of B&R to date. This network of projects, together forming the single-biggest B&R programme with financing and infrastructure worth USD62 billion, connects western China to Gwadar – a previously undeveloped, deep-water port on Pakistan's Arabian coast. The corridor will provide a new trading route, opening up the country to multiple industrial and trading opportunities.

In South-east Asia, B&R infrastructure projects in Cambodia and Laos, and postponed projects in Malaysia, have generated much of the attention. Less trumpeted however, are the industrial parks constructed with Chinese money and the tourism markets gearing up for Chinese growth.
And, as funding for B&R projects expands beyond China and its state-owned and private enterprises, international players are dipping their toes in the water – and reporting some successes. In late 2017, Standard Chartered was the export agency finance coordinator, structuring bank, arranger, hedging bank and account bank for a project finance facility for Sri Lankan industrial conglomerate LAUGFS Holdings Ltd. – to support the development of a Liquid Petroleum Gas storage terminal in Sri Lanka. Project construction is due to be completed by the end of 2018, and the company is expecting to handle its first shipment soon after.
Boosting African Development
The Chinese-built 756km electric railway project from Ethiopia to Djibouti started official operations on January 1, 2018. Africa's longest electrified railway, and the continent's first transboundary line, it links Djibouti's port with Ethiopia's previously landlocked resources and markets, and is helping both countries attract much-needed investment.
Rosette Nyirinkindi Katungye, the African Union's Advisor on Regional Integration, has described the project as an "excellent" demonstration of B&R's potential to drive African development and integration. In Ethiopia's Eastern Investment Zone (EIZ), construction within the zone has accelerated rapidly as manufacturers from parts of China as well as other countries have moved in. 
Meanwhile, the Eastern Industrial Park (EIP), owned by the Jiangsu Qiyuan Group, had attracted 82 companies and total investment of USD200 million by the end of 2017, creating 10,000 jobs, according to a United Nations Industrial Development Organization report.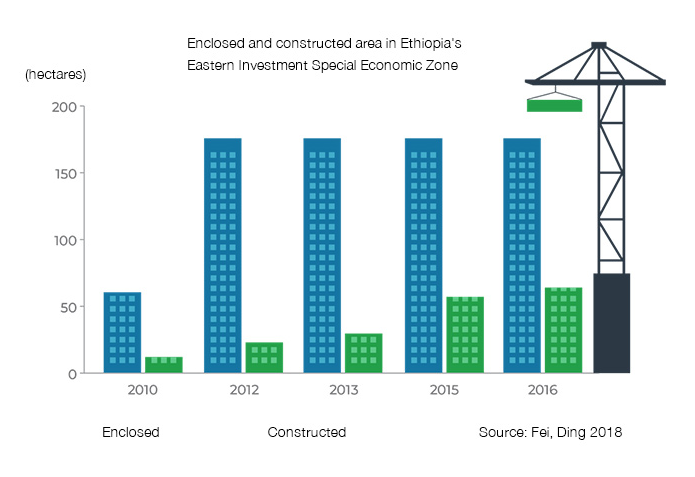 Kenya is also a beneficiary of Chinese rail technology. The 480km standard gauge railway from Mombasa port to the capital Nairobi opened in June 2017, replacing a 19th-century British-built line. The new USD3.8 billion line cuts freight costs and journey time, and will ultimately be extended to Uganda. Henry Rotich, Kenya's Treasury Cabinet Secretary, said in March that China's investment in railroads was good for regional growth, and that Kenya would lobby for more B&R projects.
Local governments are looking to B&R to bootstrap intra-African trade, which currently accounts for only 10 per cent of African commerce. The African Continental Free Trade Area, designed to create a single continental market for goods and services, was launched in 2015 and its success will depend in part on the extension of B&R projects. The signs are encouraging: an international property developer, Innohabitat, has already announced plans to develop housing projects and logistics hubs along African B&R routes.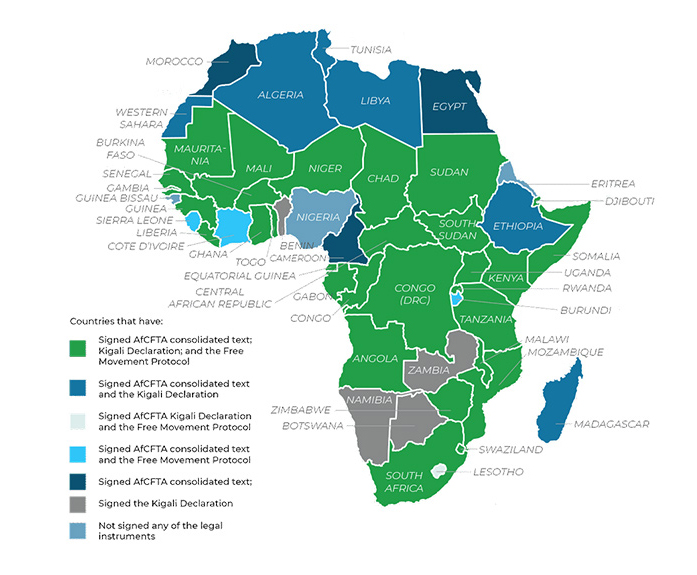 Source: Control Risk 2018
Pakistan's Powerful Growth Potential
Some of the most advanced B&R projects are in Pakistan, where Chinese companies are developing the Gwadar deep-sea port and a 3,000 kilometre-long corridor of roads and railways. The port sits on the Arabian Sea, near the mouth of the Persian Gulf, along oil, bulk and container shipping routes. Although Gwadar is not yet complete, shipments have begun, giving western China much closer access to a sea port than it had before.
For Pakistan, the road and rail links to Gwadar provide a major transport upgrade that runs the length of the country. The road includes the high-altitude Karakoram Highway, several major bridges and a tunnel. The Khunjerab Railway will run almost parallel to the Karakoram Highway, giving north-eastern Pakistan a trade link to western China. It has been claimed that the USD62 billion corridor's network of transport links, power plants and factories will create up to a million jobs in the country.
Thailand's commitment to B&R projects has been questioned following the slow progress of the railway project from the capital, Bangkok, to the border with Laos. However, the South-east Asian kingdom has already played a major role in the initiative, setting a model for Chinese investment abroad even before the B&R was announced.
Rayong Industrial Park, on the Gulf of Thailand about 180km from Bangkok, was jointly founded by Thai and Chinese companies in 2005. The park now hosts 110 Chinese-funded enterprises, which have created 30,000 jobs and brought in total investment of almost USD3 billion. Attracted by Thailand's economic incentives, good logistics connections and natural resources, the Chinese companies have established a model for success that China is looking to replicate in other countries and Special Economic Zones. There are now 52 industrial parks built by Chinese-international partnerships around the world, from nearby Laos to as far away as Belarus, Mexico, and Ethiopia.
The success of Rayong has helped increase Chinese interest in Thailand. The Rayong Industrial Zone's Chinese manager describes Thailand as "usually the first stop for Chinese tourists and investors," and expects Chinese investment in the country to keep growing, fuelled by government promotion policies, low labour costs and over-capacity in China.
Reshaping Communities
Of course, project and programme successes should not just be measured by returns. For the communities living along the B&R routes, the initiative has created jobs and opportunities, while international companies have forged partnerships across the B&R to support project development.
China's Commerce Ministry estimated that as of the end of 2017, Chinese firms alone had created more than 200,000 jobs and contributed USD1.1 billion in tax revenue along B&R routes. The benefits are not just economic. B&R is also providing a platform for improvements in health and sanitation, showcased by the opening of an emergency medical centre in Gwadar in 2017 and another in Quetta, Pakistan. This year, the World Health Organisation (WHO) praised efforts to "integrate health into economic partnerships" in B&R countries.
"China has the practical expertise and economic influence not only to vastly reshape health in Pakistan, but to enhance billions of lives in Belt and Road nations and beyond," Dr Tedros Adhanom Ghebreyesus, director-general of the WHO, wrote in July 2018.
While some B&R projects around the world have stalled, and those that have achieved success are not perfect, the momentum behind the initiative is unlikely to be lost, and the list of achievements is unlikely to end.
This article was also published on Bloomberg.com.