"We need to urgently re-think infrastructure in our cities if we want to meet the world's climate goals and while serving the basic unmet needs of millions of people", Shikhar Jain, Global Head of Power, Utilities, and Infrastructure, Standard Chartered, spoke to a panel of experts during Ecosperity week 2023.
Research from McKinsey suggests USD275 trillion in cumulative spending on physical assets is needed between 2021 and 2050 to successfully shift to a net zero economy.1 That need is greatest in the world's cities, which account for more than 70 per cent of carbon emissions and 80 per cent of global GDP.2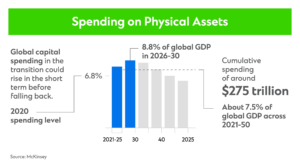 The growing urban population exacerbates these challenges. More than half of people worldwide live in cities—a number set to reach 70 per cent by 2050, increasing the need for responsible investments in new and sustainable infrastructure.
"We need to reinvent almost everything about our infrastructure, from carbon-neutral transport and an unbreakable renewable energy supply to buildings that are energy efficient and environmentally friendly throughout their lifecycle," Shikhar Jain, Global Head of Power, Utilities, and Infrastructure Coverage, Standard Chartered.
"This will be a stretch for public finance. We need help from everyone to achieve this goal, whether it is corporates, funds, multilateral development, finance agencies—everybody needs to do their part."
Tapping venture capital & private equity
Around half of the technologies needed to achieve net zero by 2050 are still in the early demonstration and prototyping phase.3 The most promising of these technologies have high breakthrough potential for decarbonisation. Private Equity (PE) and Venture Capital (VC) firms play a central role in driving commercial realisation, scale, and adoption.
One such example comes from I Squared Capital—a private equity firm focusing on global infrastructure investments: "We built and developed one of the world's largest floating solar plants," Chenhua Shen, Fund Partner, I Squared Capital
"Back then, nobody dared to enter this space. Even the lenders that we approached were not willing to provide the financing due to novel technology. So, we invested 100 per cent, equity based, and demonstrated the feasibility of the project that was initially two megawatts. Subsequently, we built a 500-megawat floating solar plant on the west coast of Taiwan. We closed first non-recourse project financing of this kind with full support from both domestic and international lenders."
Investments in sustainable infrastructure do extend beyond renewable energy to also include those that provide social benefits, according to Bridget Lee, Chief Executive Officer, Keppel Capital Alternative Asset: "We want to invest in urban living sectors where we think we can contribute back to society, like education and aged care," she said during the panel session.
"Another area that we have a strong track record in is real estate. The built environment contributes about 40 per cent of global carbon emissions today. So, turning older buildings from brown to green, and making them smarter through digital technologies, is a way to futureproof and reduce carbon emissions. These are some of the areas that Keppel invests in and that really bring our deep operating capabilities to bear."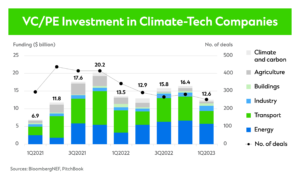 While VC and PE investments in climate-tech skyrocketed over the past five years, momentum appears to be slowing. Climate-tech companies focused on decarbonising energy, transport, buildings and infrastructure, carbon and climate, industry and agriculture raised USD12in 1Q23—the lowest quarterly funding for VE and PE investment tracked by BloombergNEF since 2Q21.4 The lion's share of investment takes place in developed markets.
"For a fund manager like us, we need to balance our ESG goals with regards to the risk of the underlying assets," Shen added, when asked about opportunities in emerging markets like Laos and Cambodia.
The role of Multilateral Development Banks
Multilateral Development Banks (MDBs) can address some of the challenges around high risk and low risk-return ratios that are common in emerging markets. Their participation in a project signals its viability, stability, and creditworthiness, which helps reduce risk and attract private capital to sustainable investments. MDB participation also enables cheaper and longer-term financing.
"The whole theme of this conversation is about how we can do more on the private sector side, but a large portion of our lending is to governments here in Asia, and I think those complement each other very well," Jackie Surtani, Regional Director, ADB Singapore Office, Asian Development Bank.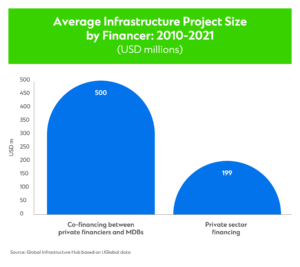 "We are talking to governments all the time about policy reforms to encourage more private sector lending. Viability gap funding is key for things like water projects where you're taking municipal risk. But there's so many other ways. We're looking at providing, for example, guarantees to off takers who are not that credit worthy, and then getting a counter guarantee from the government."
In this way, MDBs can play a bigger role in developing Asia, which needs to invest USD1 per year in infrastructure until 2030 to maintain its growth momentum, tackle poverty, and respond to climate change.5 In fact, MDBs financed 5 per cent of the total value of private capital investment in infrastructure in 2021, up from less than 0.5 per cent in 2010.6 Yet, the region only accounts for around only 13 per cent of total private capital for infrastructure.7
"I'm not concerned about sources of capital, there's plenty of capital," Surtani said. "The big challenge is finding good bankable projects that we could all be part of. And that's where we all need to be a little bit more innovative. Think carefully about risk appetite. There's a lot of perception that Asia is risky. But I think you need to really have a fundamental understanding of some of the markets here and work with very strong players."
The need for corporate innovation
Building net zero cities requires investments spanning everything from power generation and district cooling to buildings. The size and shape of projects will vary as will the types of innovation needed to move the needle.
"We must expand our focus from large, centralised projects to encompass smaller ones as well. We are now living in a much more decentralised, agile world," said Thomas Baudlot, CEO, Energy Solutions APAC, and Country Head Southeast Asia, ENGIE. "Smaller projects can be less capital intensive. You need a different risk assessment, taking more of a portfolio view rather than an individual project approach. It's really a mindset shift that aligns with the mindset shift we need moving towards a net zero world."
Decarbonising buildings, for instance, entails more than sustainable materials and carbon-conscious construction practices. Digitalisation can reduce the energy demand of buildings, reduce their embedded carbon, improve their operational efficiency, and enable them to contribute to power system flexibility and resilience.
"If you give the industry time to adjust, you'd be very surprised how innovative we can collectively be in achieving a real gold standard in terms of efficiency and quality of operations," Baudlot added. "In time, it becomes beneficial for everyone, because the end users invest in energy efficiency, and third-party players like ENGIE or similar companies can deploy the solutions.
"That makes sense from both an energy efficiency standpoint and an economic standpoint. Everybody wins. The road is long, but we are fortunate to have mature solutions already at hand that can be used to start delivering significant savings on cost, energy, and CO2 today. So, I'm very optimistic."
Produced by Bloomberg Media Studios in partnership with Standard Chartered.