Stir up a tea recipe for business success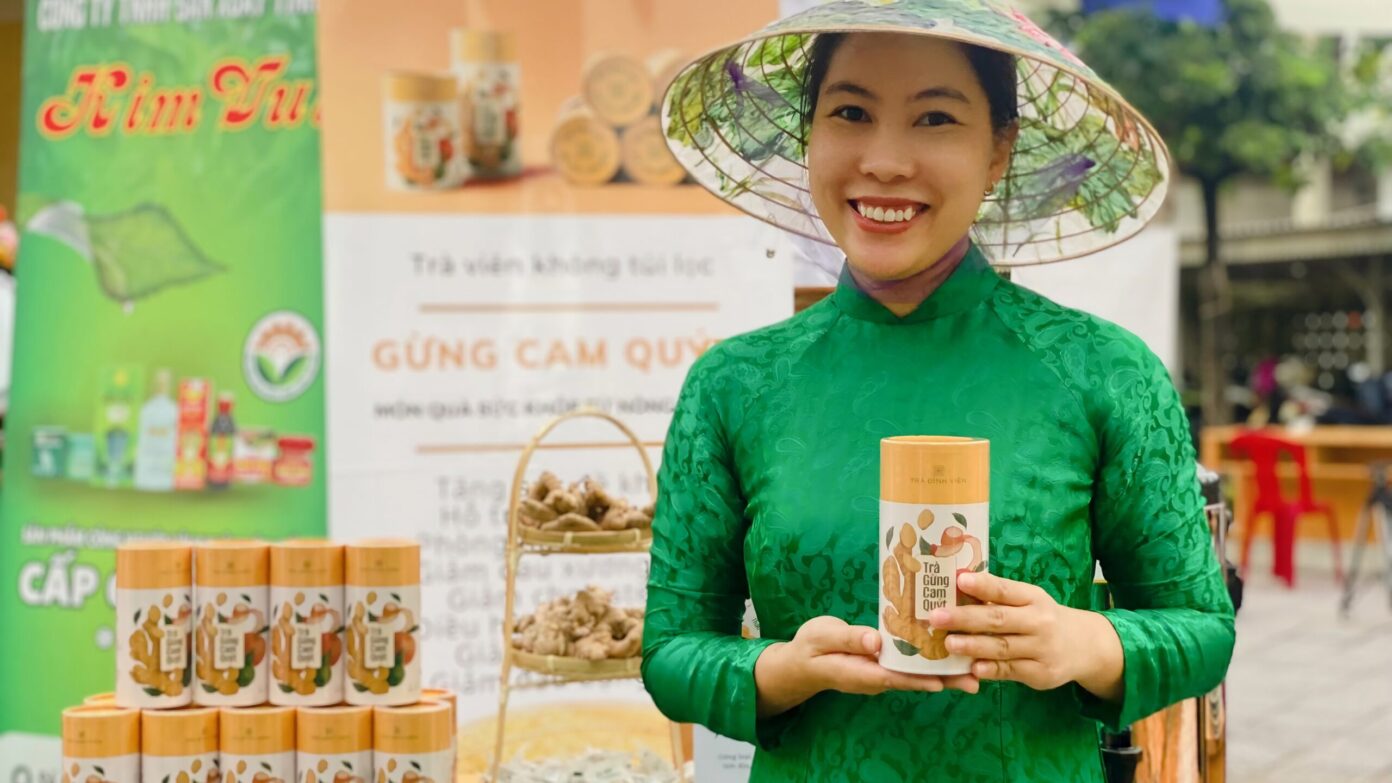 Enrolling in a Futuremakers entrepreneurship project has helped Truong attract new customers to her blossoming ginger tea business by zeroing in on her market and competitors.
Truong, a 33-year-old entrepreneur from Vietnam, started Dinh Vien tea after her two previous enterprises – a coffee shop and a smock clothes shop, folded during the pandemic. Truong realised how important health is and decided to spend her time developing products that maintain and improve health.
Vietnamese people often use ginger in culinary dishes and appreciate it as a natural medicine for hundreds of diseases. The COVID-19 pandemic inspired Truong to capture the traditional benefits of the spice in a convenient modern tablet.
The province where Truong lives is famous for its spicy, invigorating gingers. As an ambassador of traditional cuisine, Truong brings tradition into modern daily life and introduced ginger tea as a healthy product to the community.
Learning strategic skills improves outlook
Although Truong had a winning product, she did not know how to work out her market's size or define her competitors as she had no formal business training. She had the opportunity to acquire new customers, however as she was unable to tell what made her product stand out, she couldn't even take the chance to expand.
The turnaround in Dinh Vien's fortunes began when a friend told Truong about an entrepreneurship project delivered by Startup Vietnam Foundation in partnership with Youth Business International as part of Futuremakers by Standard Chartered. She enrolled in the project, which guided her to create a business model canvas, a strategic tool enabling start-ups to examine and evaluate their business vision and test ideas.
Startup Vietnam Foundation structure the trainings with a human-centred and flexible approach, using insight and experience to provide female entrepreneurs with the support they need to accelerate their businesses.
I knew the tool existed but had no idea how to use it. Every factor of my business was in my mind, with a lot of information, but I didn't know how to write it down and think about it systematically.
Marketing drive brings in new customers
Using the business model canvas tool, Truong analysed her business step by step. She focused on improving her marketing activities, joining an event in her province to exhibit her products, producing a video on making tea, and preparing social media content.
Truong also deep dived into each customer segment and realised that hotels, restaurants and cafes didn't need such a well-designed pack of tea because their customers would never see the packets. So, she modified her products to reduce packaging and meet the sector's needs. As a result, Truong attracted nine new coffee shops and restaurants as customers, bringing her a regular monthly revenue stream.
Futuremakers has helped Truong to understand her business model and outline a development plan. She knows how to calculate revenue and expenditure and understands accounts better to make decisions based on them.
Truong's family recognise her business success and continue to encourage her. Her husband and children love seeing the smile on her face as her confidence grows. They are also benefiting from the regular monthly revenue her business provides. Dinh Vien's increase in number of customers and revenue inspire other female entrepreneurs on the project: dreaming big but starting small can lead to success in life.
Futuremakers by Standard Chartered
Our global initiative to tackle inequality by promoting greater economic inclusion, supports young people from low-income communities to learn new skills and improve their chances of getting a job or starting their own business.
Since 2019, Futuremakers has reached more than one million young people across 43 markets.
Futuremakers Podcast
How do we support women entrepreneurs to shape a more inclusive, equitable and sustainable future? Listen to our first Futuremakers podcast to get insights from Futuremakers participant Naom Monari and our Global Head of Impact, Natasha Kwakwa.
Through Futuremakers, we support women-led businesses and invest in young women like Naom to advance innovative, personalised healthcare for home patients in Kenya. 
Lifting Participation
We're determined to transform the lives and communities of people across our markets by unleashing the financial potential of women and small businesses. Between 2019 and 2022, Futuremakers has supported more than 67,000 young women through entrepreneurship projects.
Watch Audrey, a female entrepreneur supported by Futuremakers in Ghana, tell us about her biggest challenges, ultimate goals and lessons learned.