In May, Organovis, a young start-up created by chief executive Małgorzata Dwulat – a 25-year-old PhD student – took home first prize in the US version of our annual Women in Tech Incubator Competition.
The Futuremakers programme has been running on an annual basis since 2014 with our partners the Zahn Innovation Center at The City College of New York (CCNY), with the winners taking home USD25,000.
This year's winning start-up could help revolutionise the way drugs are tested not only helping find more effective treatments for diseases but also drastically reducing the need to test on animals.
Using organ-on-a-chip technology, recently approved by the Food and Drug Administration in the US, Organovis aims to make drug testing cheaper, faster, more effective and more ethical.
Organ-on-a-chip technology uses microfluidic chips – essentially a pump and a microchip – to culture cells outside the human body. The cells, which are given oxygen and a substitute for blood, function like a living organism. Organovis is using the technology to create breast cancer cells which can be used to test potential treatments for the disease. According to the non-profit, Breastcancer.org, the disease is currently the most common cancer globally, accounting for 12.5% of all new annual cancer cases worldwide.
Malgorzata explains: "Drug testing is not only extremely expensive but it's also extremely inaccurate. There is a strong need for better technology to make testing faster, more efficient, more ethical and, of course, cheaper. Currently, millions of animals are dying in preclinical trials and 90% of drugs tested are not approved for use."
Buried in the lab
As well as a cash prize for the winners, the programme, which is an incubator for start-ups runs over several months and includes mentorship from our employees and local tech and government leaders, a speaker series and entrepreneurship courses     .
Malgorzata says that the programme helped her take a more commercial approach to her research. "The programme is extremely important, especially in my case. I was spending most of my time working in the lab, but the programme gave me the motivation to start thinking of the research as a business.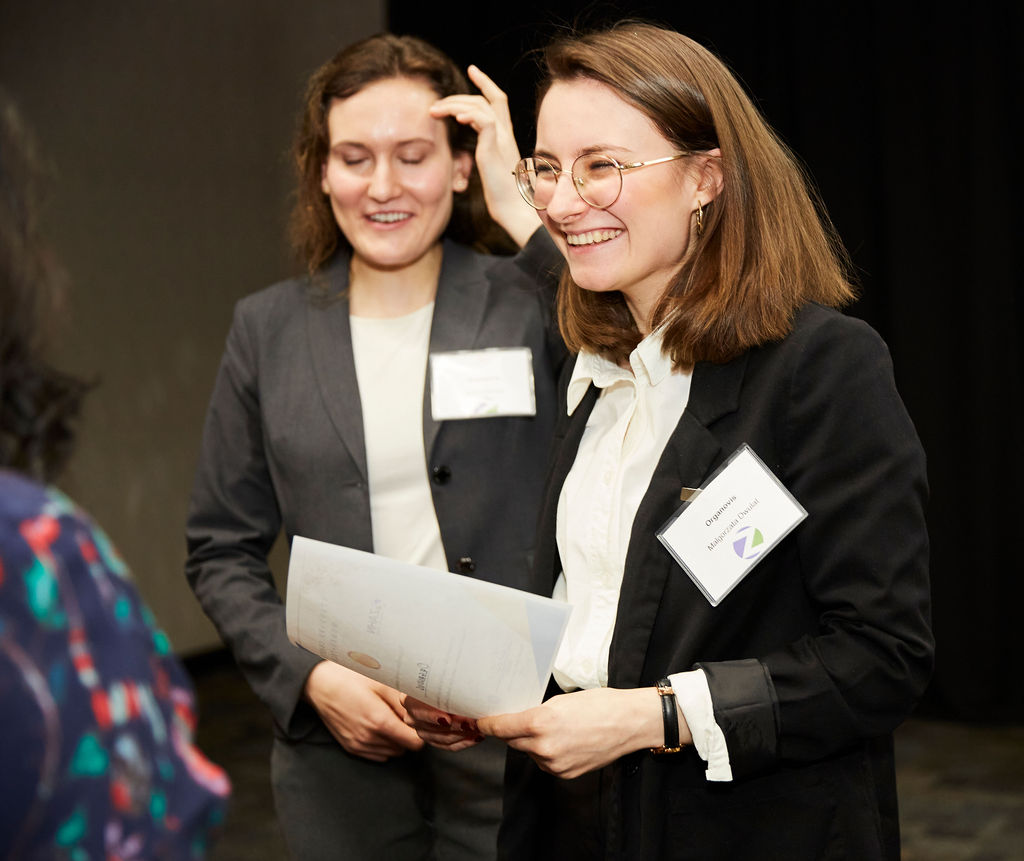 (left, Ausra Compy and right, Małgorzata Dwulat)
The programme managed to cover the parts that go into creating a company such as legal, marketing and team building. Without it, I could have been buried in the lab for years and might have missed my chance to run with this."
Kesia Hudson, a member of the Zahn Innovation Center, is the managing director of the programme and has coached every project since launch. She believes the initiative helps young women realise their dreams of running a successful business by showcasing the achievements of those that have gone before them.
"Having the Woman in Tech Incubator programme, and bringing in founders and mentors, has really opened up pathways for our participants," she says. "It makes it easier for them to see themselves as entrepreneurs,"
"When I speak to some of the students, they're not typically getting that type of support throughout college and sometimes not even in their professional careers. So, they find it helpful to have these resources."
The support received during the incubator often carries on when the programme comes to an end. Participants form bonds with their mentors, creating a community that can open a world of networking and support and help young entrepreneurs build their confidence.
"It's like being part of a women in tech family," Malgorzata says. "It's hard to find people who are truly willing to help. So, it's not only a incubator, it's a community. That was one of the best things about the course, besides all the knowledge. Even though the programme has ended, the people I have met are still with me now."
Twenty-four-year-old, Ausra Compy, currently balances her studies in Design in Multimedia at CCNY, with her role as Organovis' chief marketing officer. She adds: "I love meeting people and understanding their journey, their motivations, their successes and even their failures. So many of the people involved with the incubator were either entrepreneurs, or they had different skill sets you need in business, like marketing. Having the opportunity to interact with these people was very valuable."
More than just money
For Organovis, winning USD25,000 could be the springboard to help them go on to bigger things. Malgorzata hopes that the money can be used to put the company in a position to raise larger sums and to take drug testing innovation to another, more bespoke level.
She says: "We're going to use the money to attend conferences, so we can network and learn how to raise more funding. Some of it will also be used to support our research."
She concludes: "As a company we eventually want to research other types of cancer, but the future is personalised medicine, where we create chips for each person.
"For now, there is still a strong need to do more general testing but, one day, we want to look at how we can create treatments that can be adjusted to a specific person. We think that will be the future of medicine."