With economic growth expected to increase steel demand, India will likely experience a surge in CO2 emissions, leaving the country to balance its growth trajectory against the need to decarbonise heavy industry sectors.
As the world emerges from the pandemic, those concerns have returned to the spotlight. While India posted slower-than-expected growth of 8.7 per cent last fiscal year,1 it still ranked as one of the world's fastest-growing major economies. The country's increasingly prosperous population already powered a post-pandemic revival in steel demand through the automotive, infrastructure and white goods sectors2—a sign of what the future holds.
India's GDP per capita is forecast to triple by 2050, driven by investment and industrialisation.3 Steel will play a vital role in that future, with resource and energy-intensive production having significant environmental consequences even when the best available technologies are adopted. Thus, it is important for steelmakers to urgently pursue decarbonisation.
"India will need to further improve technology and processes to address concerns arising from steel emissions as it looks to decarbonise the steel sector by 2050," says Ben Daly, Head of Transition Finance at Standard Chartered. There are a lot of things the industry can do."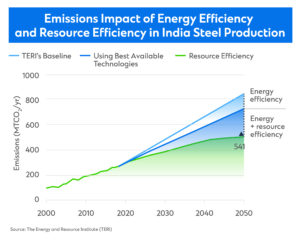 The Case for Efficiency
India's steel industry is particularly energy-intensive compared with international benchmarks.4 Several factors are at play including the use of coal and iron ore in its blast furnaces and the heavy reliance on coal to supply its direct reduced iron (DRI) furnaces.
Resource and energy efficiency are vital to mitigate the negative impacts of steel production as India's economy grows. Encouraging greater use of scrap, for instance, would reduce the amount of raw material required resulting in positive knock-on effects for energy and emissions.
"In the near term, reducing emissions is a matter of embracing the most efficient operations possible in terms of the incremental capacity," says Richard Horrocks-Taylor, Global Head, Metals & Mining at Standard Chartered. "India's steelmakers should also reduce emissions from existing capacity by using high-quality coking coal in blast furnaces instead of pulverised coal injection. It's an easy win that can reduce emissions by up to 30 per cent almost immediately."
Under the International Energy Agency's Sustainable Development Scenario, material efficiency and performance improvements to existing technologies will account for 95 per cent of emission reductions in India's steel sector through 2030.5 Indeed, research from The Energy and Resources Institute found that the average steel plant could lower energy consumption per unit output by between 24-38 per cent, depending on the production route.6
"As a bank, we come in, look at how a steelmaker operates, consider what steps they can take to reduce emissions and discuss the financing options to pursue those steps and achieve sustainable outcomes," Daly adds. "Most of the big steel players have transition plans in place. So, those conversations focus on how they can move faster and deliver on every single target they have set."
The Path to Decarbonisation
Incremental measures to improve energy efficiency and reduce emissions are not enough to place India's steel industry on a path consistent with an under-2-degree scenario.7 Thus, investment must be directed towards near-zero emission technologies as soon as possible.
"India must look at installing more electric arc furnaces and embracing more transformational technologies like carbon capture and, in the longer term, green hydrogen," Horrocks-Taylor says. "However the capital requirements for those technologies will be greater and this may be a bit challenging for some steelmakers."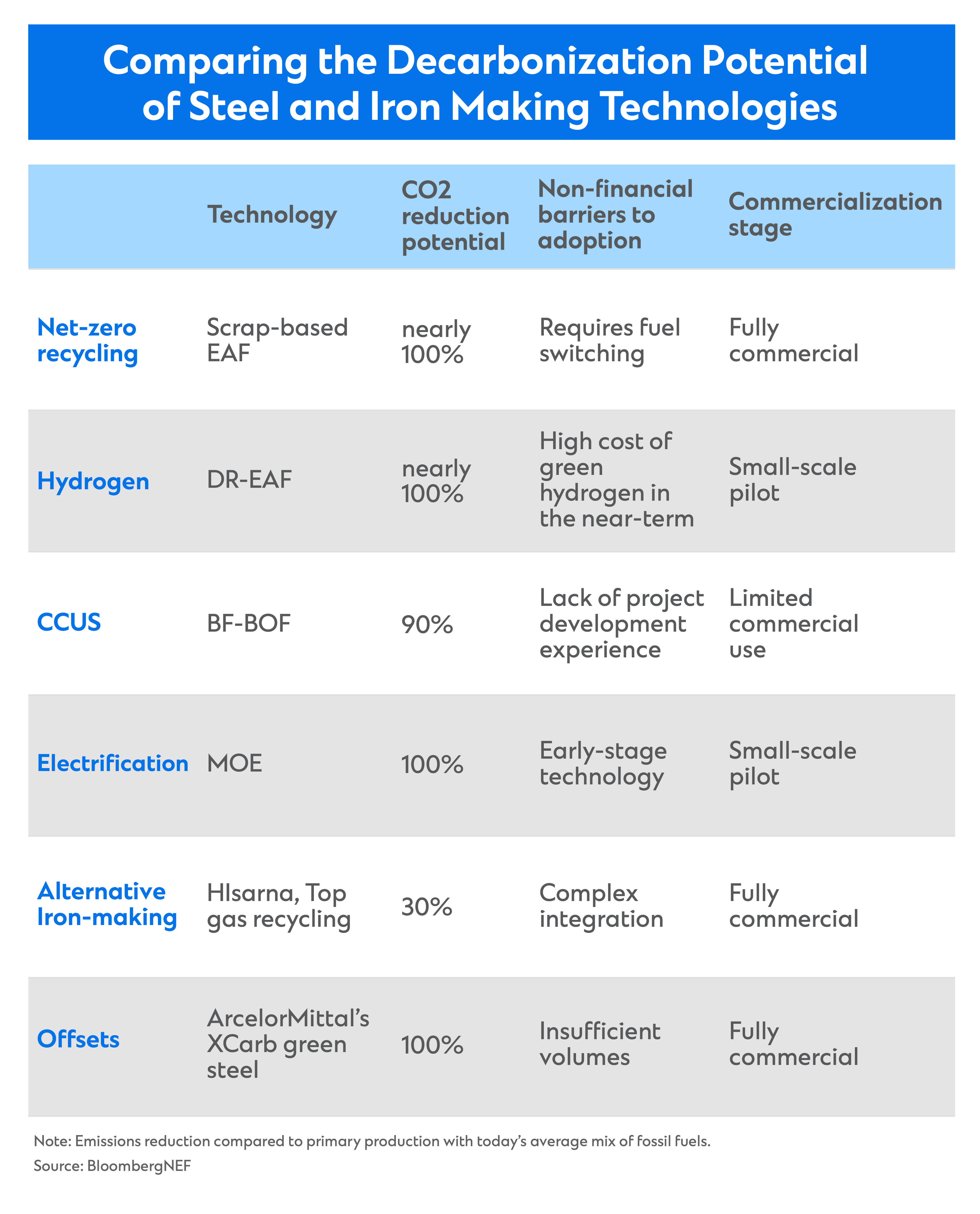 Globally, there are several primary options to decarbonise steel production which include adding carbon capture and storage systems to existing processes powered by fossil fuels, using clean hydrogen to fuel direct reduction, producing more material from recycled scrap in electric arc furnaces powered by clean electricity, and using renewable power in the primary steelmaking process.8
Increases in the domestic supply of scrap will be insufficient to meet the growth in steel demand given India's growth trajectory in combination with its relatively young stock of steel available for recycle from its ageing infrastructure, buildings, automobiles and industrial goods.9 In turn, a combination of carbon capture, clean electricity and hydrogen has the most potential in the longer term.
"India is one of the few places we're going to see significant increases in steel production in the next 15 to 20 years," Horrocks-Taylor adds. "Our role as a bank is to help clients ensure that the intensity of carbon emissions relating to that steel is as low as possible. In the longer term, we're going to see a global move towards so-called green steel produced with green hydrogen. It's our goal to prepare clients for that future."
Private partnerships will also be crucial in scaling and accelerating decarbonisation plans. BHP and Tata Steel, for instance, signed a Memorandum of Understanding to jointly explore the use of biomass as a source of energy and the application of carbon capture and utilisation (CCU) in steel production.10 The technologies being explored in this partnership can potentially reduce emission intensity of integrated steel mills by up to 30 per cent.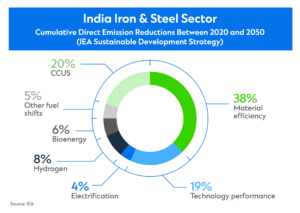 The Need for Policy
India's steel sector trails its heavy industry peers in terms of technical and commercial readiness when it comes to decarbonisation technologies.11
While some existing policy frameworks promote energy and resource efficiency such as the Perform Achieve and Trade Scheme,12 the Steel Scrap Recycling Policy13 and the Draft National Resource Efficiency Policy,14 they will need to be strengthened in the future. And the government must complement them with policies to promote innovation and the adoption of crucial technologies such as carbon capture and hydrogen-based steel production.15
"Governments could play a big role," Horrocks-Taylor says. "For instance, they could put a policy in place requiring all new projects to use steel produced with a certain carbon intensity. That would generate demand for cleaner steel and incentivise producers to embrace decarbonisation technologies. Carbon pricing could also play a role. For example, a carbon border tax could ensure that steel exported from India was produced with a lower carbon intensity."                                                                           
While policies can incentivise action, some steelmakers are taking matters into their own hands. JSW Steel, for instance, aims to cut CO2 emissions by more than 42 per cent by the end of this decade from a 2005 base.16 The company plans to spend $1.4 billion to decarbonise by shifting to renewable energy and using more scrap.17
"There are several aspects of our emissions-reduction strategy," says Mr. Seshagiri Rao, Joint MD & Group CFO of JSW Steel. "We plan to transition to renewable energy in our steelmaking operations, use low-carbon reductants in our ironmaking process such as natural gas and hydrogen, reduce the coke rate through improve iron ore quality, and increase the use of scrap by at least 10 per cent. We also plan to make our processes more efficient by adopting the best available technologies. Having experience of running a 100TPD CCU project, we are looking towards commercially feasible opportunity to enhance the capability in scaling up CCU facilities and working on the circularity of carbon. To this effect we have made MOUs with leading technology suppliers such as SMS, Shell, L&T etc."
Meanwhile, Tata Steel aims to achieve net zero carbon emissions by 2045. In India, near-term milestones include reducing carbon emission from steelmaking operations to <1.8 tCO2/tcs by 2030 from 2.4 tCO2/tcs currently. To that end, the company commissioned India's first plant for CO2 capture from blast furnace gas in September 2021. Tata Steel has also entered into a MoU with Government of Punjab for setting up a 0.75 MnTPA long products steel plant with a scrap-based electric arc furnace in India.18
In Europe, Tata Steel plans to reduce steelmaking emissions by 30-40 per cent by 2030 for its Dutch steel making operations using Hydrogen – DRI route.19 Tata Steel Nederland also recently introduced Zeremis—a brand that will deliver a range of new solutions including low-carbon steel, recycled content, zero-carbon logistics and carbon-neutral downstream operations.
"Developed geographies, which can afford early transition, would transition to low-carbon steel production sooner than developing countries. The pace will depend upon, access to different technologies and green energy including green hydrogen," says Tata Steel. "We plan to apply the learnings from our pilots in India as well as our work in Europe to our Indian operations in the future, for example Tata Steel is looking to apply the learnings of its Hisarna pilot plant in Netherlands for its transition in India."
While initiatives from Tata Steel and JSW Steel are a big step in the right direction, decarbonising India's steel sector will require much more investment and financing.
Recently Standard Chartered, with five other leading banks, signed the Sustainable STEEL Principles—the climate-aligned finance agreement for steel. The Sustainable STEEL Principles help banks measure and report the emissions associated with their steel loan portfolios compared to net-zero emissions pathways
"India is really the showcase of the just transition," Horrocks-Taylor adds. "As the economy grows and people become more prosperous, steel will remain the lifeblood of auto, construction and many other sectors. On one hand, the country needs to build new steel mills quickly. On the other, it must limit emissions to ensure growth is as sustainability as possible. That's a really fine line to walk."
Produced by Bloomberg Media Studios in partnership with Standard Chartered.
3 The Energy and Resources Institute
4 The Energy and Resources Institute
5 IEA
6 The Energy and Resources Institute
7 The Energy and Resources Institute
8 BloombergNEF
9 IEA
10 BHP
11 IEA
12 Bureau of Energy Efficiency
14 The Energy and Resource Institute
15 The Energy and Resources Institute
16 JSW Steel
17 Bloomberg
18 Tata Steel
19 Tata Steel