China's Belt and Road initiative (BRI) is perhaps the greatest attempt in human history to mobilise development capital. The grand vision, announced by China's President Xi Jinping in 2013, is to create modern versions of China's ancient Silk Road trading routes; an overland Belt and a maritime Road.
A raft of economic corridors, now in various stages of development, will boost trade between China and South-east Asia, South Asia, Central Asia, Europe, the Middle East and Africa, as new infrastructure is built, supply chains are improved and new markets are created.
Combined, the routes represent:
65% of the world's population
One-third of global GDP
~30% of the world's goods and services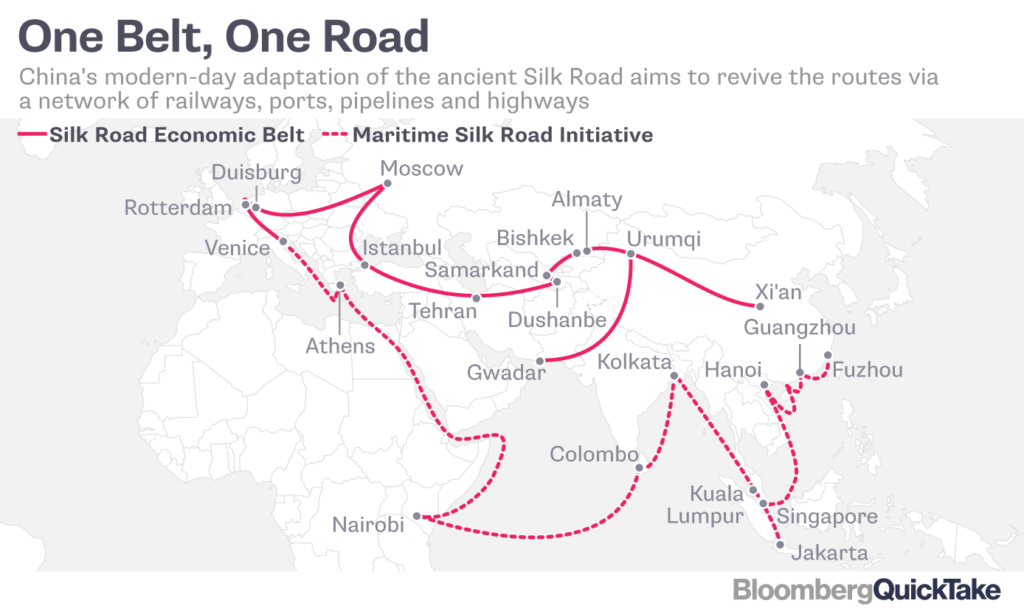 Economically, the initiative arrives at the right time. More than 65 economies along the BRI routes are growing in size and influence, scooping up ever-larger shares of global GDP.
Who stands to gain?
For China, feeding that growth creates clear opportunities for increased exports, which will reduce domestic oversupply, accelerate the nation's industrial restructuring, strengthen its geopolitical and commercial influence and expand global use of its currency, the renminbi.
For countries along the routes, gaining access to more agile infrastructure funding is one of the more immediate payoffs. And since infrastructure deficits are among the largest obstacles to growth in Asia and Africa—and among the most difficult to fund—the potential ancillary benefits to economies and societies along the routes are enormous. But perhaps the biggest impact of all would come from new joint funding models promoting public-private partnerships that could pave the way for foreign investors to participate in a country's economic development and gain exposure to future economic growth.
Belt and Road scope
100+ countries and international organisations
56 economic and trade cooperation zones
Belt and Road in progress
USD350bn committed to projects by 2023
1,700+ projects finished or underway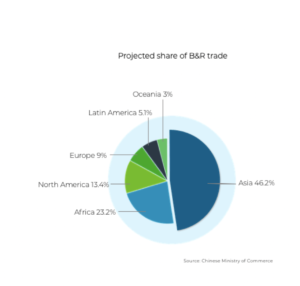 Source: Chinese Government
China has pledged to import USD2 trillion worth of goods from Belt and Road countries through 2022, signalling its intention to, in the words of President Xi, "share its development experience with all countries." Well-deployed infrastructure development creates opportunity, and opportunity lowers the perception of risk, one of the larger barriers to investment in emerging economies.
For countries outside BRI routes, the initiative promises to open up new markets in the form of special economic zones and newly built cities of commerce. Better infrastructure seeds a broad spectrum of improvements in logistics, distribution, storage, customs and legal systems, and financial services. The expertise necessary to generate these improvements will often need to come from developed markets, creating opportunities for foreign businesses.
Mission Statement
BRI has been described as more of a "mission statement" than a cohesive policy, because the plan is too vast and complex to be guided by any single agency. And, like any vast and complex project, there are significant challenges. Critics have raised several issues, including geopolitical ambitions underpinning the initiative, debt burdens assumed by governments along the routes and environmental damage that could potentially be caused by certain megaprojects.
These concerns will be better addressed with greater international involvement. While the initial stages of the plan were almost exclusively funded and operated by Chinese-led institutions and companies, the huge scope of the BRI initiative will ultimately open a rich seam of opportunity for local and multinational businesses to turn it into a truly international, mutually beneficial project.
The Belt and Road is moving into a new phase, beyond just the building of infrastructure. The expansion and internationalisation of Chinese companies will accelerate, which will also create opportunities for stronger relationships, collaborations and knowledge-sharing with foreign businesses. The project's potential to transform sectors such as finance, technology, transportation, manufacturing and even retail along the Belt and Road routes is profound.
The Belt and Road initiative promises nothing less than to redraw the global trade map and transform China's engagement with the rest of the world.
This article was also published on Bloomberg.com.