Transforming B2B into B2B e-commerce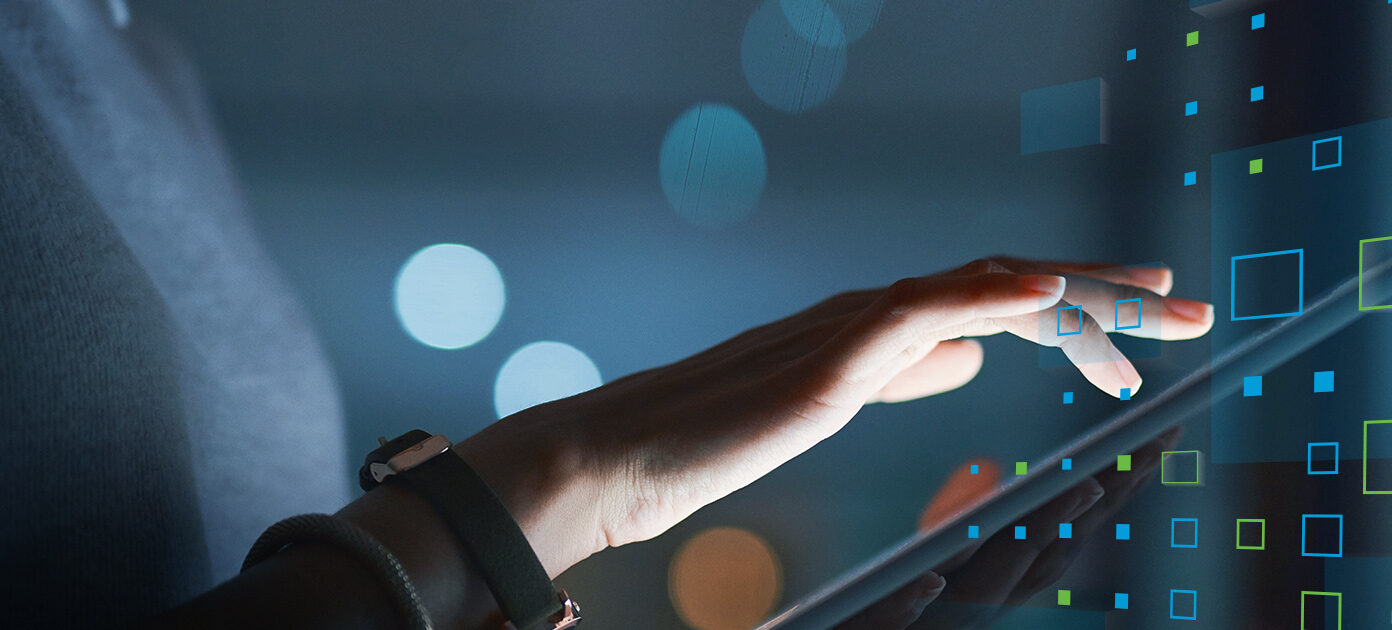 More and more companies are embracing B2B e-commerce, and there are two distinct trends driving this boom.
How to capitalise on the next great opportunity
The year 2020 may come to be seen as a watershed in the history of e-commerce due to the impact of the COVID-19 crisis.
The boom in online consumer marketplaces and delivery services received much of the world's attention, but in many ways this was simply the accelerated evolution of an ecosystem that had been steadily growing since the 1990s. For businesses – many of which were caught off-guard by the pandemic – the outbreak has been an existential crisis and the related transformation has been profound.
For B2B organisations, COVID-19 triggered a race against time to migrate sales operations online and at scale, optimise sourcing, create real-time inventory information and automate procurement flows. From the beginning of the crisis, it was clear that companies that had invested in digitalisation and e-commerce prior to the crisis had the upper hand.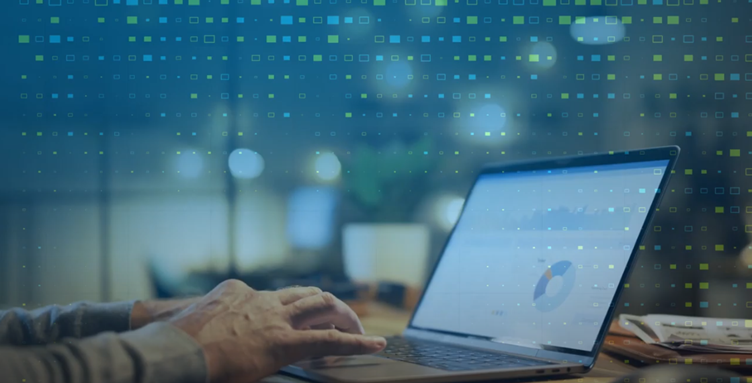 Often, the notion of crisis management goes hand-in-hand with patchwork solutions and short-term costs. In the case of traditional B2B organisations, however, we're seeing the long-lasting transformation of business strategies designed to invest in a vast well of future opportunity including embracing e-commerce. And regardless of where they sit on the adoption curve, B2B e-commerce has now become a key priority for the digital transformation of organisations as they begin rebuilding with a focus on becoming more resilient.
A customised and effective e-commerce solution can enable organisations to scale their businesses by expanding into new markets, gaining access to a larger customer base and by opening new sales channels. This is critical for businesses to succeed and future proof themselves. Digital leaders in B2B significantly outperform their peers in terms of revenue growth and earnings1. The pandemic has reinforced this reality.
"For these and other reasons, B2B e-commerce is the fastest growing segment for many companies and is now worth somewhere between four to six times the value of the B2C market," says Mahesh Narayan, Global Product Lead – Mobile Money & E-Commerce at Standard Chartered. "But if we look at the sheer potential of e-commerce across all channels, it's phenomenal."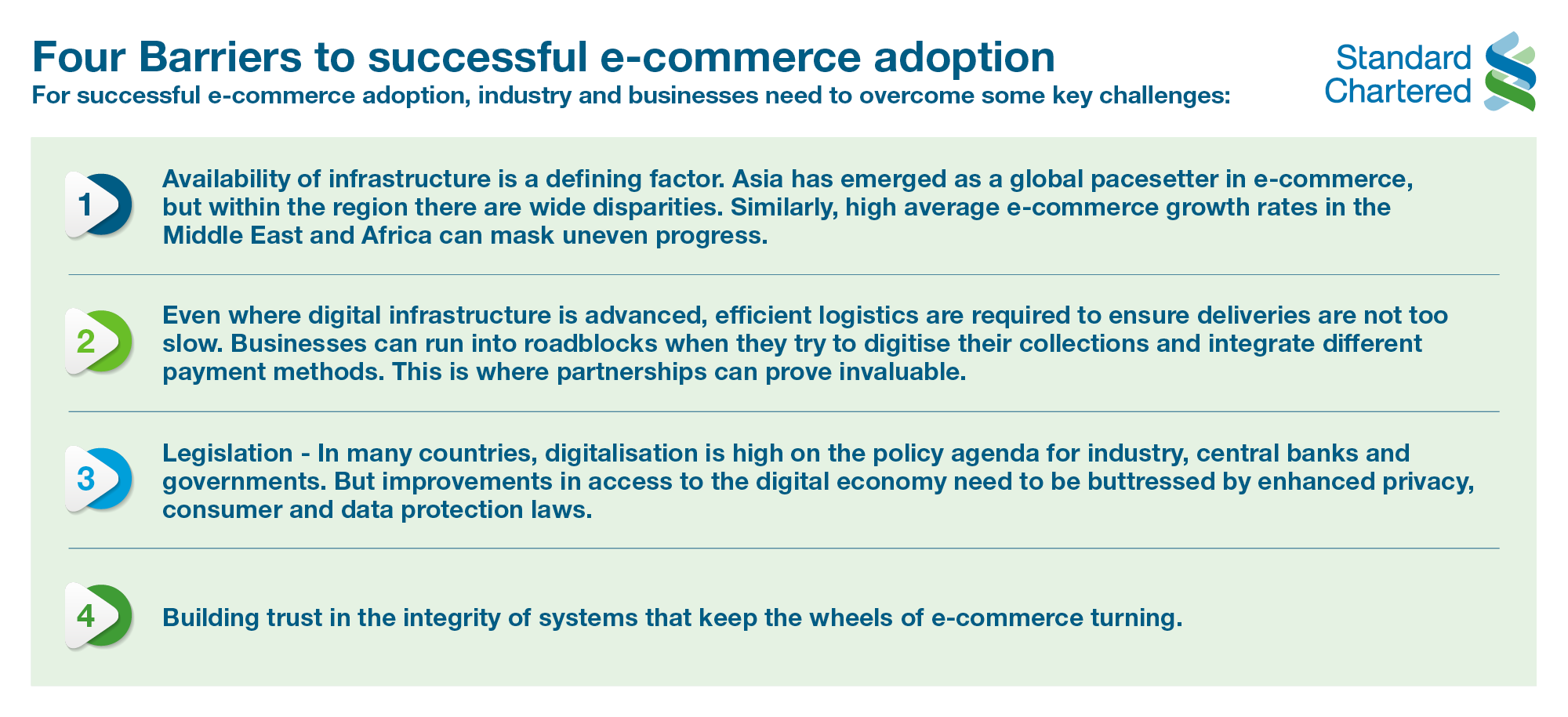 Waking up to the potential
More and more companies are waking up to this potential. According to McKinsey, preference for digital sales channels is twice as high as before the pandemic, and digital interactions with customers are now seen as three times more important than traditional face-to-face relationships. Remote selling has become the norm.
Two distinct trends are driving this e-commerce boom, Mahesh Narayan says. The first is the 'direct-to-consumer model', in which companies from small retailers to multinationals are setting up their own portals and going direct to consumers, product distributors or dealers. The second is "the rise of vertical or specialised marketplaces" – online portals that are creating ecosystems, bringing multiple buyers and suppliers on a single platform and offering a deep range of products in a particular category or industry.
To a degree, the implementation of these models has been made simpler for B2B organisations because they've been able to piggyback on years of beta-testing and development by B2C technology platforms. Even so, individual businesses still face significant adoption challenges.
Reimagining business relationships
Replacing face-to-face interactions – which until recently was a crucial element of building business relationships – has been particularly difficult. B2B sales cycles are long and more complex. Also, when it comes to placing orders, they will be higher in quantity of products or services, have much more complicated requirements, not to mention the higher and variable value of transactions.
Therefore, companies need to make the right choice when it comes to investing in a B2B e-commerce platform. This is also driven by the fact that B2B customers tend to seek the same user experience as B2C customers when it comes to a speedy check out process, flexible and trusted digital payment options and fast delivery.
Payment is a key building block of any business transaction. When it comes to B2B digital payments, companies need to be cognizant of the payment trends in various countries, so they have the optimal mix of payment methods to satisfy their customers. Standard Chartered has been helping B2C and B2B organisations across emerging markets manage these transformations, simplifying their journey into e-commerce / m-commerce and enabling them to embrace digitalisation.
"In Singapore alone, there are multiple payment options for a buyer to pay a seller," Mahesh Narayan said. "Now imagine a multinational with a presence across several countries wanting to accept various digital payments from its customers. They will be confronted with an ever-growing list of payment options and will need to tie up with multiple service providers. To simplify all of this, Standard Chartered introduced a global digital collections gateway whereby businesses can now work with the Bank as their 'one-stop shop' to accept a variety of payment options from their customers all through a single platform across multiple markets."
Digitalisation doesn't necessarily require significant investment. During the pandemic, Standard Chartered developed innovative "lite-touch" solutions for its clients that required no technical integration, enabling even companies without online portals or mobile applications to embrace digital payments through QR codes and payment links.
Innovate and collaborate to make a great leap forward
We are now seeing a "leap forward to a more connected and flexible commercial ecosystem," Mahesh Narayan said. Accelerated by the pandemic, technologies such as data analytics, the Internet of Things and Artificial Intelligence are becoming integrated into production and supply chains. With organisations rapidly adopting digital technologies in their operations, payments cannot be left behind. Companies need to focus on investing and accelerating their e-commerce strategy in response to their evolving customer needs combined with the emerging trends in digital payments.
Increasingly, companies are building resilience by integrating platforms and services to develop omni-channel relationships with customers, rather than sticking with a linear approach that's vulnerable to disruption. Becoming nimbler and more responsive to customers is now a key differentiator for commercial success.
"It's important that both B2B and B2C sellers invest in real-time insights about their buyers so that they can constantly adapt and change," Mahesh Narayan pointed out. "They cannot say 'this is my strategy today and for the next two years' if they want to stay resilient."
Barriers to successful e-commerce adoption
For successful e-commerce adoption, industry and businesses need to overcome some key challenges:
1. Availability of infrastructure is a defining factor, determining which countries and regions become leaders and which will be laggards in the future. Asia has emerged as a global pacesetter in e-commerce, but within the region there are wide disparities in digital infrastructural development. Similarly, high average e-commerce growth rates in the Middle East and Africa can mask uneven progress at the national level.
2. Even where digital infrastructure is advanced, efficient logistics are required to ensure deliveries are not too slow to discourage customer adoption. Equally, efficient payment systems are essential for e-commerce to thrive. Businesses can create beautiful user interfaces but run into roadblocks when they try to digitise their collections and integrate all the different payment methods. This is where partnerships can also prove invaluable.
3. The third major challenge is legislative. In many countries, digitalisation is high on the policy agenda for industry, central banks and governments. But improvements in access to the digital economy need to be buttressed by enhanced privacy, consumer and data protection laws. Regulators need to adapt the policy environment to widen connectivity and enable cross-border commerce while ensuring consumer protections.
4. And this leads directly to the final barrier – building trust in the integrity of systems that keep the wheels of e-commerce turning
The pandemic has accelerated digital transformation to create a golden opportunity for B2B organisations. The ball is now in the court of B2B leaders. But to commit to digitising their traditional models and deriving more competitive advantage than their slower-moving peers.
Produced by Bloomberg Media Studios in partnership with Standard Chartered.
This article is part of our 'Digital Transformation' series, exploring digitalisation trends to build resilience, efficiency and achieve transformative growth.
1 https://www.mckinsey.com/business-functions/marketing-and-sales/our-insights/four-pathways-to-digital-growth-that-work-for-b2b-companies
This series explores digitalisation trends accelerated by COVID-19 to build resilience, efficiency and achieve transformative growth.