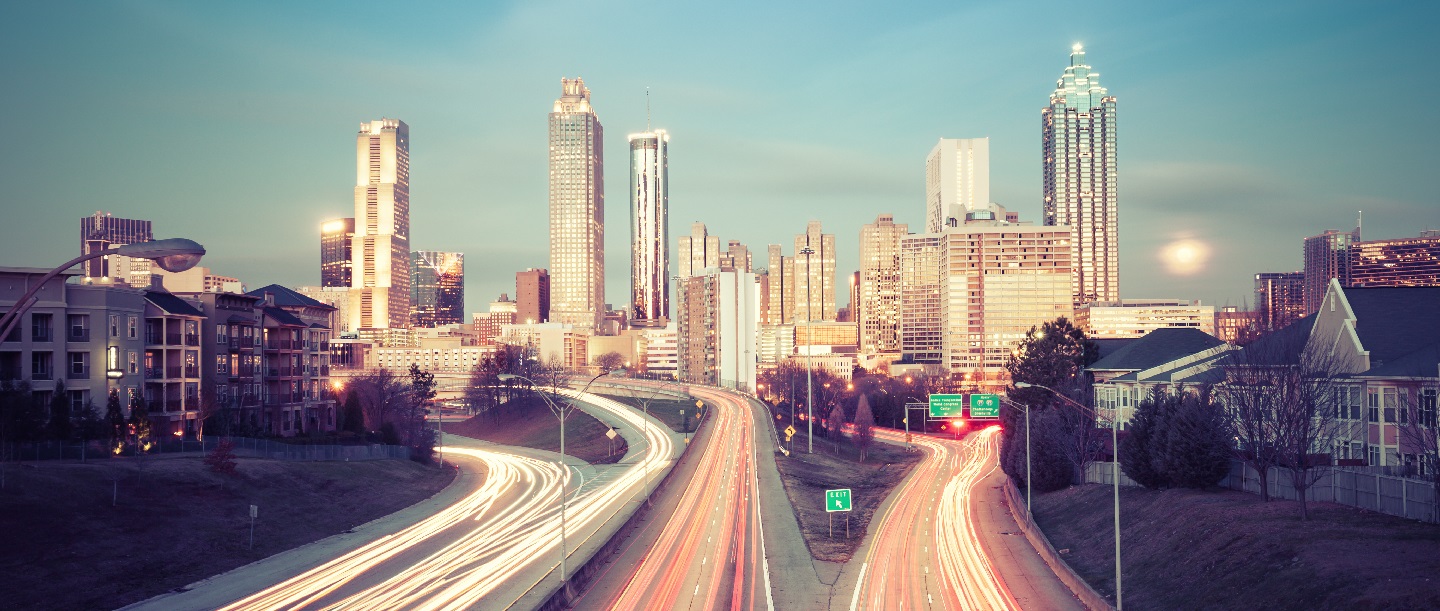 instant payments

What is instant payment

A real-time, 24x7 interbank electronic fund transfer service, giving greater convenience in receiving and making electronic payments.
Comparison with other payment types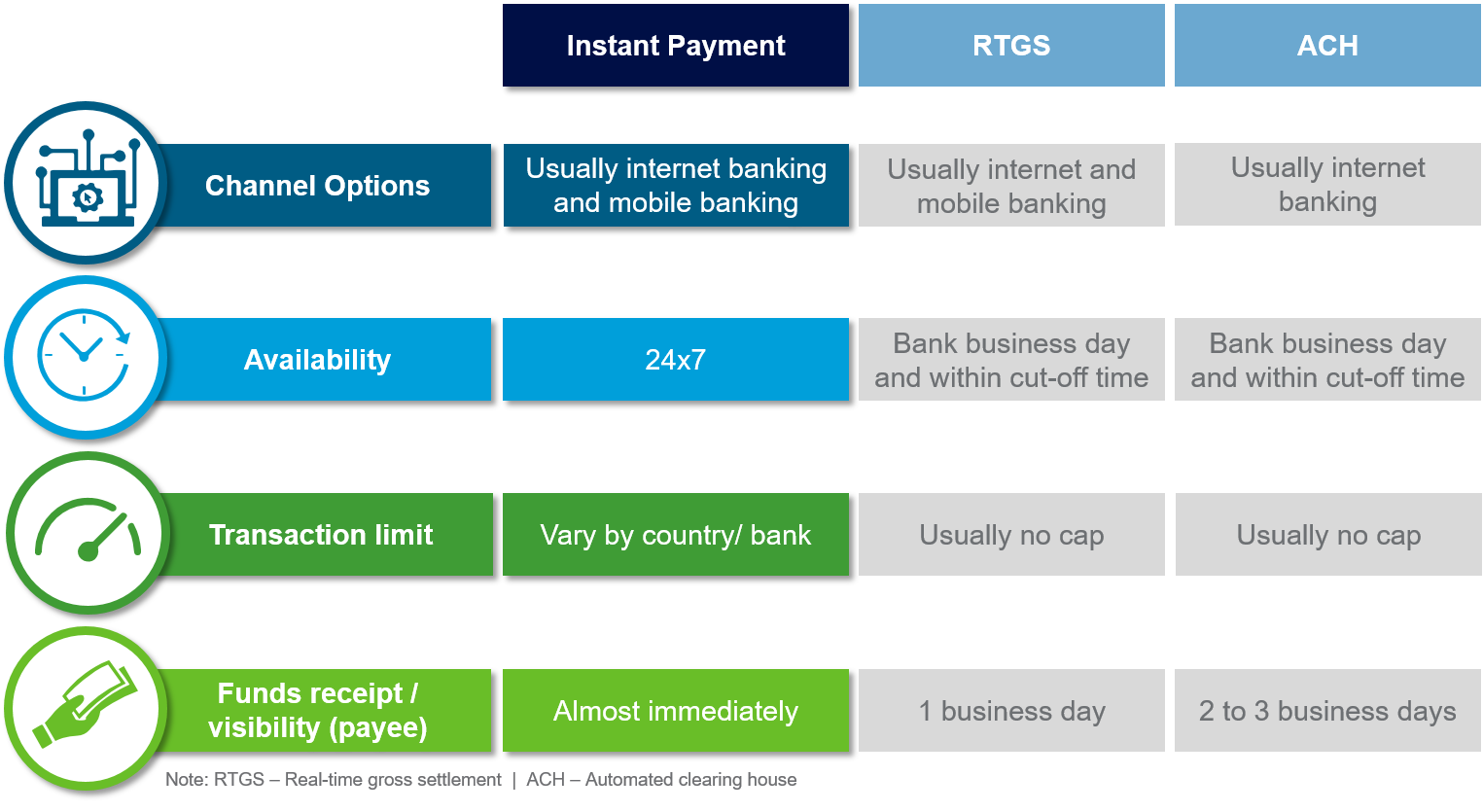 Transfer to an account number:
Benefits of instant payments
How instant payments can help you

Customers pay your bills with ease through QR code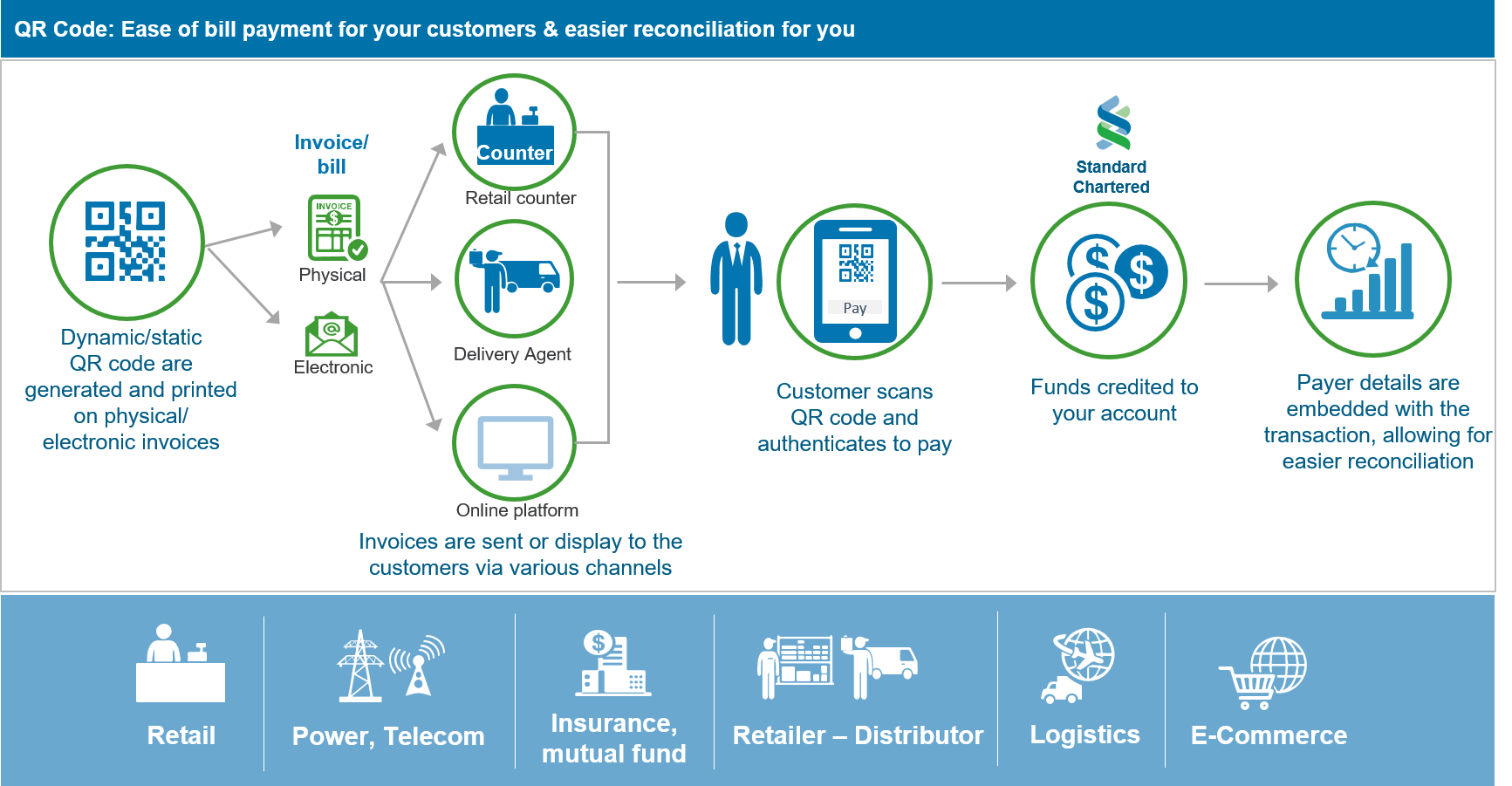 You pay your suppliers for faster release of credit line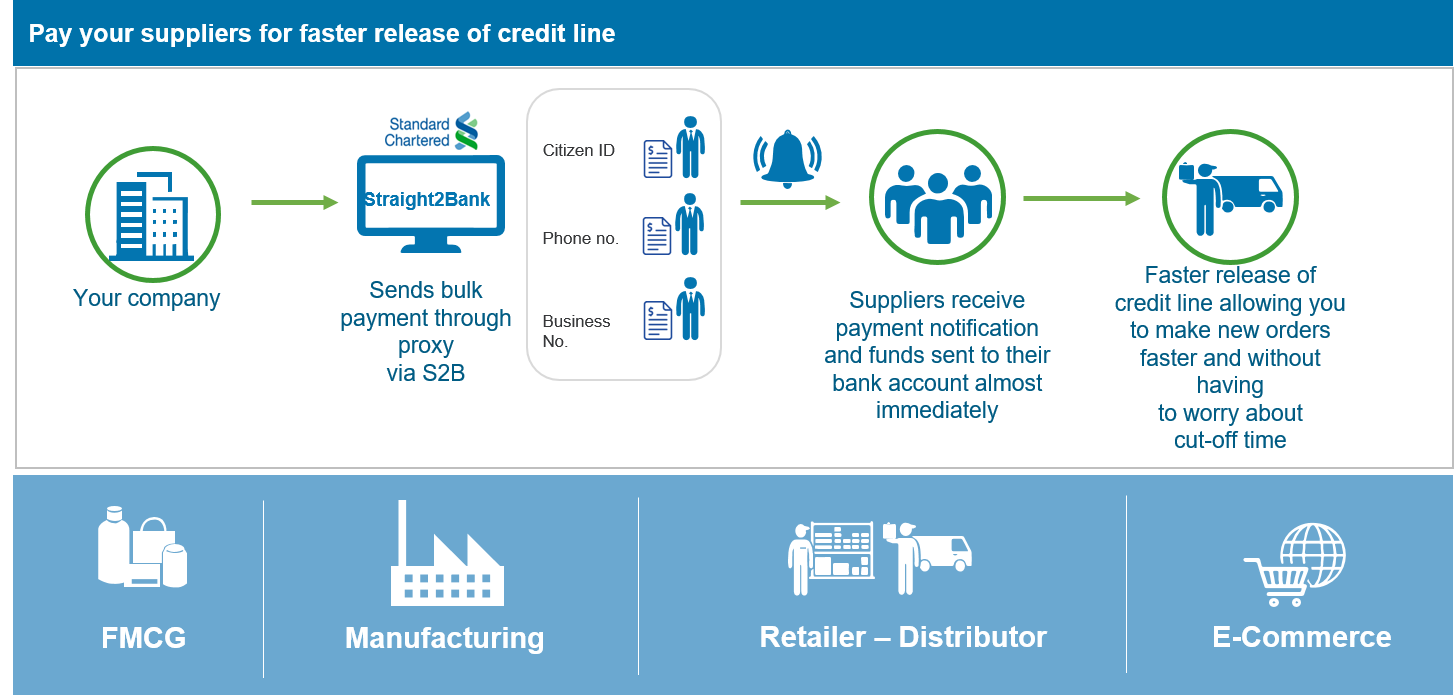 Note: Features may differ by country
Markets enabled with instant payments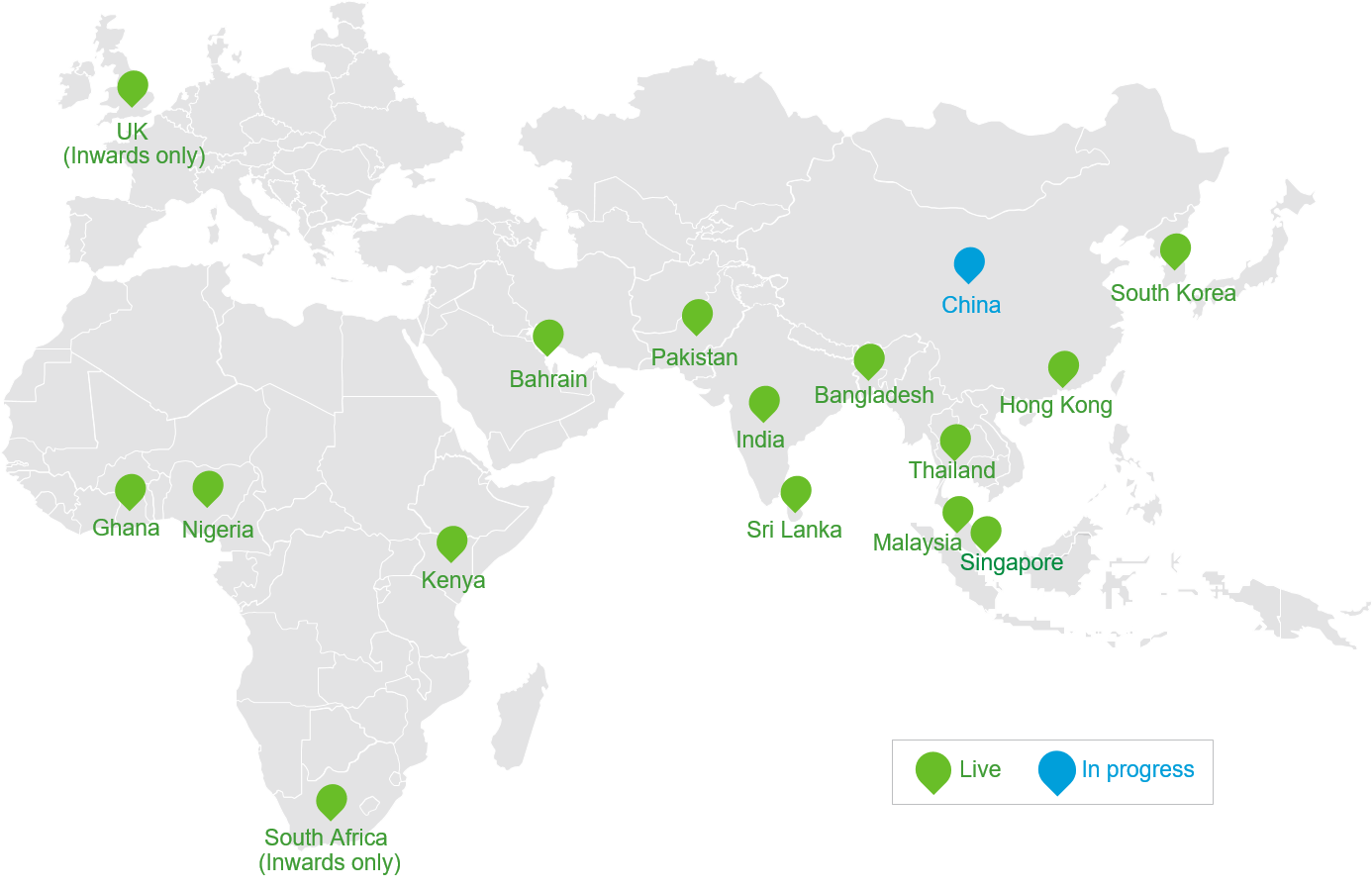 Frequently Asked Questions (FAQ)
To make payments, you only need to fill in details provided by the beneficiary, either an account number or a proxy.
To receive payments, by bank account – you need to provide your bank details to the payer. However, to receive by proxy (where it is available in your country), you need to register with the bank you hold your account at, and link your bank account with your chosen proxy (ID number or mobile phone number for individuals, business registration number for corporates), then provide that proxy detail to the payer.
Normally, there is no fee to apply for this service. However, this is subject to specific regulations or bank practice. Please refer to each payment scheme website for more information.
Previously, transferring funds to a beneficiary at a third-party bank could take several hours for the fund to be credited, and the payer may incur higher fee to make faster fund transfer.
Instant payment is 24x7, allowing payer to make transfer at any time even outside banking hours and on holidays. Fund credit happens instantaneously along with confirmation, and transaction fees are typically lower.
ACH are fund transfer in batch, the instruction has to be sent before certain cut-off time to ensure funds get credited to the beneficiary on T+1 or T+2 (depending on different clearing house).
On the contrary, instant payment allows single transfer which does not have any cut off time and is available 24x7. Some clearing house also allows bulk transfer which may be subject to specific cut-off time. Please refer to the specific payment scheme for more information.
RTGS are for high value, low volume payments, and usually has no threshold in how much you can transfer.
Instant payments are for lower value, higher volume payments, and usually has a limit per transaction.
There is generally no difference for individuals or a corporate to make or receive payments. However, certain feature that are more applicable to corporates, for example bulk transfer, may be available to corporates only.
A proxy is a unique identifier that replaces an individual/corporates bank account number to facilitate easier fund transfer.
Individuals register their mobile phone number or ID number, and corporates register their business registration number, as a proxy for one of their bank accounts.
Individual/corporate no longer need to provide bank account details to the payer to receive fund transfer, only that proxy is sufficient.
Most of the instant payment scheme is only for domestic payments.
Only with Europe's SEPA Instant Credit Transfer (SCT Inst) that allows immediate electronic transfer of transactions denominated in euros.
Although SCT Inst is a cross-border scheme, it still involves only one currency. However, ASEAN Payments Network (APN), driven by Malaysia's PayNet is currently exploring cross-border links with Thailand and Singapore.
No, instant payment currently available is for domestic currency transfer only.
It is generally free (or a very small fee) for individuals to make instant payment, and corporates usually incur a transaction fee, however, the fees are usually lower than the fee for other payment types, and are generally lower for individuals than for corporates.
The payment scheme is governed by individual country's central bank or regional financial authority, which strive for the highest standard to ensure safety and reliability of instant payments.
Yes, most instant payment set a maximum limit per transaction, subject to different regulatory requirement for each country.
Once the payment instruction has been sent, it cannot be recalled or cancelled.
You need to contact your bank as soon as possible to resolve the issue.
The status of the payment will display on Standard Chartered's internet banking and the payer will get notified of unsuccessful payments.
Instant payment schemes are typically oversee by the Central Bank of each country/region. For example, European Central Bank, Bank of Thailand, Monetary Authority of Singapore set common rules and standards for the payment system in the EU, Thailand, and Singapore, respectively.
Normally, only banks who are members of the clearing house and developed the necessary infrastructure will be able to provide this service.
Instant payment first started in Japan in 1973, followed by Switzerland in 1987.