Addressing all your financial priorities in life.
From everyday banking to long-term investing, we provide a suite of personalised wealth solutions and property investment solutions that help you meet your financial needs.

Personalised Wealth Solutions
In managing your investment requirements, we take a comprehensive portfolio approach with solutions and products customised to meet your individual financial goals, life stages and risk appetite.

Your Relationship Manager, with the assistance of a qualified team of product specialists, will ensure that you receive the best solution on the full range of mortgage, investment, treasury and insurance products.

We believe that a balanced investment portfolio comprises of Core, Satellite, and Protection portfolios*.

* These portfolio products may not be available in some countries and are subject to local regulations. Please contact your Relationship Manager for more details.

Core investment portfolio

Your core investment portfolio comprises wealth-generating instruments designed to help you achieve your long-term financial needs.

We first work out your long-term financial needs, such as property investments, funding your child's education or preparing for your retirement to ensure you enjoy a quality lifestyle.
We will assess your risk profile and help you build a core portfolio that is suitable for your profile and maximises your returns, such that these goals can be attained optimally within your required timeframe.
These portfolios comprise traditional investments such as deposits, unit trusts/mutual funds and exchange traded funds that give you exposure to a diversified range of asset classes such as cash, bonds and equities. The range of asset classes is determined by our proprietary strategic asset allocation models and, depending on your preference, we can also offer you off-the-shelf portfolios or create them from our recommended funds— selected based on our in-house research.
Satellite investment portfolio

This portfolio supplements your core portfolio by capturing specific opportunities that are typically short-term in nature.

As your financial priorities evolve, we identify specific investment opportunities that are suitable for your risk profile and financial status.
These portfolios comprise alternative investments such as foreign currency investments, structured products, margin trading services, securities trading and bonds
Protection portfolio

We will find a suitable insurance plan to protect your wealth and ensure that your family's future is looked after.

This ranges from whole life plans to endowment plans and term insurance that provide you the insurance coverage to protect the wealth you have built over the years.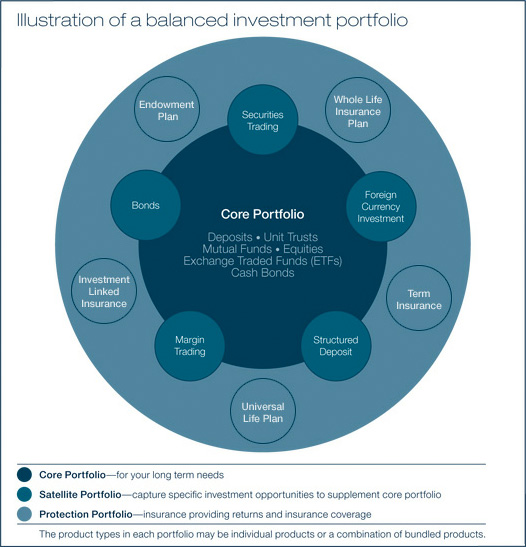 Comprehensive approach to keeping you informed

A range of market reports and updates (of your choice) will be available to you through the online resource centre on our website and at branches. Regular electronic updates will also be sent to your email account to keep you abreast on the market outlook. These include our weekly market views, foreign exchange reports, quarterly outlook analyses and other ad hoc focuses.

Joint events with leading investment specialists will also be organised to give you greater insights and regular updates on market trends and developments.

Property Investment Solutions
Whether you are an experienced or first-time property investor, we make it our priority to secure the right loans for you and maximise returns on your investments.

Our property investment solutions come with specially customised benefits that help you capitalise on the opportunity.


Higher loan amounts
Simplified documentation
Faster approvals through fast-track processes for your applications
Preferential pricing tailored by your Relationship Manager
Special re-financing terms

Our Relationship Managers and Mortgage Specialists can also help to give you valuable insights and advice on the property market.