Confidence begins off the pitch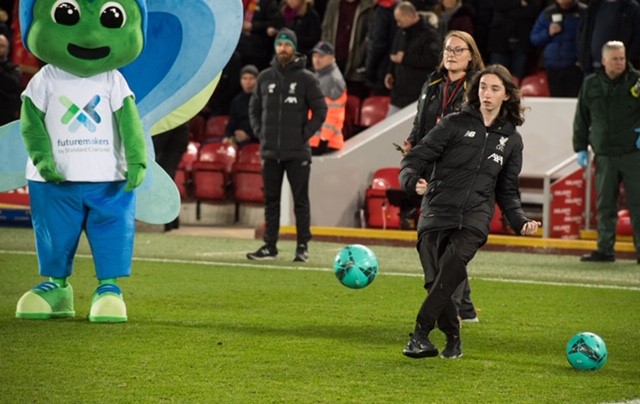 A half-time kickabout at Liverpool FC's Anfield Stadium as part of our education programme Goal has given quiet student Briony the confidence to shoot for her life goals.
Briony is a participant in the Goal programme delivered by Street League in partnership with Women Win and Futuremakers by Standard Chartered. The life-skills education programme enabled her to improve her confidence and communication skills when talking to new people.
She had the opportunity to overcome her nerves in the programme's first term when she joined a football competition in front of 54,000 cheering spectators during the half-time break at a Liverpool FC v Everton FC derby match. She and three other Goal girls were invited to kick the ball to the centre spot against other Goal participants.
Holding her head up high
The experience helped boost Briony's confidence and within a week she transformed from a quiet student into an active, positive and outgoing teenager.
With one-to-one support from her Goal coach, Briony completed all her sessions in the first eight weeks of Goal.
The Goal lessons taught Briony skills and knowledge such as leadership, communication, non-verbal communication, gender equality and learning to say no. Skills like these will empower the next generation of girls to have a greater chance of success and to learn, earn, and grow.
Boost to confidence and self-esteem
Briony's continued engagement with the programme every Wednesday includes taking part in football and other exercise sessions. She hopes to complete her GCSE exams while gaining life skills and building her confidence through Goal.
Briony said: "The Goal programme helped me understand how to gain the confidence to read clearly to a large group of people and got me thinking about how other people feel when they come out of their comfort zone."
She is now living the lyrics in Liverpool FC's anthem – walking on with 'hope in her heart' to a future where she can be confident whenever she faces new challenges.
Futuremakers by Standard Chartered
Our global initiative to tackle inequality by promoting greater economic inclusion, supports disadvantaged young people to learn new skills and improve their chances of getting a job or starting their own business.
Since 2019, Futuremakers programmes have reached more than 366,000 young people across 35 markets.
2021 Futuremakers Forum
Successfully held in July with the focus of 'Unleashing the potential of young people to succeed in the future world of work'.
Download the insight papers to learn more about the emerging trends in the labour market and how young people, clients and stakeholders can respond to this rapidly-changing landscape.
Futuremakers x Liverpool FC
We auctioned off signed limited-edition Futuremakers shirts issued to Liverpool FC and Liverpool FC Women players for their games on 3 and 13 October against Manchester City and Aston Villa.
All proceeds went to Futuremakers by Standard Chartered, helping disadvantaged young people globally realise their potential.