Recovery programme sets the stage for start-up growth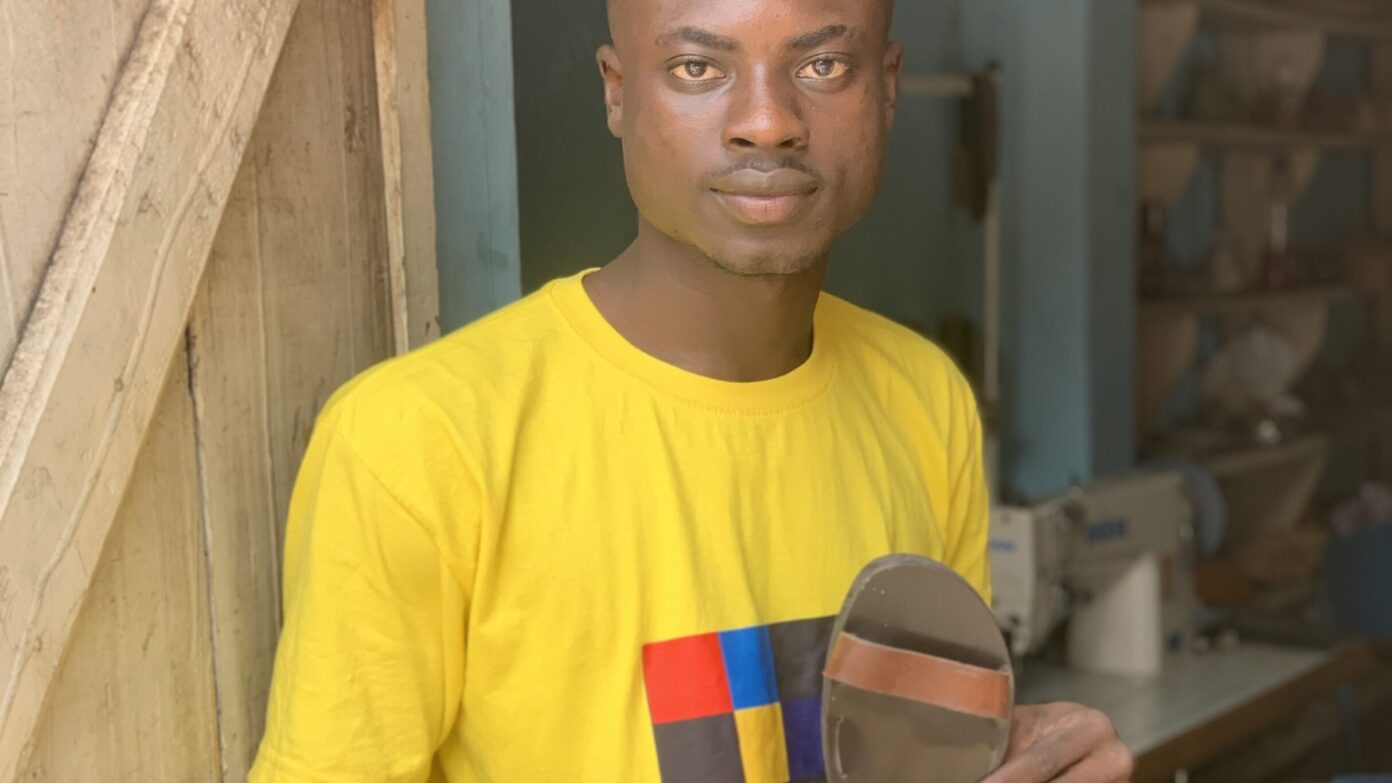 Adeyemo comes from Ibadan in western Nigeria and is the youngest of five children. He has wanted to be a social entrepreneur since he was 16 and wrote his first business plan. But his long-held ambition to grow a chain of diverse businesses worldwide had to wait in the wings due to the lack of funding opportunities and business guidance.
When Adeyemo's drama studies at Obafemi Awolowo University stopped during the COVID-19 lockdown, he used the chance to develop and hone his handcrafted leather skills. As a result, he launched Goke Inc, a local brand making products such as purses, wallets, and sliders.
New skills form the basis of growth
Adeyemo soon realised he needed to know more about running a micro business. He joined the BRP funded by Standard Chartered Foundation and delivered by FATE Foundation in partnership with Youth Business International after reading about it on Instagram.
Adeyemo said: "Before, I had little or no knowledge about running a business but enrolling into the BRP allowed me to start and learn. I enjoyed the training and meeting the trainers helped to build my network."
The programme has trained 480 young Nigerian male and female entrepreneurs, and offers consulting clinics, advisory helplines and an online platform.
Through the BRP, Adeyemo learned to run a marketing conversion campaign and advertise on social media to grow the target audience for Goke Inc through e-commerce.
Since the programme, Adeyemo has single-handedly produced around 60 pairs of leather items for customers and raised revenue for the business, which he hadn't managed to do before.
Spreading the word to others
But the programme's influence goes far beyond one micro business, as Adeyemo explained: "So far, I have helped my siblings with their business administration and taught them to target the right audiences in their social media networks."
He also supports other aspiring young entrepreneurs to scale up, using the tools and knowledge gained during the programme such as setting up their Google My Business accounts and teaching them to run ads for their business.
In the long run, Adeyemo will take a step closer towards his business ambitious when he finishes creating a website for Goke Inc and registering the site with the Corporate Affairs Commission in Nigeria. This will ensure he is recognised as a legitimate business in Nigeria, open up opportunities for local and foreign investments, catalyse the growth of his business and make it a well-known luxury brand to the world.
Adeyemo said: "The programme has changed the operations of my business. I feel honoured and grateful for participating in the programme."
Futuremakers by Standard Chartered
Our global initiative to tackle inequality by promoting greater economic inclusion, supports disadvantaged young people to learn new skills and improve their chances of getting a job or starting their own business.
Since 2019, Futuremakers programmes have reached more than 366,000 young people across 35 markets.
2021 Futuremakers Forum
Successfully held in July with the focus of 'Unleashing the potential of young people to succeed in the future world of work'.
Download the insight papers to learn more about the emerging trends in the labour market and how young people, clients and stakeholders can respond to this rapidly-changing landscape.
Futuremakers x Liverpool FC
We auctioned off signed limited-edition Futuremakers shirts issued to Liverpool FC and Liverpool FC Women players for their games on 3 and 13 October against Manchester City and Aston Villa.
All proceeds went to Futuremakers by Standard Chartered, helping disadvantaged young people globally realise their potential.