No excuses: how the UAE is pioneering female leadership
Women do not want the hassle of sitting on a company board, do not have the right credentials and struggle with complex issues. As shocking as these statements may sound, the Hampton-Alexander Review's 2018 report on women leaders reveals that these were among the most common excuses heard from the Financial Times Stock Exchange Board Chairs in 2011.
While significant strides have been made in gender diversity since 2011, men still take up a majority of leadership positions. Globally, the number of women in senior management stands at 29 per cent while the proportion of women in executive roles rings in at 24 per cent, reports professional services network Grant Thornton. The higher the position, the fewer women can be seen. Only 6.6 per cent of CEOs of Fortune 500 companies are female.
All are startling figures, but the Grant Thornton report notes that improvements have only risen by 10 percentage points since its first report in 2004. That's not good enough.
To understand more about how we can empower women and pioneer female leadership, we look to the United Arab Emirates (UAE). Consistently ranked as one of the leading countries for gender equality in its region by the World Economic Forum, the UAE has actively championed gender equality as a national priority.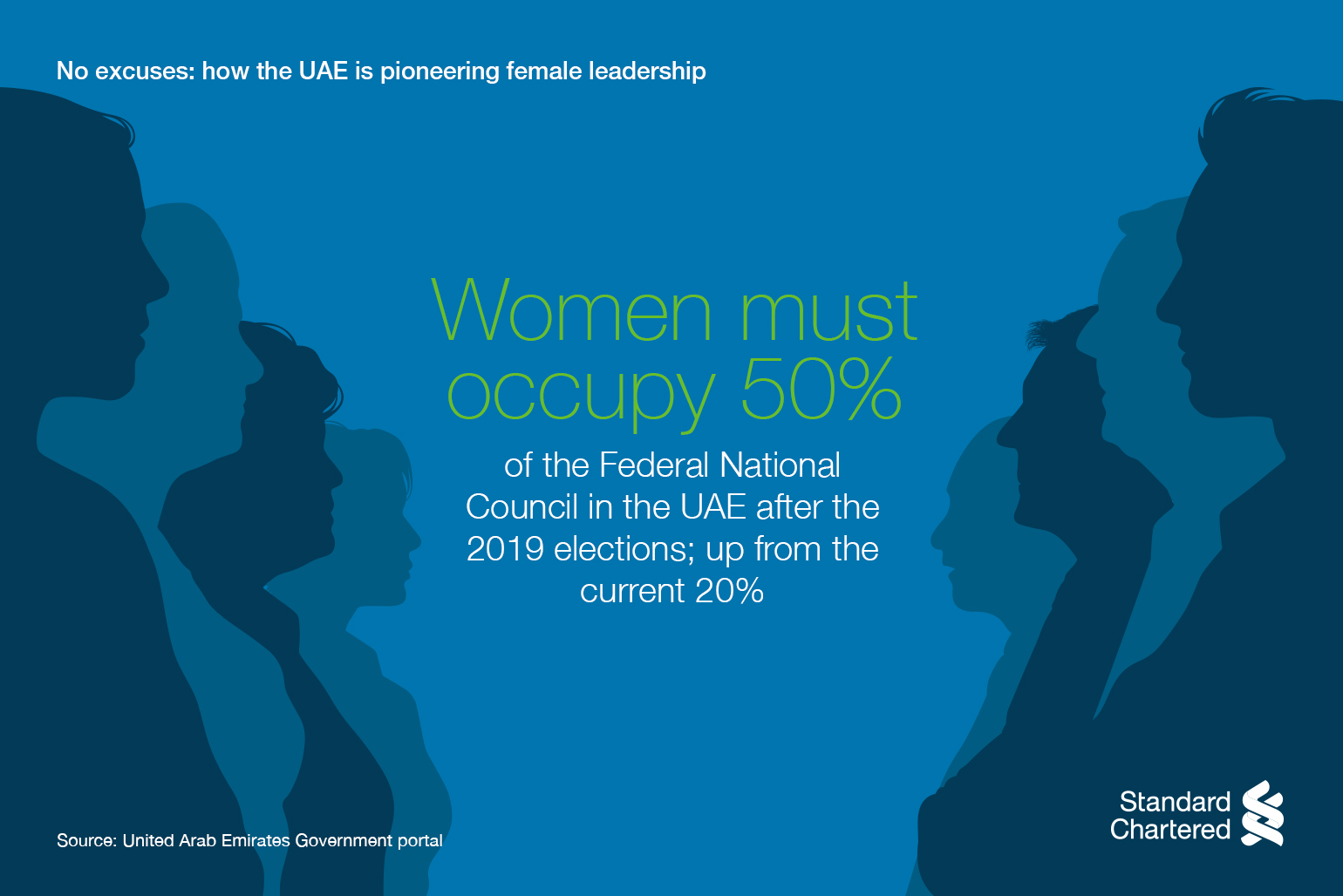 Raising awareness together
The late Sheikh Zayed bin Sultan Al Nahyan, known as the founding father of the UAE, once said any country that pursues development should not leave women, who make up half of society, in poverty or illiteracy.
To date, the country has rolled out several initiatives to promote gender balance, such as the establishment of the UAE Gender Balance Council in 2015. More recently, the country made headlines with its presidential decree that women must occupy half of the country's Federal National Council after the 2019 elections — a sizeable increase from the current 20 per cent.
Ayesha Abbas, Value Centre General Manager, Head of Priority and Premium Banking, UAE, Standard Chartered, believes that the heightened level of awareness on gender diversity has helped to empower women. "There are concerted efforts being made to promote diversity and inclusion in my place of work and across the industry." Ayesha observes that there is an increased number of women in the workforce across various roles, from front line sales roles and support roles to leadership roles.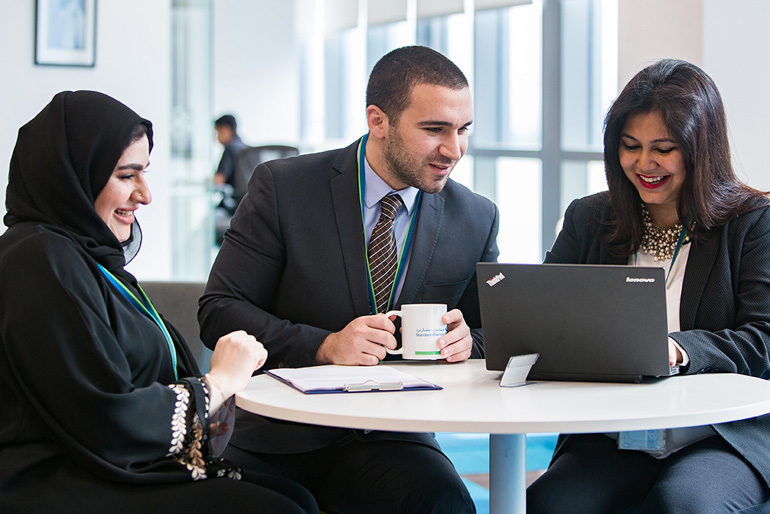 Breaking stereotypes, one at a time
Ayesha shares that she has not had to overcome any form of gender bias personally, and she believes that this is due to the increased awareness of diversity and inclusion. Mentorship has also played a key role in her career, as she says, "I have always had mentors from different walks of life and even within organisation — both men and women."
While she feels that female leaders may tend to have innate qualities that allow them to bring a sense of "togetherness", she emphasises the importance of diversity, especially as leadership is not about gender.
"In any decision-making process, you need diversity — not only gender, as diversity goes beyond gender. When diverse groups are placed in a boardroom, decision-making is rich, well thought-through and based on wider viewpoints," she maintains. In fact, a recent report by the International Labour Organization (ILO) shows that gender diversity not only helps with business performance, but also improves innovation and talent retention.
Ayesha's tip to fellow female employees is to "step up, come forward and be bold in accepting challenging roles". She adds, "I have almost always found that regardless of being a man or woman, if you make sense, then your voice [will be] heard!"
"When diverse groups are placed in a boardroom, decision-making is rich, well thought-through and based on wider viewpoints."
Related articles
Find out more about how gender equality is changing the workplace.
The world has been making headway in achieving gender equality but it is still going to take over a century…
Only 6.6 per cent of CEOs of Fortune 500 companies are female. But if we start altering the way we…
A better future for women
See how we're tackling gender inequality.
Learn more


Explore how we make a difference
Ship breakingProtecting wildlifeLiving longerGender equality