Offering employees the ability to work away from the office, outside of office hours, is an approach that companies from Dell (which has declared that 50 per cent of its global team will be on flexible schedules by 2020) to Standard Chartered and Airbnb have adopted in acknowledgement that work is what you do and not where you go.
LinkedIn's 2019 Global Talent Trends report revealed that 31 per cent of employees say flexibility is critical when it comes to considering a job. Many value it more than salary: a survey by FlexJobs found that 29 per cent of working parents would take up to a 20 per cent pay cut for a flexible work arrangement.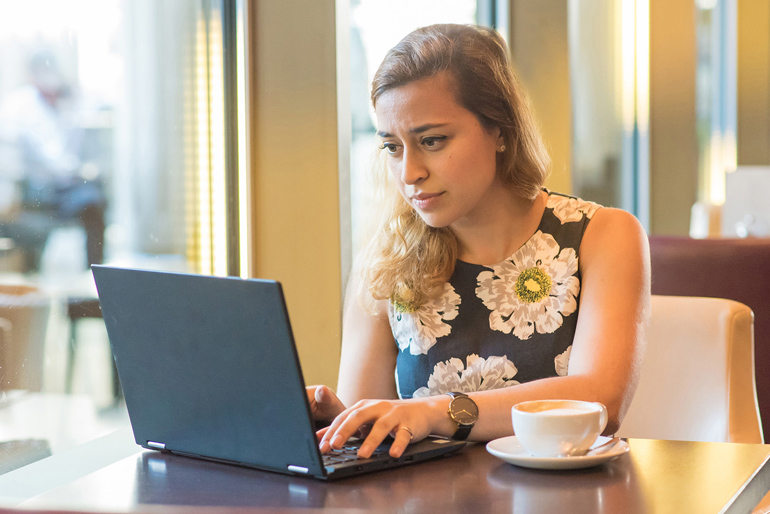 The last place we feel productive is at our desks
The office desk can be an unpopular place to be. According to the same FlexJobs survey, 75 per cent said that they are more productive working from home due to fewer distractions, and 76 per cent said that fewer interruptions from colleagues (something that more women experience in the workplace than men) was essential to productivity. Airbnb's 2019 Future of Work report revealed that 75 per cent of those surveyed worldwide felt that a centralised office is no longer required for quality work.
Who hasn't achieved more in one morning of working from home or a favourite cafe than during a whole day at the office? Research proves us right. A Stanford University study published in 2015, which involved China's largest online travel agency Ctrip, revealed that letting employees work from home increased productivity by 13 per cent. Professor Nicholas Bloom, who led the project, pointed to the office as a productivity killer in a TEDxStanford talk, noting, "The office is actually an amazingly noisy environment. There's a cake in the break room; Bob's leaving, come join. The World Cup sweepstake is going. Whatever it is, the office is actually super-distracting."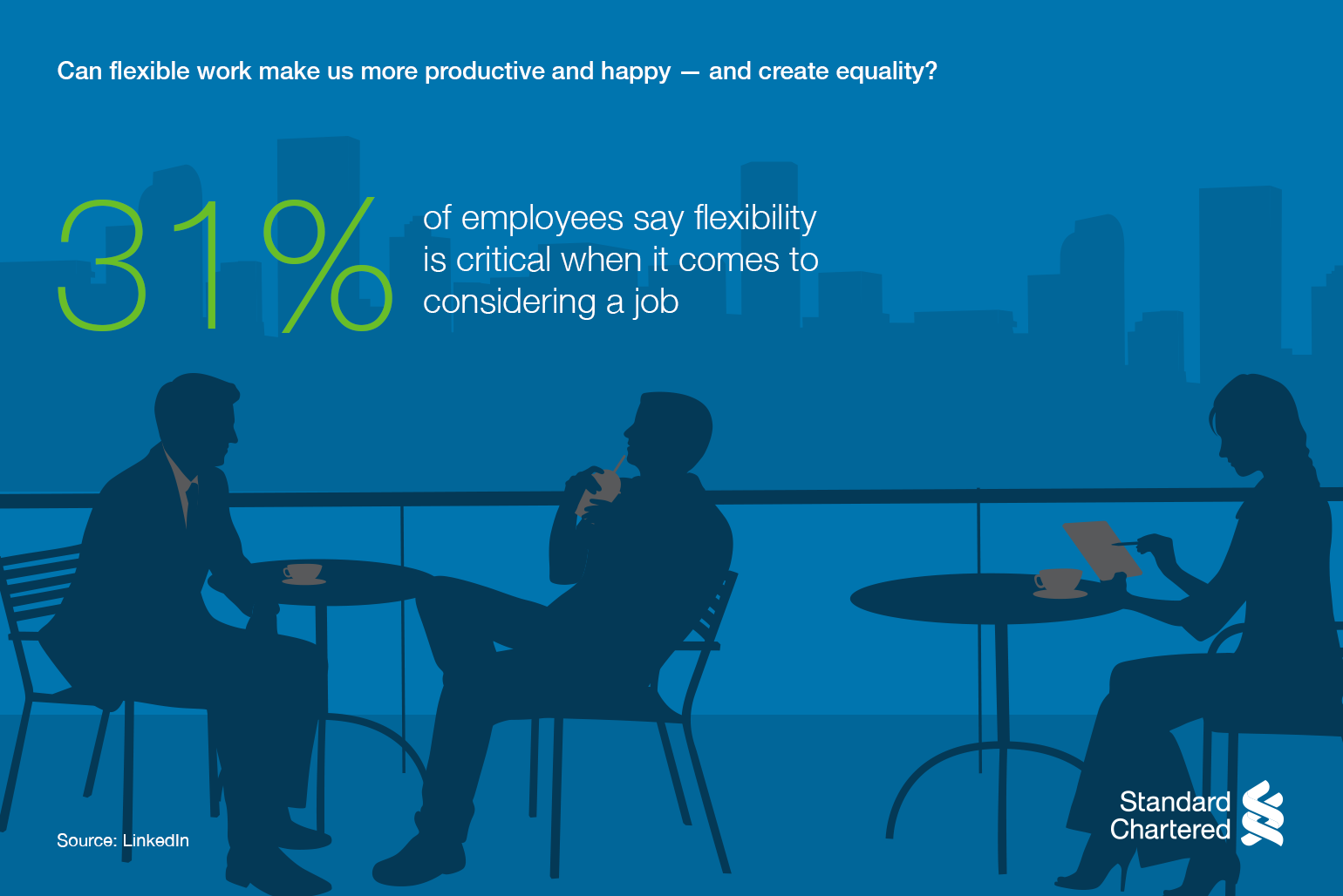 We can do more, but are we happier?
The productivity benefits for employers are clear; for employees, the benefits can be emotional. "I definitely feel as if I am calmer and more productive when I have choices around my working pattern," says Helen Eber, Head, Performance, Rewards & Benefits (PRB) Group Processes, Human Resources at Standard Chartered.
The bank is fostering a flexible culture throughout its global workforce, and it's made all the difference to Helen as her lifestyle and career have evolved, from single professional to married parent in Singapore.She currently has a flexible work arrangement working from home two days a week.
For Jenny Craik, Global Head, Performance, Reward & ER, Human Resources at Standard Chartered the freedom to harness her energy levels is just as powerful as the freedom to manage her time. "I can do work when I have the most energy, which makes it quicker, easier and more enjoyable," she says.
Feeling valued and trusted is another meaningful element. "The flexibility I have tells me that the company and the people I work for view me as a person, not a resource," says Jenny. "They know I have a life outside of work and they trust me to manage my time, my workload and deliver what I'm expected to."
Eliminating the journey to the office can also have an enormous emotional impact — especially for those who undergo an extreme commute each working day. One 2014 report by PGi, a software service provider, found that 82 per cent of telecommuters have lower stress levels: working from home can be transformative, considering that for Londoners, the average daily commute is one hour and 21 minutes.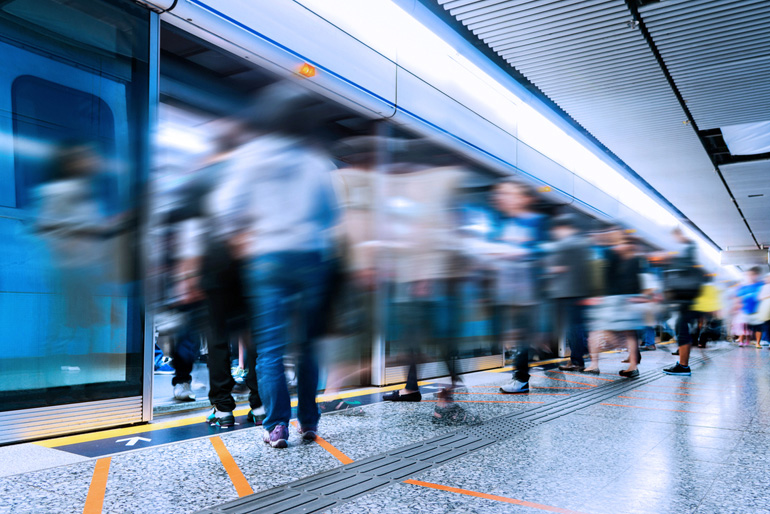 What do flexible working practices mean for gender equality and inclusivity?
Gender still matters when it comes to understanding the outcomes of flexible working. Many associate flexible working with women, and that bias exists. It's true that flexibility enables mothers to maintain their working hours — but it can also lead to increased multitasking and boundary-blurring for women who work from home.
"Data shows that working women all over the world take on a 'second shift' [of caring and household responsibilities], and do a larger share of this than men, even in situations where they make more money," says Ruchika Tulshyan, author of The Diversity Advantage: Fixing Gender Inequality in the Workplace. "The only way flexible work policies can be harnessed to prevent further reinforcement of traditional gender roles is if employees of all genders are encouraged to take it up," she says.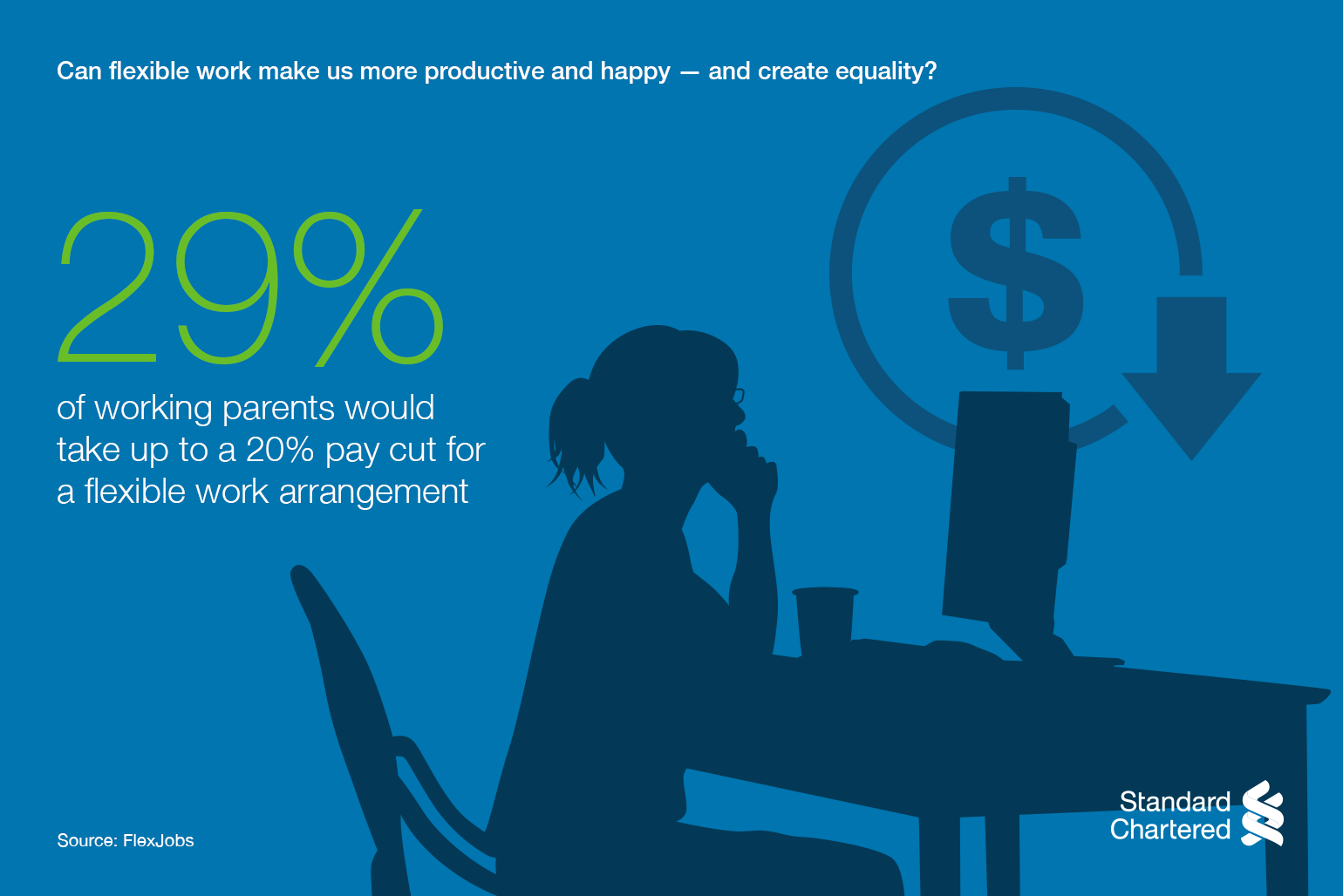 "Having a suite of options and flexibility to choose what works for each person is most helpful in my view," Helen adds. "It supports an inclusive culture that helps both men and women find the right balance."
How can society use this as a tool for equality in the workplace? "When flexible work policies are not culturally acceptable for men to make use of, women are viewed as having special needs within the organisation," says Ruchika. "They may be viewed as less ambitious or less able to handle the work at hand, especially a promotion.
"What would move the needle is more men — especially more senior men — visibly and actively working flexibly," she says. "We need more senior men to set the example and say, 'I'm leaving at 3pm and I'll be back online after a few hours if you need me.'
"We need to create a societal and organisational culture where men and women work flexibly without shame."
When flexible work policies are not culturally acceptable for men to make use of, women are viewed as having special needs within the organisation. They may be viewed as less ambitious or less able to handle the work at hand, especially a promotion.
Related articles
Find out more about how gender equality is changing the workplace.
Explore how we make a difference