We are committed to creating a culture of inclusion at Standard Chartered, because when people feel included, they enjoy their work lives more, as well as being more productive. Striving for a culture of inclusion means thinking about and treating everybody equally, being aware that different people will bring different talents and viewpoints to the table. And that doesn't just apply to our workforce: we need to help create a world in which everybody is included and has access to the same services.
As such, we have committed to joining The Valuable 500, a global movement that aims to put disability on the business leadership agenda. Over 1.3 billion people across the world live with some form of disability, according to the World Bank Group, and together with friends and family, this group has a spending power of $8trn, according to the Global Economics of Disability Report.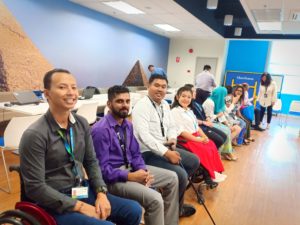 The Valuable 500 pledge states that disability inclusion must be on our board agenda, that we will make at least one firm commitment to action on disability inclusion in 2019, and that we will share our commitment to it with the rest of the world. The campaign aims to unlock the business, social and economic value of people living with disabilities across the world, and as an organisation we are already working on becoming a more accessible, inclusive entity.
We recognise that, due to varying cultural, legal and historical contexts, our markets are in different stages of their diversity and inclusion journey. Because of this, our commitment is to have all countries in our network complete an internal disability assessment and incorporate areas of improvement into their local diversity and inclusion plans. This disability benchmark will help every market measure and demonstrate progress towards becoming disability confident by reviewing inclusive processes and practices, infrastructure accessibility, client/customer accessibility and impact in communities.
Only 4 per cent of companies actively hire and accommodate people with disabilities
In addition, we have reviewed our Group-wide approach to managing workplace adjustments, which are a key component of removing barriers and increasing accessibility, and created Employee Resource Groups in various markets to further enable colleagues to achieve their full potential in the workplace.
As our Group Chief Executive, Bill Winters, says: "We are committed to be a disability-confident organisation with a focus on removing barriers and increasing accessibility."
A valuable contribution
The Valuable 500 campaign was launched at the World Economic Forum's Annual Summit in Davos in January and marks the most significant move the banking sector has made to date to address disability inclusion in business. Caroline Casey, founder of The Valuable 500, says: "It is encouraging to see that the industry society relies on for financial purposes, has recognised the huge market size and spending power of a currently untapped pool of people, and has taken a definitive stand on embracing inclusion and diversity in their boardrooms as a result."
Casey, who discovered she was legally blind on her 17th birthday, points out in an article on Grow that "with race and gender equality high on the cultural agenda, the business world has woken up to the issue of diversity and inclusion. But only 4 per cent of companies actively hire and accommodate people with disabilities."
That figure needs to change, and by signing up to the Valuable 500, we intend to help do something about it.