I have been with Standard Chartered for almost 30 years, and have been managing fraud risk for 21 of those. During that time, I've investigated countless cases of fraud in countless different scenarios. Unfortunately, COVID-19 has provided an opportunity for fraudsters to prey upon the vulnerable. We owe it to our communities and customers to play our part to stop them. Recently, I had a chance to do just that.
One Saturday afternoon in mid-March, I received a call from the Singapore Police's Anti-Scam Center (ASC) informing me that there was a scammer out there masquerading as a supplier of surgical masks and hand sanitisers, who was failing to deliver any of the goods that one of our clients, a pharmaceutical company in Europe, was ordering.
When scammers hear the questions I ask, they realise they've targeted the wrong guy and quickly hang up!
Catching a thief
We later learned that the scheme totalled $10m in fraudulent transfers, and was being routed through many banks. $1m of that had come through Standard Chartered. My first thought was to ensure that if this was a scam, that the money did not leave Standard Chartered, because it would be more difficult to recover.
I immediately got on the phone and requested a police order to freeze the account, which we did minutes later. I also contacted the cash management unit to try to recover the money. Luckily we had a bit of time – as it was Saturday, the next working day was still a day away – but I needed to act fast because several cheques had already been issued. The scammer was already spending the money.
While we recalled the majority of the money, and froze the rest, the ASC tracked down the perpetrator, who was in Hong Kong, and arrested him. Ironically, he had called his bank because his cards had been frozen! In the end, we saved 95 per cent of the fraudulent funds. Meanwhile, the scammer is on remand, waiting for his charge sheet to be prepared.
Since it launched in 2019, the ASC has been working closely with local banks and other companies to combat scams and mitigate the losses caused by fraud. This is a shining example of how governments can come together with business to fight financial crime. There's always more that can be done, but it's reassuring to see these partnerships working.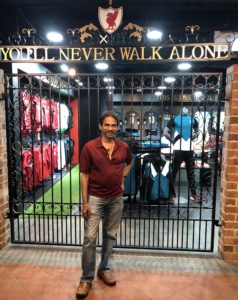 Education is half the battle
Scammers will keep trying. I've received scam calls recently, mostly dialled through VPNs so they're difficult to trace. But when they talk to me and hear the questions I ask, they realise they've targeted the wrong guy and quickly hang up!
We once had somebody reach out to a branch with very real-looking indemnity and bond documents instructing SCB Singapore to release over $1 billion to them. The documents even carried forged signatures from Standard Chartered executives! Thankfully, activities like that are easy to detect and counter.
People just need to be vigilant about scams, especially in these times when people may have lost their jobs or have reduced incomes and are worried about money.
I do volunteer work in my local community to help educate people on the risks, especially those suffering with money troubles, or elderly people who may not fully understanding the risks. Educating people is half the battle against financial crime.
By being vigilant and working together, we can overcome financial crime
Experience trumps fraud
I just played my part. I don't expect thanks for the job I do, but it was really pleasing to receive messages from members of our management team thanking me for my efforts in this case.
My 30 years of experience have taught me that you have to act fast to counter fraudsters. When I first joined Standard Chartered, and everything in the banking landscape was manual, sometimes it would take days for police orders to reach us in the post! Thankfully, we now have the technology we need, and we managed to recover most of the money.
There will be more cases like this, but by being vigilant and working together, we can overcome them.
For more information on how can protect yourself and your business from fraud, click here
For more information on how we're responding to the COVID-19 pandemic, click here