Expanding my horizons: Jack's story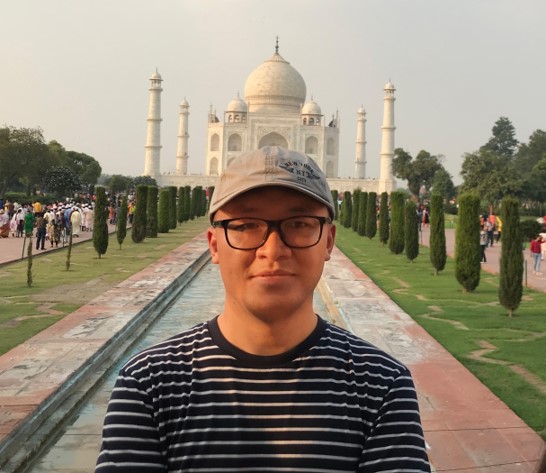 Jack Duan, Relationship Manager, China Desk, Gurgaon, India
Since graduating from university about a decade ago, I've spent most of it away from my home city of Chengdu in China. I was working for the largest telco in China when I was offered my first role in Standard Chartered based in Lagos, Nigeria. The role was in the Transaction Banking business, looking after Chinese clients who did business with Nigeria. It was also my first role in Banking, and I was excited about moving to and gaining experience in a country and continent that was completely foreign to me at that time.
After two years in Nigeria, I moved back to China, and continued to build on my Transaction Banking experience, specialising in Securities Services. A few years afterwards, a really interesting opportunity to be the pioneering Relationship Manager (RM) for the China Desk in India came up. There has been a surge of Chinese investments into India, and Standard Chartered wanted to leverage the opportunity to optimise the investment opportunities. That's where I come in. As a Commercial Banking RM with a good understanding of businesses in both markets, I am well positioned to serve my Chinese clients with our tailored banking products and services. I get a special thrill when I'm able to gain the client's trust and win the account away from a competitor, and I build upon each victory and take it with me to better serve the next client.
Interested in joining us?
View our latest roles





Like Nigeria, India is a country and continent that was new to me and living in Gurgaon lets me experience the people, places and culture first-hand, greatly expanding my world views along the way.
"During these uncertain times, it's more important than ever to remain in constant touch with my clients."
Currently, because of the global pandemic, I am unable to travel to India. I remain in constant touch with my clients via email and phone to make sure they continue to feel supported by us during these uncertain times, and that their needs are still able to be met.
My seven years in Standard Chartered thus far has been made all the better by our caring, people-centric culture where each colleague really matters. Along the way, whether it be in Nigeria, China and now India, I was warmly welcomed and made many good friends along the way. Looking ahead, I am looking forward to new adventures ahead as I continue my journey with Standard Chartered. 
拓展视野,遇见更好的自己:段俊杰的故事
段俊杰是一个土生土长的中国人,他的渣打生涯始于尼日利亚,随后回国工作,目前在印度"中国企业海外服务处"担任客户经理。
渣打银行印度古尔冈分行"中国企业海外服务处"客户经理段俊杰
我来自中国成都,自十年前大学毕业以来,我的大部分时间都在离家很远的地方度过。在加入位于拉各斯的渣打尼日利亚前,我在一家大型的中国通信企业工作。加入渣打银行以后,我最初在交易银行部工作,负责服务与尼日利亚市场有业务往来的中国企业。这也是我初次涉足银行业,当时,能够在一个完全陌生的国度积累经验使我非常兴奋。
在尼日利亚工作两年后,我回到中国,继续积累交易银行业务经验,并专注在证券服务领域。几年后,我遇到了一个难得的好机会——成为渣打印度商业银行部"中国企业海外服务处"的首批客户经理。当时,中国企业在印度市场的投资激增,渣打银行亦因时而动,加强金融服务对接工作。借此契机,我成为了驻渣打印度的一名客户经理。作为商业银行部客户经理,我们需要对印度和中国市场的业务都有深入了解,这样方能为中国客户提供量身定制的银行产品和服务。在这份工作中,令我尤为感到兴奋的就是能赢得客户的信任,继而为客户落地金融服务。每一个阶段性胜利后,我都会再接再厉,激励自己更好地为下一个客户服务。
与尼日利亚一样,印度对我来说也是一个完全陌生的国家。在古尔冈的生活让我亲身体验到了当地的风土人情和地域文化,这极大地开拓了我的视野。
""在这个充满不确定性的非常时期,与客户保持紧密联系比以往任何时候都更加重要。""
当前,由于新冠疫情全球蔓延,我无法前往印度。我通过电子邮件和电话与客户保持着积极联系,使他们在此非常时期仍能持续感受到来自渣打银行的支持,让他们确信公司的需求依然可以得到及时的满足。
迄今为止,我已在渣打银行工作7年。渣打银行的人文关怀、以人为本的企业文化让我的职业生涯更加美好。在这种企业文化中,每一位同事都至关重要。一路走来,无论是在尼日利亚、中国还是在印度,我都感受到了同事们的热情相待,也结识了很多朋友。展望未来,在与渣打银行的同行之路上,我期待着更多更精彩的旅程。