We are standing on the cusp of a new age. Industry 4.0 is alive with robotics and artificial intelligence (AI) transforming the industrial and commercial landscape, and digitalisation is changing the way we work and play.
Global firms are seeking new avenues to diversify their supply chains, while businesses are automating and digitalising operations to boost productivity and cost-efficiency. The world will also come to rely even more on big data for decision-making, and networked sensors and devices for tasks like inventory management and shipment monitoring. As global trade evolves, let's look at some of the technological movers and shakers in supply chain management and their transformative roles.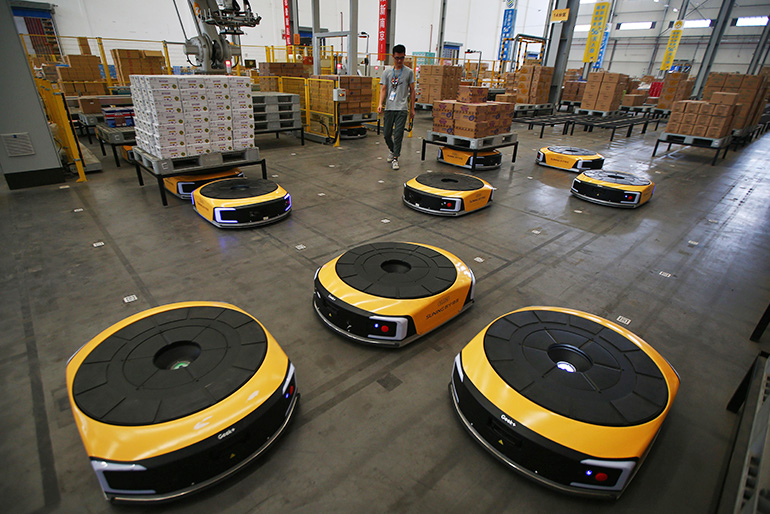 Rise of the robots: factories without humans
As the race for automation in industrial sectors speeds up, robots now play a critical part in our manufacturing process, working alongside humans on factory floors.
According to the World Economic Forum, in 2017, South Korea topped the charts with a ratio of 710 industrial robots to 10,000 employees. Installed mostly in the electronics sector, Singapore came in a close second with 658 bots per 10,000 employees. Robots help to streamline logistics and the supply chain by delivering more consistent and predictable results.
In Japan, some factories, noted the WEF, are essentially robot-only zones, operating for weeks at a time with minimal or no human intervention. With 5G wireless technology entering the picture, a shop floor populated by smarter, cable-free and self-navigating robots may soon become the norm.
As with all technologies, adopting robotics in certain regions can be a challenge. In developing Asian markets, the effectiveness of integrating robots is hindered by problems like frequent power outages, poor logistical design, and a lack of technical skills. Several firms with factories in Asia have moved their operations back to the West as technology-driven production becomes more cost-effective in the long run.
So where do humans fit in this bot-heavy world? To mitigate job displacement, governments and stakeholders need to focus on the workforce being technologically proficient. "A shift to technology-enabled manufacturing in Asia requires both hard and soft infrastructure in order to succeed. A focus on building skills and technical competence, and creating a highly proficient labour force, is vital," says Chidu Narayanan, Economist, Asia at Standard Chartered.
While autonomous robots are almost commonplace in the manufacturing and warehousing sectors they can also help companies boost productivity and defray long-term operational costs. Amazon, for instance, experienced a 50 per cent increase in capacity among its fulfilment centres following its use of robots. Over at DHL, Effi-BOT, a self-learning automated cart equipped with high-resolution cameras, obediently follows human pickers around the warehouse and transfers packages from point to point. By integrating robots like Effi-BOT, DHL is able to enhance their single and multi-order picking process as well as track complex inventory movements.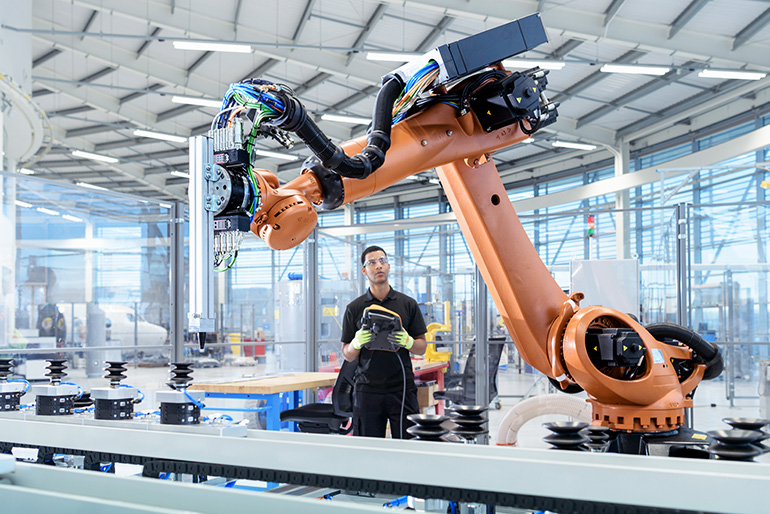 Machine brainpower is here (but does it think fairly?)
The reason machines are becoming smarter by the day comes down to artificial intelligence. Driven primarily by algorithms, AI has the ability to learn from past experiences and collected data to complete a specific task, which previously required human know-how. Supply chain management applications – often bogged down by inefficiencies – can benefit from AI integration to help automate decision-making processes as well as human resourcing.
And AI is already making its mark on improving supply chain operations by offering effective solutions. As cited in a recent Research and Markets report, "AI in supply chain management is enabling improved supply chain automation through the use of virtual assistants, which are used both internally (within a given enterprise) as well as between supply chain members, [such as] customer-supplier chains."
AI is poised to change everything from process automation to real-time data visibility and the trade documentation process is one example where it will make a momentous impact. Traditional processes require thousands, if not millions, of data elements in paper documents. These documents are often issued by different companies and manually reviewed in a painfully slow process. To improve this time-consuming step, Standard Chartered teamed up with IBM in 2019 to develop the Trade AI Engine. This enables shipping documents to be converted into digital formats, and through continuous machine learning, data elements are reclassified to further improve accuracy.
As Lisa Robins, Global Head, Transaction Banking at Standard Chartered, explains: "We process more than 36 million pages of trade documents annually, with over 200 million data elements for name capture and processing." Not only does the Trade AI Engine do the heavy lifting for grateful humans overwhelmed by the paperwork, it also "[raises] the bar on our controls environment, further enhancing our ability to play the connector role for our clients by facilitating transactions at pace with the growth of their businesses," she says.
While AI may be a powerful analytical tool, exactly how it extracts and utilises the data is a growing concern. Sometimes, machine learning can use data in a way that unjustly ignores gender and racial minorities – and that troubling issue needs to change. To ensure the use of data analytics and AI adheres to the principles of fairness, ethics and transparency, the Bank is also collaborating with Truera, a California-based start-up, using their model intelligence platform to help identify and eliminate biases in AI-assisted decision-making.
"New developments in analytical technology and expanding usage of data require us to fundamentally rethink how we demonstrate ongoing adherence to our pillars of fairness, ethics, transparency and self-accountability and tackle the issue of unjust bias," says Sam Kumar, Global Head, Analytics and Data Management at Standard Chartered.
Machine learning, when applied ethically, is an efficient way of analysing large amounts of data and identifying patterns and trends to improve performance and risk management. On the flip side, because machine learning models involve complex and automated algorithms, even data scientists can find it hard to explain in detail how decisions are made.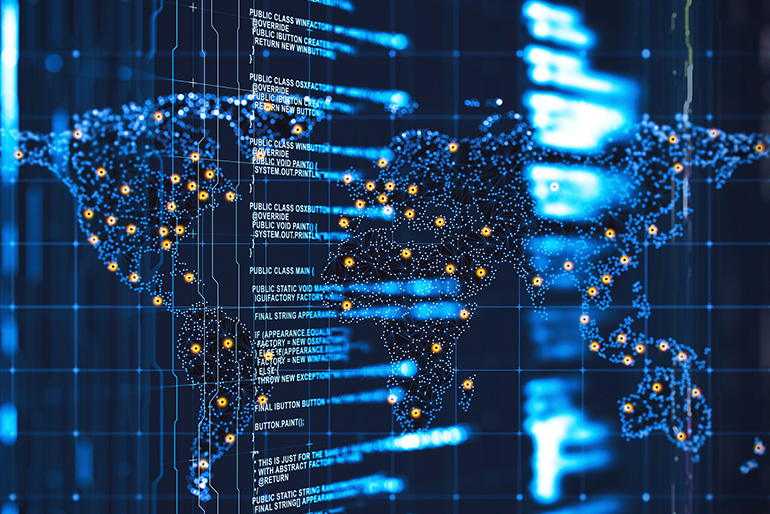 Blockchain: the new kid on the block
We may be living in the 21st century, but many processes within the supply chain remain painfully complicated and slow. For instance, it can take days for a financial transaction to be completed between a customer and a vendor, or a manufacturer and a distributor. This is aggravated by the involvement of third parties, lawyers and bankers, which adds to the transactional delay and increased costs.
Blockchain may be the much-needed answer. This emerging technology replaces the need for third-party institutions by providing trust for financial and contract activities. According to Deloitte's 2020 Global Blockchain Survey, 55 per cent of respondents indicated that blockchain is one of their top-five strategic priorities.
Using the same technology that drives bitcoin and cryptocurrencies, blockchain is more than a hack-proof means of exchanging money. It is essentially a digital ledger. The ledger records transactions in a series of blocks with several copies distributed over a network of computer systems. As it is decentralised, a blockchain ledger does not depend on having a single place for safekeeping. Every time a new transaction happens, a record of that transaction is updated across the blockchain network.
In August 2019, Standard Chartered completed our first joint supply chain financing transaction with Linklogis for Digital Guangdong, a China-based service provider, and its upstream suppliers. Through Linklogis' WeQChain platform, the partnership provided Digital Guangdong with much-needed visibility over its entire supply chain, as well as cheaper and more convenient access to credit for its upstream suppliers.
Digital Guangdong's invoices from its assigned suppliers are digitalised and recorded on WeQChain. The platform then issues a set of e-vouchers which represent the account receivable. Digital Guangdong's first-tier (direct) suppliers can then divide and transfer the e-vouchers to their own suppliers.
Building on the successful collaboration with Linklogis, the Bank will expand this unique solution to benefit more supply chain networks. Supply chain finance programmes often reach only first- or second-tier suppliers. It's the lower-tier suppliers that are typically financed at higher rates, or worse, not at all.
Xie Wen, Head of Commercial Banking China at Standard Chartered, explains how this helps businesses level up: "Our clients today have to compete not just on their individual strength, but also on the combined strength of their ecosystems. Through our cooperation with Linklogis, and by leveraging blockchain technology, we will be able to offer our clients a distinct service to empower their ecosystems."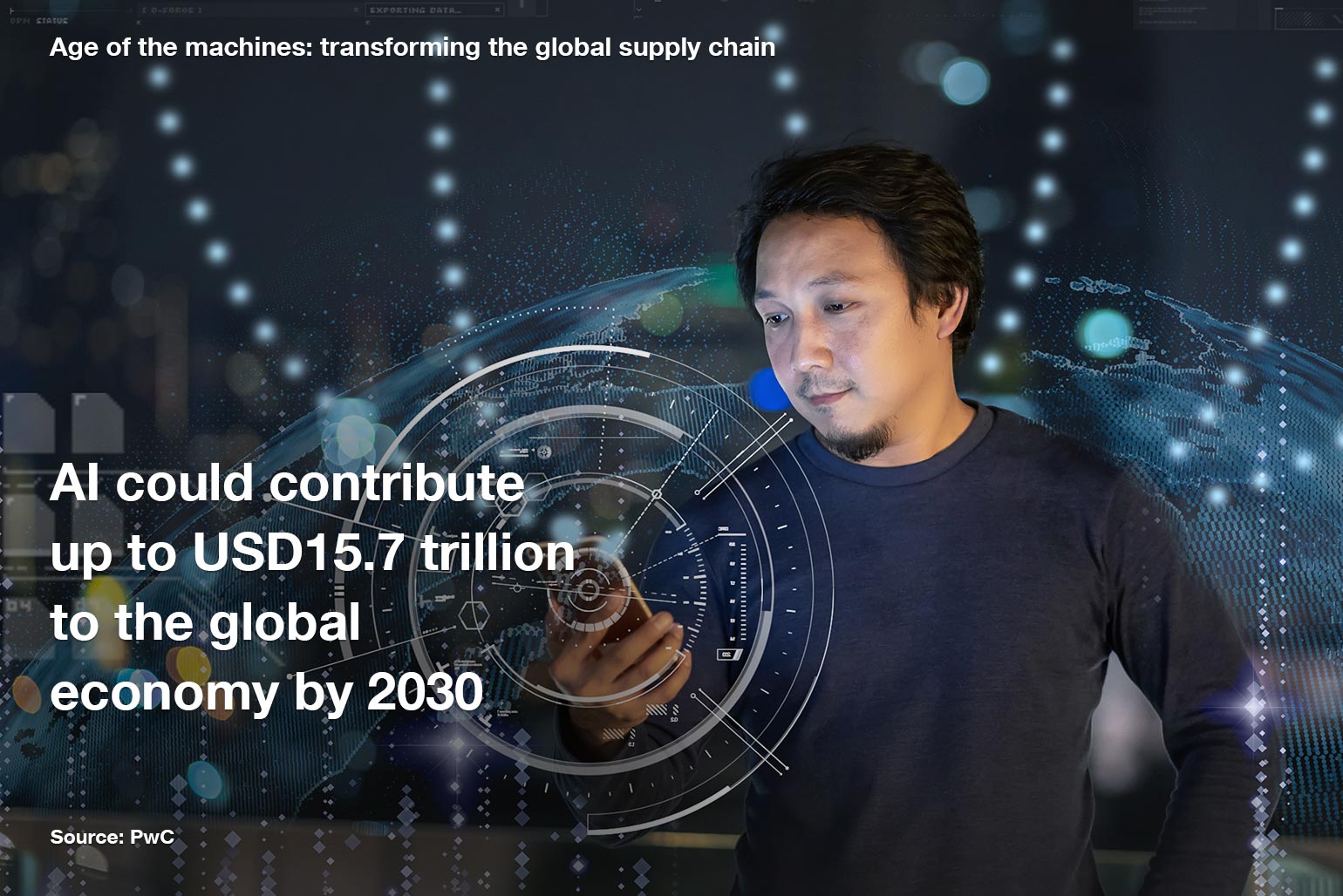 The future is now
For supply chains to keep pace with demand for speed and transparency, business leaders need to anticipate how emerging technologies will impact their operations and innovate their approach. From AI analytics to blockchain solutions, keeping ahead of the technology curve also means maintaining a competitive edge. Whether it's driving digital transformations in trade finance or streamlining the supply chain ecosystem, Standard Chartered will continue to innovate our services while working with partners and businesses to build an accessible and more sustainable trade environment.
Find out more about how we are supporting and innovating the global supply chain