You are playing a key role in the LGBT+ space in Standard Chartered. What has inspired you to be so active?
I've been involved in diversity and inclusion, peer counselling, and LGBT+ spaces since I came out in high school, so almost 20 years now (gulp!). When I joined Standard Chartered, I noticed that despite a culture that very openly accepted me as an out and proud gay man, there were still so many people in the closet. I realised that I could work to make a difference in the lives of my colleagues by leading in this space, and as I've connected more and more to colleagues all over the world, my focus has shifted from support just in the US and Americas to global.
What is your vision for colleagues who are part of the LGBT+ employee resource groups/allies/networks here at Standard Chartered? What will this mean and how do you think it will create positive change?
For those who want to be involved and active in our ERGs, I think the biggest ask is to remember that you have the distinct privilege of leading programming and content that helps others feel more supported, included, and welcomed in the workplace. That is a very powerful thing, and something very exciting to be part of. In terms of driving positive change, I think the inherent passion of the teams driving this amazing work, people who do this because they want to and not because they have to, is extremely impactful. That passion inspires others to become passionate, which builds a movement!
Every historically marginalised community needs allies, not just the LGBTQ+ community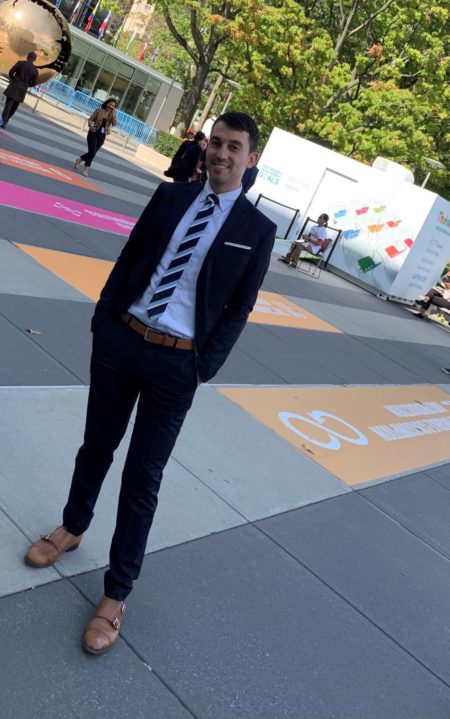 What advice would you give to colleagues who want to be allies, but don't know where to start?
Being an ally is as simple as declaring your intent to be an ally. It's all about identifying your own knowledge gaps, upskilling, being sensitive and considerate, and most of all remembering to be intentional in your support for those to whom you're allied. Every historically marginalised community needs allies, not just the LGBT+ community, and we hope to teach people how to go from being allies to advocates, which is to say, being the voice for those not represented at "the table" until those people get their own seat. I'm confident that in due course, boards, senior management, and organizations up and down the line will start to reflect the beautiful diversity of humanity far more than they do at present.
The theme for this year's IDAHOBIT is 'Together: Supporting, Resisting, Healing' – what does this theme mean to you?
Last year was a challenging year across the globe. From the pandemic to racial justice movements and civil unrest, we are reminded of our simple humanity. We are reminded that together we are stronger than we are divided. We can accomplish more when we support one another. We can resist divisive rhetoric and the marginalization of communities who for too long have faced prejudice and oppression. We can come together, not just to heal from a virus that has devastated our world and our communities, but also heal our souls from the pains the last year has inflicted, which has disproportionately impacted the LGBT+ community and BAME or BIPOC communities. This is in large part why I wanted all our ERGs to come together this year to run a global IDAHOBIT programme to support one another and demonstrate these values and our communal, cross-country support of one another.
Just because someone is different, do not pre-judge them. Get to know them as a human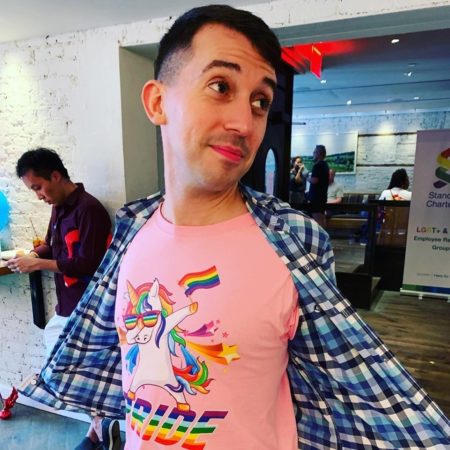 How do you think Standard Chartered supports colleagues who identify as LGBT+?
There are basic things from an HR, policy, and corporate cultural perspective, but what I'm most excited about is the evolution of how SC is considering its support of the community. From including gender neutral toilets as a requirement in our global design standards to considering expansion of coverage for parental leave for LGBT+ parents, etc., and looking at these things globally and not just in isolated markets.
How could we all better support colleagues who identify as LGBT+?
Be respectful. If you don't know someone's pronouns, ask. Do not assume someone is gay because they are slightly effeminate or because a woman is also an athlete. Just because someone is different, do not pre-judge them. Get to know them as a human. I'd wager (a lot!) that there are more things we all have in common than things that divide us, and getting to know members of the LGBT+ community would be instructive to many that we're not that different. We are multi-faceted and just as human as everyone else. We cut across every race, ethnicity, religion, society and nation, and we represent every gender. We are a cross-section of humanity who just happen to be lesbian, gay, bisexual, transgender, queer, etc.
If you could give one piece of advice to your younger self, what would it be?
Even if your hair all falls out from the stress or turns grey, even if you have to slog the hard yards to make a difference, every ounce of that work is worth it even if you make the world a better place for just one other person. Kindness grows exponentially, so focus on giving back to others and you will never go wrong!