When Ruth Medufia left school set on pursuing a career in metalwork, her family was appalled. Her mother wanted her to become a journalist while her father wanted her to become a soldier.
But a tough economic climate led her to work in her field of choice, part of the construction sector that is burgeoning in Ghana. When her father was laid off from work after the company he was working for was bought out, she needed to help support the family of nine.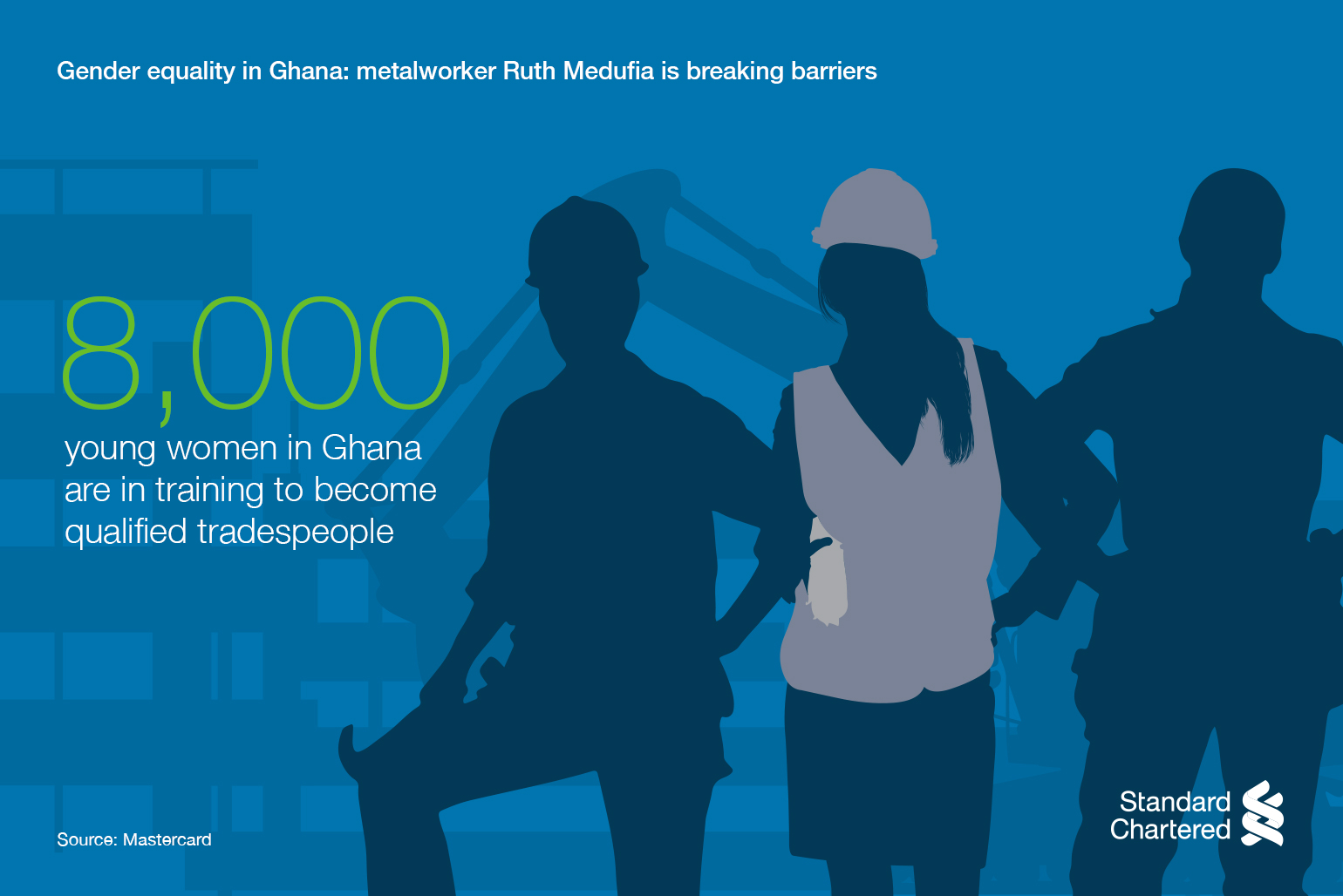 The Ghanaian construction industry is one of the country's growth sectors, looking to create 700,000 jobs by 2020 and in need of at least 60,000 skilled workers. It's tough and challenging for women (and men) in the building industry. But it was an industry that Ruth was intent on joining.
"First, I visited a metal fabrication workshop and told the master craftsman that I want to be a metal fabricator," Ruth recalls. "But because I am a lady he knew I couldn't work as a man is used to working. I told him I could do the work so he should consider me and if I was not able to concentrate on the work, he should drive me away from the workshop."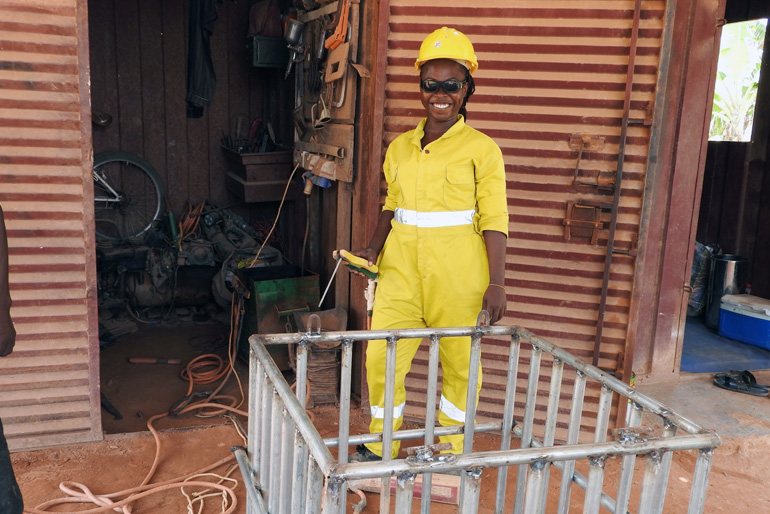 Ruth says she was then taught how to be a metal fabricator and in just two months learnt how to do most of the tasks in the workshop, which even some of the seasoned fabricators were unable to do. "It was an amazing time for me; they now knew I could be a metal fabricator, even though my parents were still not in support."
As she learned her trade, she also heard of a non-governmental organisation called YIEDIE (Youth Inclusive Entrepreneurial Development Initiative for Employment) that was ready to help young people in the construction sector, who helped her set up her business. Part of Mastercard Foundation's Youth Forward Initiative, the organisation is training 23,700 youths, including more than 8,000 women, to become qualified tradespeople.
Today Ruth owns a metal fabrication company and helps other women like her. Her story may well inspire an increase in the number of women in construction. Hopefully it will also increase visibility for gender equality within the building trades. In 2018, the BBC recognised her as one of only two Ghanaian woman on its list of 100 most influential and inspiring women in the world.
This was a turning point. Ruth says that her parents and siblings are now happy about her career choice. In turn, she is excited that her dream has come true. "My family now respect my work. I am also proud of myself too."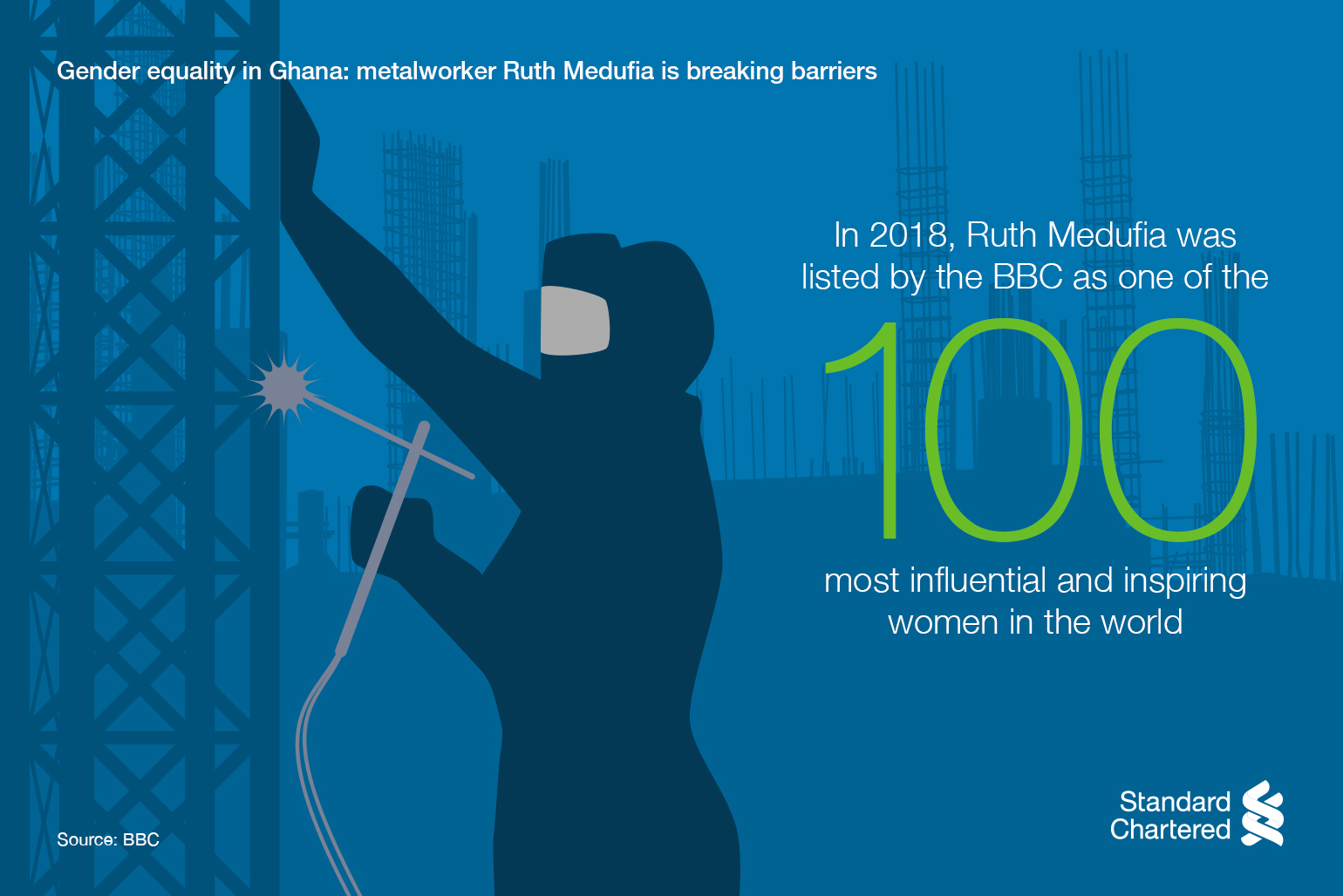 Her inspiring story is not just one that has been heard within Ghana. Invited to speak by the Mastercard Foundation at the Women Deliver 2019 conference in Canada, she shared about the opportunities for Ghanaian women with regards to careers in construction.
Ruth's aim is to help in empowering women and motivating Ghana's younger generation. Her takeaway to women who want to follow in her footsteps is: "Do not underestimate yourself because you are woman. As the saying goes (what men can do, women can do it better)."
Related articles
Find out more about how gender equality is changing the workplace.
Explore how we make a difference