Women in business: why Taiwan is a supportive space for entrepreneurs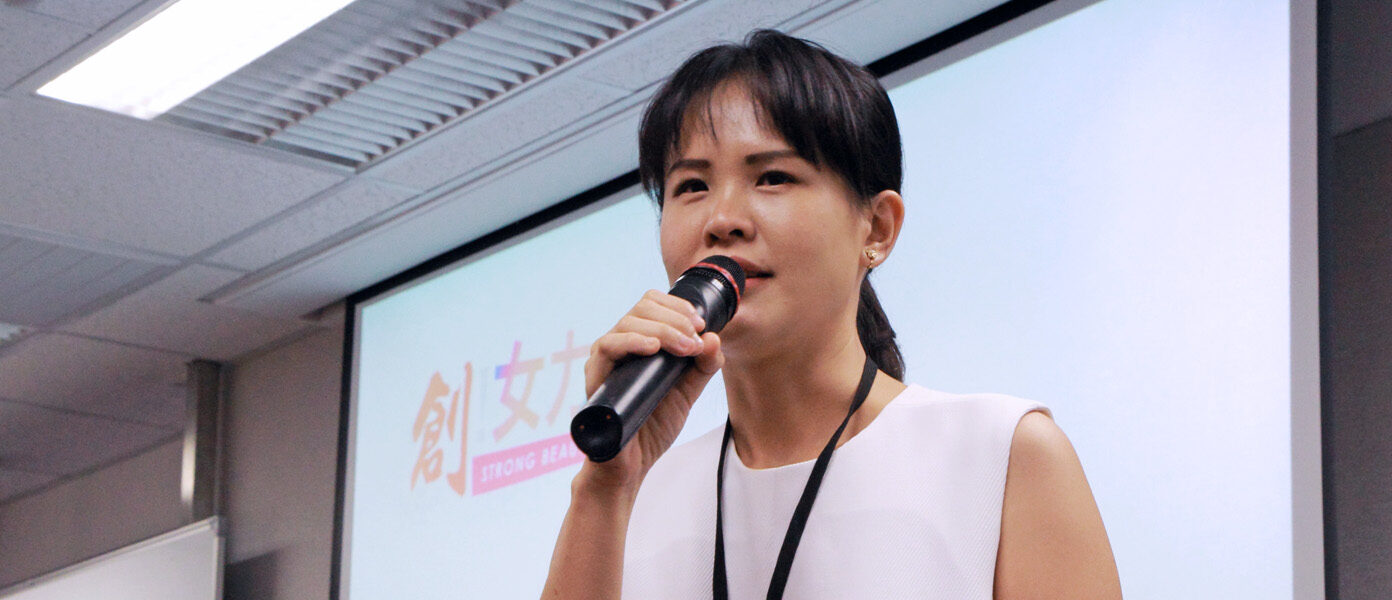 As the number of female entrepreneurs in Taiwan continues to rise — with women making up 20.6 per cent of the country's business owners — Cecily Pan, co-founder of organic skincare brand Inna Organic, describes how Taiwan creates an environment for female entrepreneurship.
The right conditions
Today's increased access to technology, education and disposable income has led women worldwide to lead more independent, empowered lives. Taiwan is no exception.
Cecily credits her exposure to tech entrepreneurship and venture capital fundraising while working as an auditor as the key to her financial strategic approach in growing Inna Organic.
Where Taiwan sets itself apart is in its legal empowerment of women. Ranked as the top country in Asia in giving men and women equal rights, Taiwan is also setting an example when it comes to female political leadership. Women account for nearly 40 per cent of the country's lawmakers and mayors. Their current president, Tsai Ing-wen — the first female to be elected into office — also expressed a commitment to using her platform to empower the women in the country.
Combined, these factors have created an environment for female entrepreneurs in the country to flourish. Women now account for 36.4 per cent of small to medium enterprise owners in Taiwan.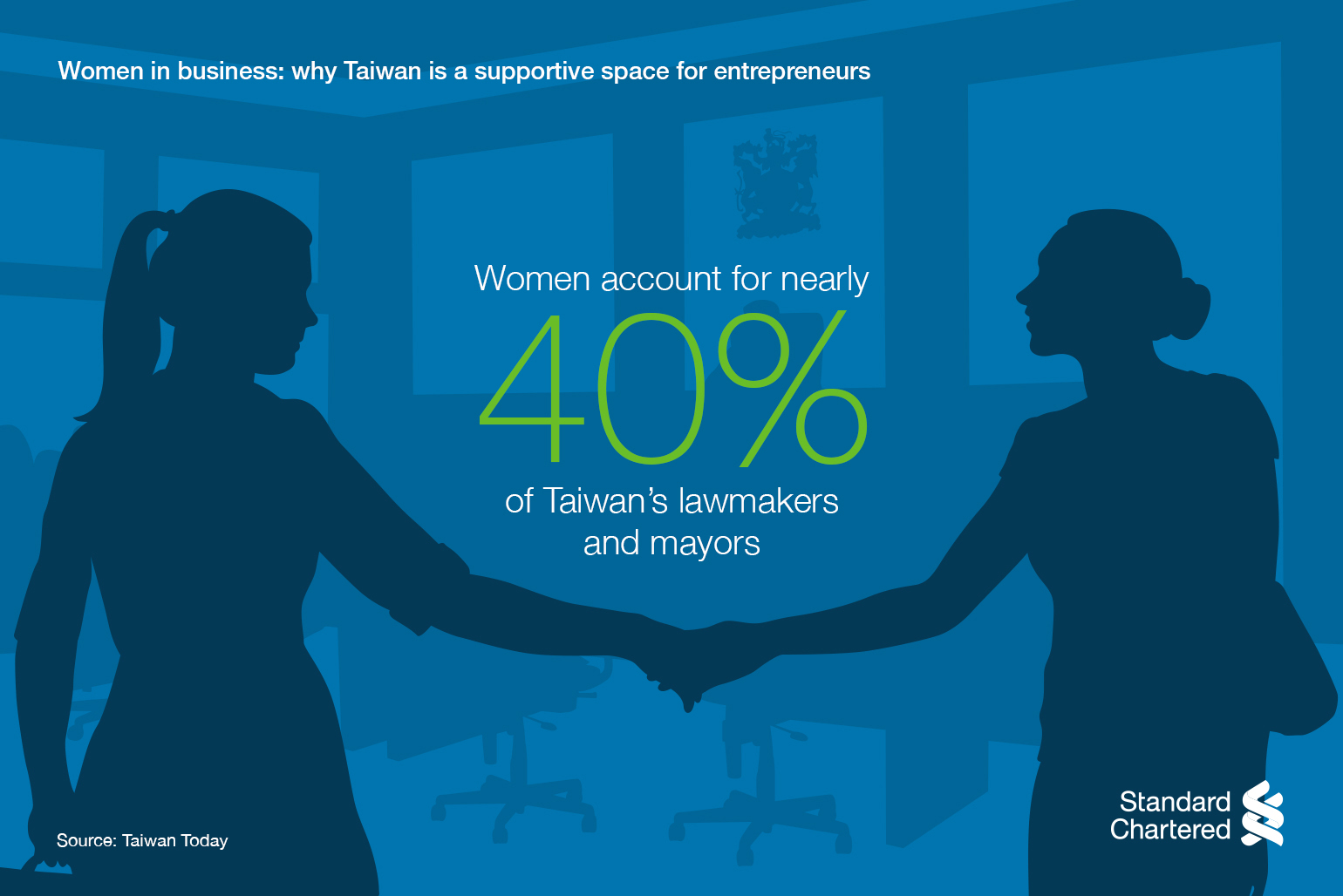 A network of support
For many entrepreneurs, guidance from good mentors is vital for success. "Being able to join networks and meet fellow entrepreneurs who I can turn to for support has been crucial," shares Cecily. While none of the mentors she turned to for advice were women, Cecily eventually had the chance to change this. Her success with Inna Organic led to growing numbers of organisations, including Taiwan's Women Entrepreneurship Program, approaching her for speaking and mentorship opportunities.
Other female-focused support initiatives have also sprung up in recent years, including Chang Shu-mei's Very Mulan, the first venture capital firm in Taiwan dedicated to supporting female entrepreneurs. Very Mulan does this via seed funding and connecting entrepreneurs with relevant mentors.
A government that pledges to lift its women up — and keeps its word
The Small and Medium Enterprise Administration, which operates under Taiwan's Ministry of Economic Affairs, runs a Women Entrepreneurship Program, with whom Cecily is a mentor. The programme offers entrepreneurial courses, operates an accelerator and has held the Women Entrepreneurs competition for the past six years. The impact of the programme is clear: the number of female entrepreneurs in Taiwan increased by 13,781 between 2016 and 2017.
Taipei also held the women's economic empowerment summit in April 2019, where two new US-Taiwan initiatives were also announced. Both leverage bilateral exchange of entrepreneurial expertise and talent flow, to empower female entrepreneurs in each country with the necessary skills and access to knowledge and talent to help them succeed.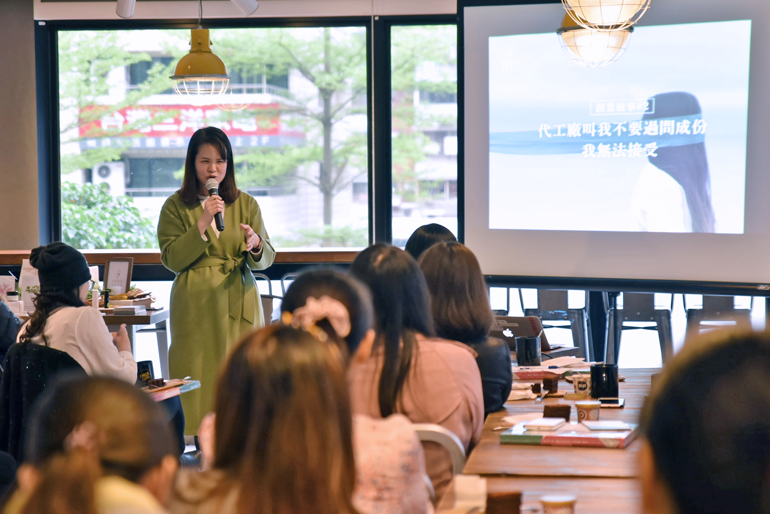 Still miles to go
Although supportive conditions exist, Cecily points out that more progress is still needed. A big hurdle? Gender stereotypes. "Female entrepreneurs definitely still face discrimination," says Cecily. "When I give talks, I often get asked about how I strike a good work-life balance, but I've never heard male entrepreneurs get asked this question."
Another hurdle the mother of two found was inadequate support with childcare. "It's costly to hire help and difficult to successfully ballot a place in public childcare centres," Cecily remarks. "Without good childcare support, returning to the professional world is difficult enough, much less trying to strike it out on your own as an entrepreneur."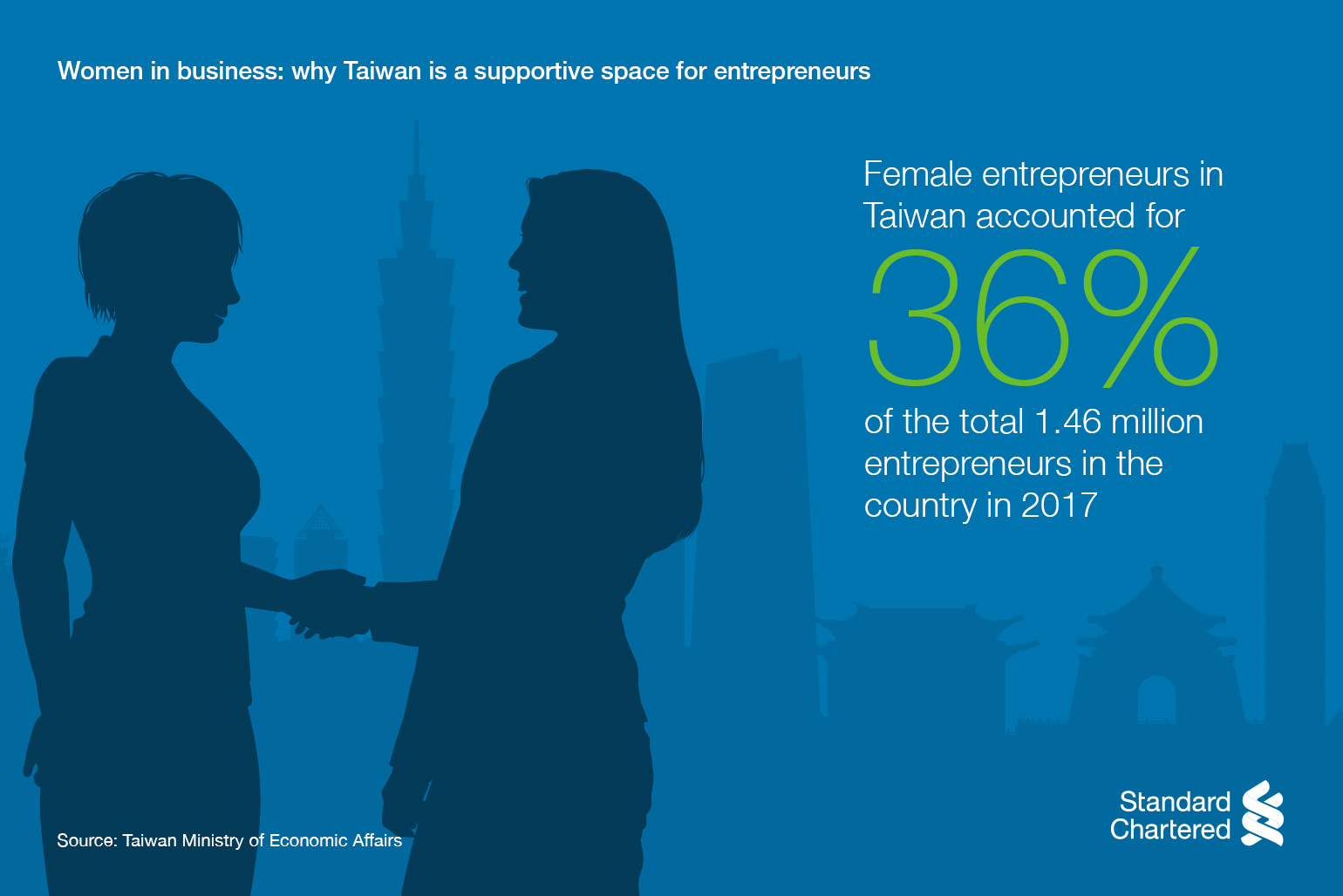 Our dedication to empower and support
At Standard Chartered, we are committed to supporting the work-life needs of our employees. We do this by offering flexible work arrangements and one of the most generous parental leave entitlements in Taiwan for new parents. For three consecutive years, the Ministry of Labour in Taiwan has recognised us with the Work-Life Balance Award. This is one award we intend to keep winning.
Standard Chartered empowers female entrepreneurs through our Women in Tech incubator programme. Launched in October 2014, the programme aligns with calls for diversity in technology and opportunities for women to develop entrepreneurial and leadership expertise by supporting female technology entrepreneurship worldwide. Since its inception, the project has provided 20 women-led businesses with seed funding of a total of US$275,000.
"For me, true gender equality is when we do away with the term 'female entrepreneurship' — nobody ever talks about 'male entrepreneurship'."
Related articles
Find out more about how gender equality is changing the workplace.
The impacts of climate change affect women far more than men.
Women everywhere are pushing boundaries.
Meet the female entrepreneurs uplifting others by delivering Kenyan creativity to the world.
Our Chief Operating Officer for Singapore, Osman Ershad Faiz, shares what it means to support women at the workplace.
Female entrepreneurs in the US own over a third of businesses but receive just 2 per cent of all venture funding.
A better future for women
See how we're tackling gender inequality.
Learn more





Explore how we make a difference
Ship breakingProtecting wildlifeLiving longerGender equality