Osman Ershad Faiz on the importance of mentorship in empowering women
Osman Ershad Faiz grew up inspired by powerful females: his mother Syeda Razia Faiz was the very first woman to become a member of Bangladesh parliament when she was elected to office in 1979.
As a senior leader at Standard Chartered, Osman endeavours to support female colleagues by empowering them through mentorship. He also helps to develop programmes that promote a workplace where women have an equal chance to lead, and the ability to impact meaningful change.
Here, he shares how watching his mother fight to be a representative voice for women in Bangladesh politics continues to inspire his efforts in promoting gender equality at work.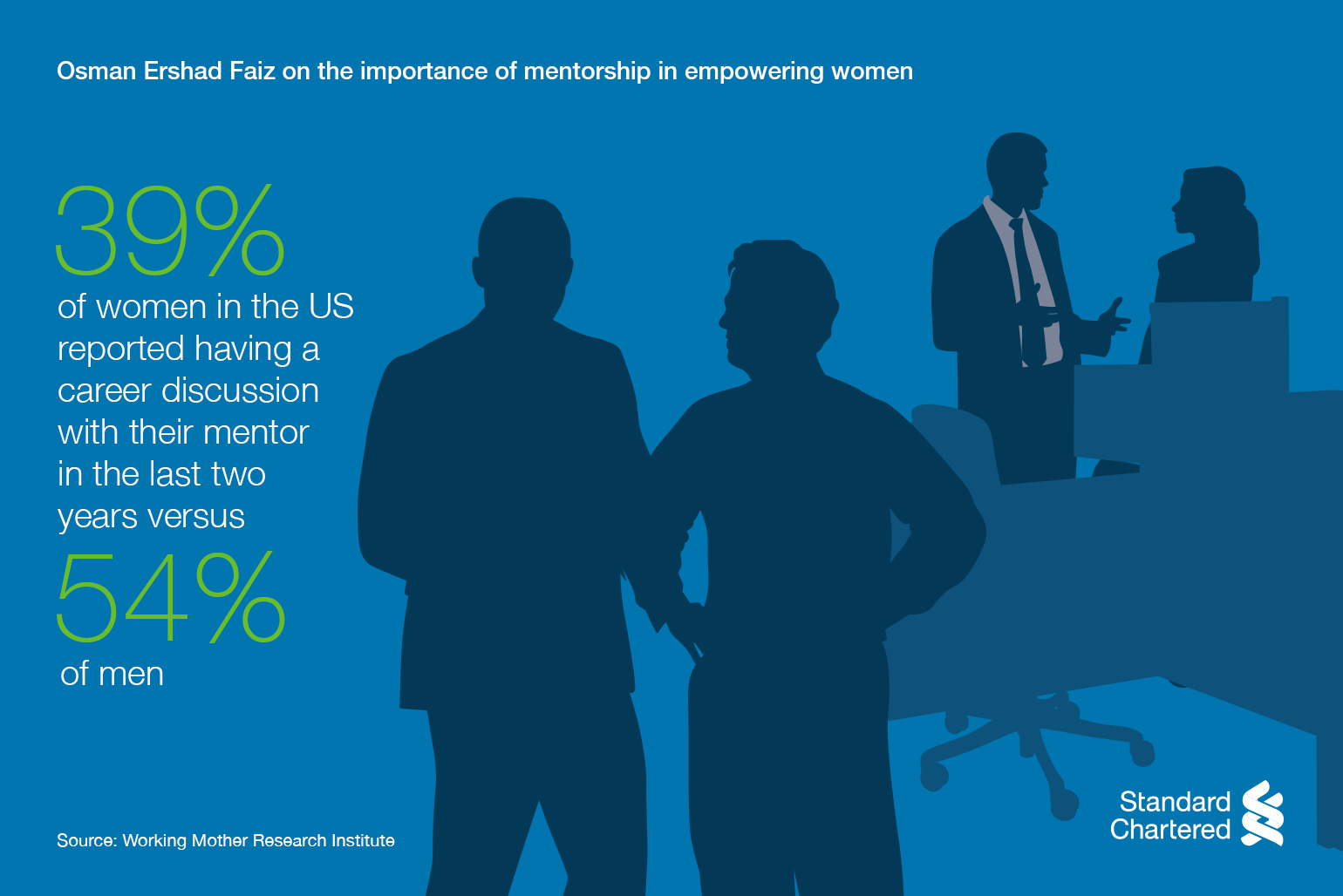 What compelled you to focus on supporting women and their career development in the tech space?
It goes back to the time when I witnessed the struggle my mother faced as she was on her way to become Bangladesh's first female minister. It was tough enough to be a Muslim woman in the 1990s; much more so if you were also a politician and a mother in a patriarchal society. She was the reason why I have been supporting women both in and outside Standard Chartered.
In technology specifically, we don't have enough female representation. Many say it is because men are "naturally" more interested in technology, or even worse, more capable at it. I couldn't disagree more. My mother had been told repeatedly that politics was not meant for women but look how far she made it. For me, supporting women, especially women in technology is me doing my part to make the society we are living in more just and equitable.
You've mentioned before that your advice as a mentor is to "be bold" — what are some of the most transformative changes you've witnessed as a mentor?
Have you heard of the confidence gap between men and women? Many studies have shown that men tend to overestimate their abilities and performance, while women tend to underestimate theirs. I have seen it time and time again in my 25-year career. Many of my female mentees have shared with me that they feel they aren't good enough or ready yet. (I don't think any of my male mentees have said so.)
As such, I have made it a point to always encourage not only my female mentees, but also my female employees to be bold — be it taking on an expanded role, moving to a new country, or even switching to a new function. I have done it enough to know that sometimes all they need is a little encouragement, a little nudge, or a "go-get-it". Visit my team and you will see how many of what I call "superwomen" we have.
Can you share more about the personal growth you've experienced by committing to mentoring?
You would be surprised. As much as people believe mentoring is giving, I too have benefited from it. I play different roles as a mentor: at times I am a coach; at others an advisor; but I am always a listener. And learning comes with every one of these roles.
Through the years, I have learned a lot from the stories, perspectives, values and even struggles that my mentees have shared with me. I have a wife and a daughter — some of the things my mentees shared have helped me be a better husband and a father.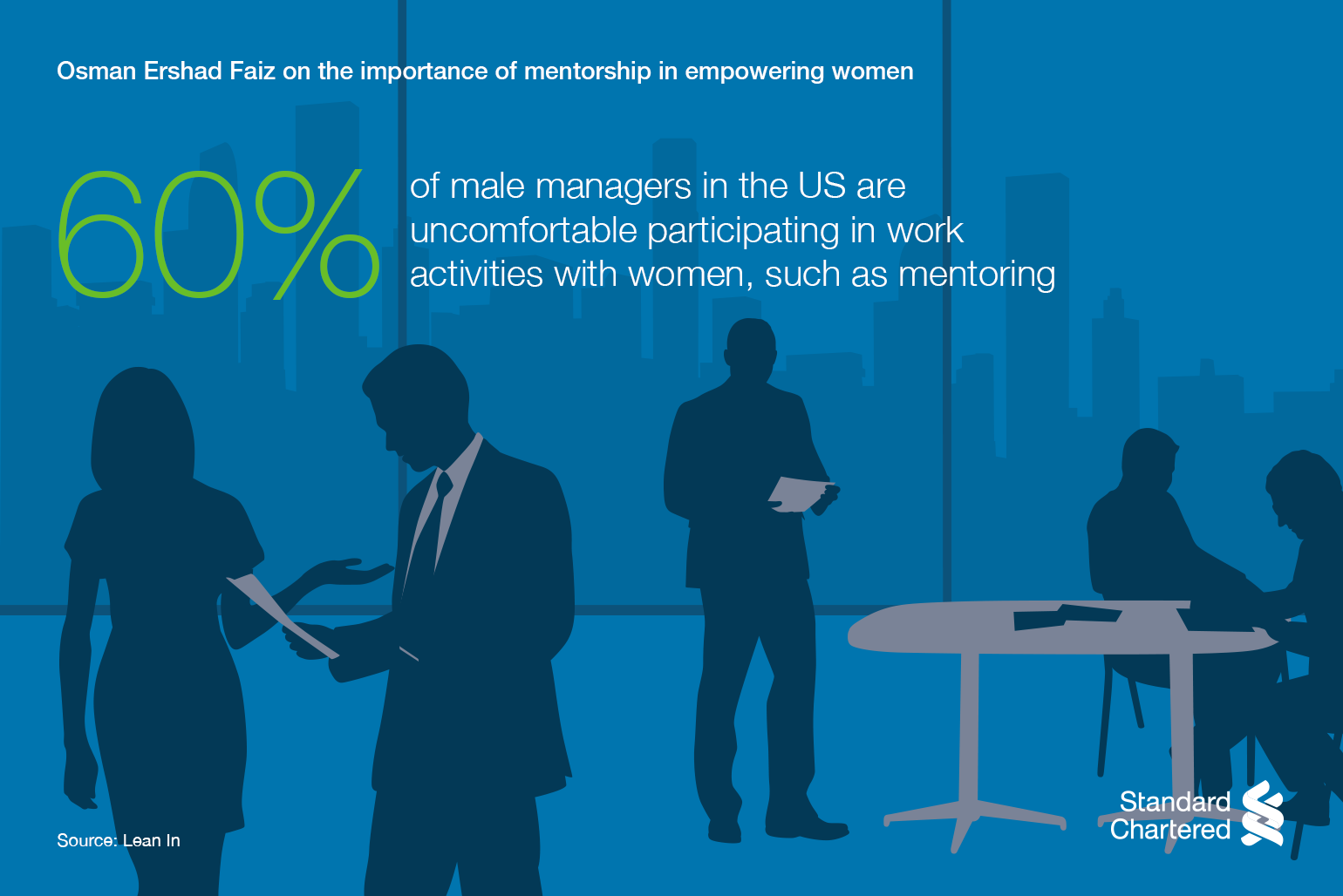 What has made the greatest difference for you during your own career development? Did you have a mentor of your own?
I'm lucky to have met a number of mentors in my career. It is fair to say that without them, I wouldn't be where I am today. That is the power of mentoring. So, mentoring others now, to me, is paying it both forwards and back. Paying it back to those who have helped me, and paying it forwards to those that will benefit from the people I'm helping.
It's worth highlighting that the more senior you get, the more difficult it is to find a mentor. I don't have someone I formally call a mentor, but I have a few people that I always go to for a second opinion or piece of advice. I'm also a firm believer of reverse mentoring. I've got a few younger employees that I consult with for certain topics such as emerging technologies, social media or leading millennials. I find them tremendously helpful.
What changes — big or small — would you like to help bring about in business culture to support gender parity?
I would like to see more women at the decision-making table. This is important not only from the perspective of gender equality but also from the perspective of good business. Therefore, many of my colleagues and I have been doing different things to achieve this. Launching HeForShe, for example, is one of them.
You've spoken about your mother as a strong, inspiring figure — what do you admire about her professionally and personally, and what values did she pass on that inform your sense of purpose today?
Professionally, I admired her ambition to be a game-changer in Bangladesh's politics, which she did. Personally, I loved how selfless and loving she was as a wife and a mother. The one value that runs deep in my family today is to care for others, something that we all have learned from my late mother.
"For me, supporting women, especially women in technology is me doing my part to make the society we are living in more just and equitable."
Related articles
Find out more about how gender equality is changing the workplace.
The impacts of climate change affect women far more than men.
Women everywhere are pushing boundaries.
Meet the female entrepreneurs uplifting others by delivering Kenyan creativity to the world.
Ranking eighth within Asia Pacific in this year's Mastercard Index of Women Entrepreneurs, Taiwan is becoming recognised for its support…
Female entrepreneurs in the US own over a third of businesses but receive just 2 per cent of all venture…
A better future for women
See how we're tackling gender inequality
Learn more





Explore how we make a difference
Ship breakingProtecting wildlifeLiving longerGender equality