About two and half years ago, I realised I had really lost my passion for my job. It was at this time I attended a three-day immersive Tony Robbins coaching event and it was there that I realised my true passion is serving and connecting with people. It was from that moment that I became completely obsessed with coaching and self-improvement.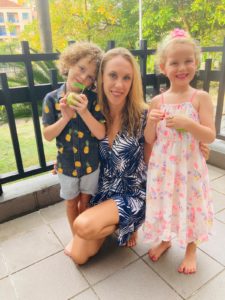 I decided to write to Bill Winters, our CEO, about the course I went on and how I felt that if we truly wanted to change the way we worked and connected as an organisation; we should introduce something similar. It was through this interaction with Bill that I was empowered to volunteer my time to run a coaching experiment, now known as IGNITE. 
IGNITE has grown from 9 coaches and 10 clients in 2019 to 170 coaches in 2021. 
I am 100% certain I wouldn't be where I am today without the support, encouragement and sounding board of my own coach who has continuously given me the confidence and support to keep pursuing my passion for setting up the IGNITE programme. 
I am living proof that with a lot of hard work, believing in yourself and finding passion, anything is possible…. And that's why we are all here today in IGNITE. I built IGNITE as I was and still am - a woman that believes in supporting and lifting others; particularly those looking after kids and running households as I know the tolls are large. Coaching gives them the space to truly explore themselves.
IGNITE fits very well into the IWD theme – 'Choose to Challenge' as the purpose of coaching is to increase the client's self-awareness and clarity about who they are and what they want. Through the coaching process we "challenge" what is underneath the client's iceberg in terms of beliefs and expectations that are stopping them reaching their true potential.
Happy International Women's Day!