School leaver found a route into teaching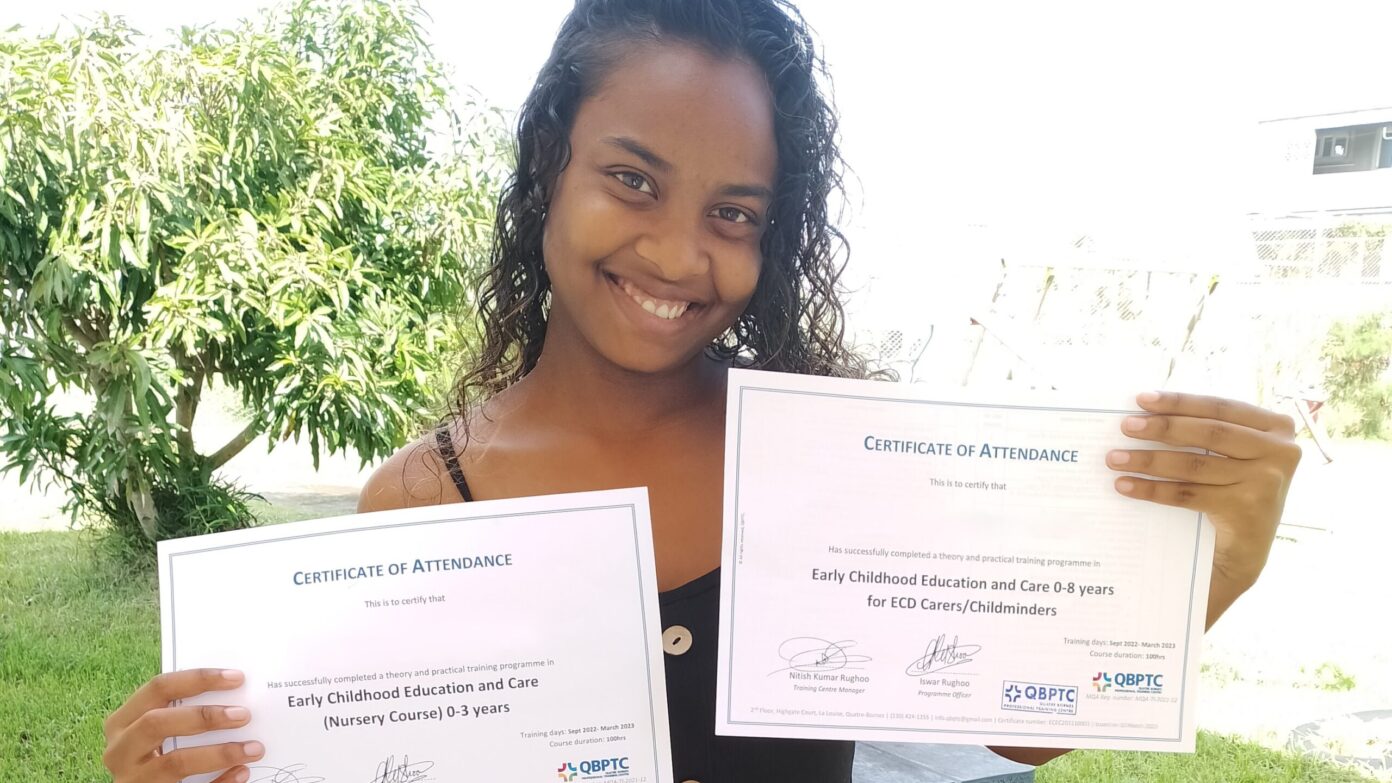 The COVID-19 pandemic devastated 19-year-old Jolie, her two younger siblings and her parents, who live in southwest Mauritius. It forced Jolie to drop out of school. At the same time, her father was injured at work and became unemployed, and her mother could not earn enough as a maid to support the family.
Struggling emotionally, physically and financially, the family turned to SOS Children's Villages Mauritius. SOS works with vulnerable families on the island through family strengthening and youth employability programmes.
Jolie starts on her pathway to success
In August 2022, Jolie joined a Futuremakers project, which addresses barriers to employability experienced by disadvantaged young people. The project supports those aged 16-35, especially young women like Jolie, who have not completed their education, have left school early and cannot access further education or employment.
Jolie said: "I was stressed about the future, but I had the opportunity to connect with SOS and trusted the team who said they could help me. I became involved because I had participated in former youth activities and loved them. I hoped to develop my skills, gain professional experience and give back to my community."
Employability skills build self-confidence
The project provides access to training and activities tailored to individual needs. Jolie is passionate about caring for children and wanted to become a child carer. She received career guidance and support, such as mock interview skills and employability sessions, including group discussions with a psychologist to build her self-esteem.
Jolie enrolled in early learning courses linked with a part-time internship at a kindergarten near her home. The internship gave her hands-on experience in her dream profession, and the opportunity to deliver catch-up lessons to the children. This experience challenged her to overcome her shyness and gave her the confidence to speak in front of a group, a task which she used to find daunting.
The placement ended in March 2023, and the kindergarten has selected Jolie to work there full-time. The mock interview skills she gained from the project helped her feel at ease when interviewing for the permanent role.
Steps closer to a future in teaching
Teaching children is a dream realised for Jolie, whose life has improved both mentally and financially. She is now able to support her parents with their monthly expenses, and they are immensely proud to see her growth. Indeed, she feels so empowered that she wants to develop a business and open a kindergarten of her own in five years.
Today, Jolie is very happy to be able to pursue her dream of becoming a preschool teacher and giving back to society. Envisaging a career in teaching thanks to the project has inspired her to give the following advice to other young people – "never give up on your dreams".
Futuremakers by Standard Chartered
Our global initiative to tackle inequality by promoting greater economic inclusion, supports young people from low-income communities to learn new skills and improve their chances of getting a job or starting their own business.
Since 2019, Futuremakers has reached more than one million young people across 43 markets.
Futuremakers Podcast
How do we support women entrepreneurs to shape a more inclusive, equitable and sustainable future? Listen to our first Futuremakers podcast to get insights from Futuremakers participant Naom Monari and our Global Head of Impact, Natasha Kwakwa. 
Through Futuremakers, we support women-led businesses and invest in young women like Naom to advance innovative, personalised healthcare for home patients in Kenya. 
Lifting Participation
We're determined to transform the lives and communities of people across our markets by unleashing the financial potential of women and small businesses. Between 2019 and 2022, Futuremakers has supported more than 67,000 young women through entrepreneurship projects.
Watch Audrey, a female entrepreneur supported by Futuremakers in Ghana, tell us about her biggest challenges, ultimate goals and lessons learned.