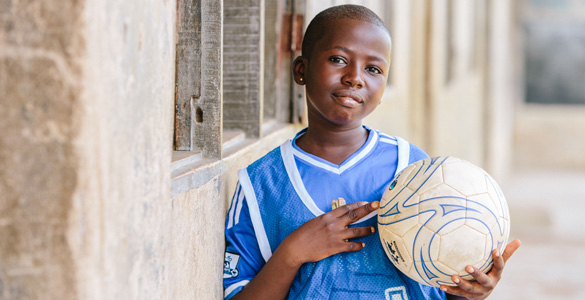 futuremakers by standard chartered > goal

Unleashing the economic potential of girls

Investing in girls can result in increased prosperity and diversity. Futuremakers' Goal programme uses sport, play and life-skills education to transform the lives of adolescent girls across our markets.
Expand
Collapse
About Goal
Goal is the flagship education programme within Futuremakers by Standard Chartered, our global initiative to tackle inequality and promote economic inclusion.
Expand
Goal equips girls with the confidence, knowledge and skills they need to be economic leaders in their families and communities.
Created by Standard Chartered, Goal is designed for girls ages 12-18 who are living in underserved communities and is typically offered on a weekly basis, over the course of ten months.
Since its launch in 2006, Goal has grown into an internationally-recognised global movement operating in more than 20 countries. Implemented by organisations around the world, the programme teaches girls the critical facts about health, communication, rights and managing their personal finances in order to help them transform not just their own lives, but those of their families and  friends.
Between 2006 and 2020, the programme reached more than 646,000 girls and young women. Our target is to reach one million girls between 2006 and 2023.
In response to COVID-19 restrictions, in 2020, Goal replaced its sports-based sessions with a new digital curriculum delivered through phone, messaging, radio and online.
In 2021, we will focus on reaching more girls through Goal.
Expand
Collapse
Why invest in girls?
We know that investing in girls can result in increased prosperity and diversity.  Giving girls the tools to shape their own future has an incredible multiplier effect on communities and societies.
Expand
Women who are more educated are healthier, as are their children, who are more likely to attend school and study.
Gender equality is also critical for economic growth. If countries around the world could achieve gender parity, global annual GDP could increase by as much as $12 trillion by 2025.
Yet in many countries around the world, girls and young women are vulnerable or marginalised due to factors such as a lack of education, cultural bias, gender-based violence and poverty.
Women face most of these issues in adolescence, which limits their potential to learn, earn and grow as individuals.
Goal is our response to these challenges.
The Goal curriculum is available free of charge under a Creative Commons license. It is understood as a guideline and should be adapted to suit local context and need.
The curriculum was designed by Standard Chartered in collaboration with the Population Council.
1. The Goal curriculum (Modules 1 to 4)
This is the original Goal programme. It is divided into four modules focused on one of four key life skills:
BE YOURSELF: Communication, building self-confidence and valuing what it means to 'be a girl'
BE HEALTHY: General health, reproductive health and hygiene
BE EMPOWERED: Rights, freedom from violence, and how to access resources and institutions in the community
BE MONEY SAVVY: Saving, spending, making, storing and borrowing money
2. The Be Independent module
Be Independent is a 12-session module of the Goal programme, which builds on Module 4 (Be Money Savvy) and basic financial literacy by introducing adolescent girls and young women to themes, topics and skills related to entrepreneurship and employability.
BE INDEPENDENT: Entrepreneurship and employability
3. The Goal Events Toolkit
The Goal Events is an events-based version of the Goal programme. Goal Events takes Goal topics and introduces them to adolescent girls through a play-based approach over the course of a one, two or three-day event.
Complete the form below to download the full curriculum