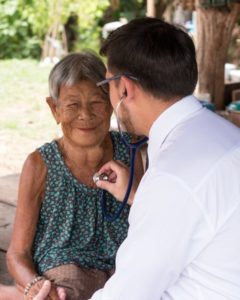 Governments cannot afford to pay for universal health coverage, meaning the role of the private sector in funding high-impact healthcare delivery and innovation is becoming more important. At the same time, though, the social goals of improving access and awareness, while maintaining quality, are also acute.
Healthcare is therefore a key focus for those in the Asia-Pacific region who are seeking investments with a beneficial social impact and the prospect of a good return. On the one hand, the need to provide access to healthcare services in the region is urgent and requires intellectual, human and financial capital. On the other, it is a non-cyclical business with steadily rising demand in which innovative breakthroughs – whether in terms of technology, systems, financing or delivery methods – have the potential to yield impressive results.
Such is the theory, anyway. A panel at the 2018 AVPN Conference whether the idea could work in practice, focusing on healthcare systems, delivery and financing, and whether investments could return the holy grail of high social impact and above-average returns.
A focus in Asia
The potential scale of the sector underlines the size of the opportunity. Speaking on the panel Abrar Mir, Managing Partner at Quadria Capital, a healthcare-focused private equity fund, pointed out that in the next 10 years, healthcare spending in Asia is expected to rise from USD1.3 trillion to USD4.3 trillion, or larger than the current healthcare spending of the US and Europe combined. And as mentioned, growth is being driven by secular, irreversible megatrends like demographics, rising affluence and a changing disease burden, not short-term cyclical factors.
Recognising the challenge and the opportunity to make high-impact investments, it's no wonder that healthcare is a major focus for socially responsible investment (SRI) in Asia. New research commissioned by Standard Chartered finds that healthcare is the second most common sector for SRI across all four markets surveyed, after environment-focused initiatives.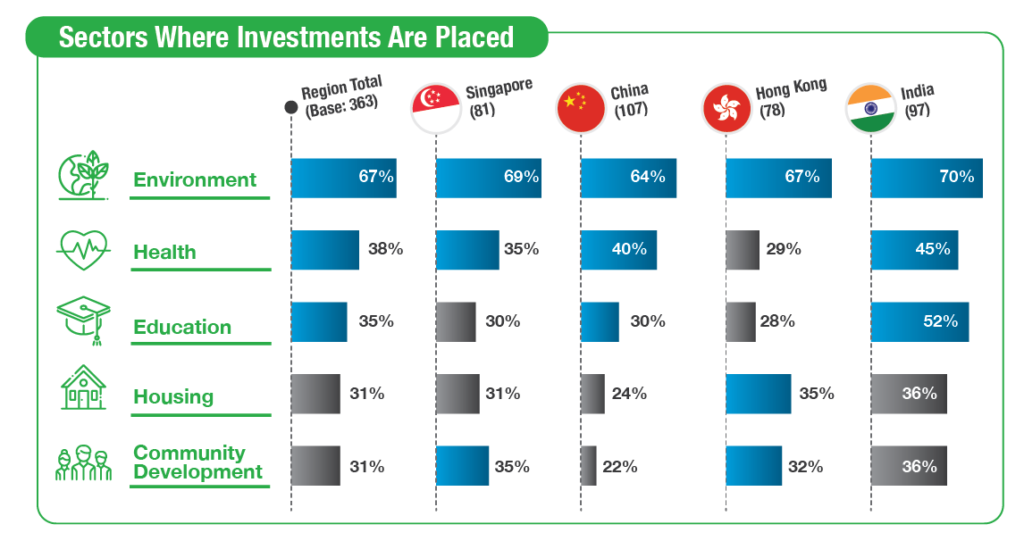 Squaring social impact with ROI
The survey also found that among investors in these markets, by far the largest proportion – 70% - could be categorized as "value seekers", who want to combine social impact with financial return. Speaking on the AVPN panel Eugenia Koh, Head of Impact Investing and Strategic Engagements at Standard Chartered, put it this way: "While from an investor perspective what matters is driving returns, what's also important is transparency in impact reporting – it's the number-one means to increase allocation to healthcare impact investing."
Investors focused on the twin goals of social impact and financial return need to evaluate opportunities carefully, since the two do not necessarily go hand in hand. The AVPN panel chair, Chang Liu, Managing Director for Singapore, Mainland China, and Hong Kong for ACCESS Health International, pointed out that despite 1 out of every 3 renminbi in Chinese private equity going to healthcare, a lot of the projects that received investment such as luxury hospitals or retirement villages for the wealthy did little to tackle the problems of access, affordability, or quality in healthcare delivery.
Krishna Udayakumar, Director of the Global Health Innovation Center at Duke Health, expressed similar reservations. For any healthcare investment, more emphasis should be placed on discipline in reporting impact metrics rather than just tracking the numbers of people treated. "Are you reaching a target population? Are you improving disparities?" he asked. "You can create a profitable healthcare enterprise that doesn't reach populations and improve outcomes." This puts the onus on investors to be careful and, as Koh suggested, look for transparency in impact reporting.
While from an investor perspective what matters is driving returns, what's also important is transparency in impact reporting – it's the number-one means to increase allocation to healthcare impact investing.
Investible innovations
The fact that the bulk of the need for healthcare investment will be among the poor is no barrier to achieving both social impact and financial return, according to Mir, who compared the business potential of such solutions to low-cost aviation and noted the profitability of budget carriers in a highly competitive market. The same profitability can be achieved in healthcare solutions if a suitably innovative approach is taken to their delivery.
Innovation is needed at every level, from business models to administration to systems of delivery. For instance, the first step to marrying broad social healthcare aims to financial goals, Duke Health's Udayakumar noted, is to change incentives from pay-per-treatment to rewards based around maintaining the health of populations. Then there is the need to rethink the way in which healthcare is delivered, including through technological innovations. "You won't solve healthcare challenges in Asia by simply building hospitals and training doctors," Udaykumar noted. "Start with the person holding a phone and try to deliver everything through that."
Ecosystem approach
LM Singh, head of USAID urban health private sector PAHAL initiative in India and CEO, Ajooni Impact Investments, shared that social entrepreneurs take disproportionate risk to create market-based enterprises that can serve the base of pyramid population. The benefit of synergies is lost due to different stakeholders working in silos, leading to high mortality rate among social enterprises. A holistic ecosystem approach is needed to align and engage with donors, impact investors, governments, policy makers and academia to build on each other's efforts to create impact at scale.
Singh also added that the amount of impact investment capital currently pales in comparison to mainstream capital. The true potential of impact investing in healthcare will be realised when a higher proportion of social enterprises succeed and a USD250 billion global impact investment industry can unlock USD2.5 trillion of mainstream private equity capital for enterprises to scale and meet the needs of the underserved.
Informed investing
The Standard Chartered research found that despite investors' willingness to combine social impact with financial returns, they often lack information about how to do so effectively – which leads to skepticism in some quarters that the two can be combined.
"We see a disconnect with individual investors," Koh said. "While investors are keen to invest in healthcare, they don't understand that impact investing in the healthcare space can deliver both returns and social impact. There is willing capital out there but the awareness gap is the top barrier to impact investing. We need to bridge that, not just among clients but also our frontline bankers: in Standard Chartered Private Bank we have an academy that educates bankers in sustainable investing."
The key to moving from philanthropy to impact investing is getting credible and clear information on both the financial and social returns. "From an investor perspective what's lacking is knowledge," Koh said. "We need to debunk misconceptions around it: we know it's not hype that you can deliver superior returns and drive social impact. If we're not speaking about it in a concise way and demonstrating a track record of returns we won't bring it from the niche to mainstream. Everyone needs to work together to achieve that."