Euromoney Conferences 2019
The Euromoney Conferences are a leading platform for sharing the latest trends in global financial markets and exchanging ideas.
The conferences have been hosted in over 60 countries and attract the most senior figures from business, finance and government.
Standard Chartered is proud to be a key sponsor and contributor to these events around the world.
IMN's Annual Asian Structured Credit Summit 2019
Macau
16 – 17 January 2020
Standard Chartered is proud to be the lead sponsor of IMN's Annual Asian Structured Credit Summit. Now in its second year, the summit will once again serve as the premier forum for Pacific Rim based investors to meet with both local and overseas issuers of many forms of structured credit including collateralised loan obligations (CLOs), covered bonds and asset backed securities.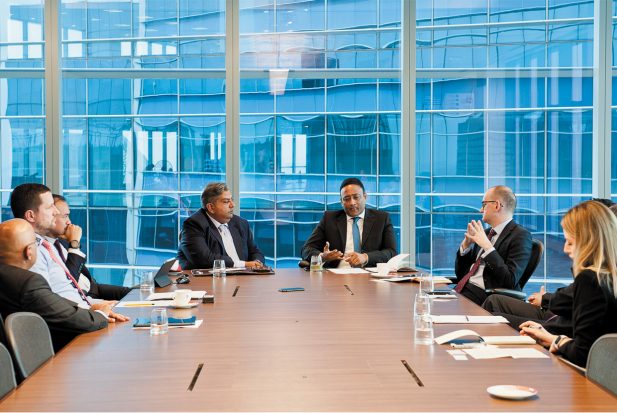 The summit features keynote speaker, Anthony Neoh, former chief advisor of the China Securities Regulatory Commission, chair of the risk committee of the board for the Industrial and Commercial Bank of China (ICBC) and chairman of the Independent Police Complaints Council (IPCC).
The keynote will discuss the impact of unrest in Hong Kong on market behaviour and international perception, the development of offshore and onshore securitisation markets related to Chinese receivables and the legislative and regulatory environment in Hong Kong and China.
The program will also cover a range of structured credit product developments in Asia and the Pacific Rim such as the Chinese asset-backed security (ABS) market, Asia Pacific covered bonds markets, and Australian/New Zealand ABS markets. Conversely, the summit will also feature the latest U.S. and European ABS and mortgage-backed securities (MBS), their CLO product offerings, as well as Canadian covered bonds.
The program is written in consultation with the Asian Structured Credit Summit Leaders' Forum, their Honoured Members who serve as key advisors on speaker nominations, topic selection and overall program direction - ensuring that content is both timely and relevant to the industry.
Global Borrowers and Bond Investors Forum
London, UK
18 - 19 June 2019
Described as 'the premier deal-making event for high-grade debt capital markets', the two-day event featured a topical Q&A with the Minister of Finance and Economy of Italy and a raft of discussions on hot topics like green bonds, Socially Responsible Investing and Provident Fund investment strategies.
Standard Chartered participated in the panel discussions focusing on Middle East sovereign and non-sovereign issuers.
The Sustainable and Responsible Capital Markets Forum Asia
Hong Kong 
25 June 2019
To meet the goals set out in the 2016 Paris Agreement, $6.9tr of investment a year is needed for the next 11 years. Investors and issuers across the region came together to discuss what's holding investors back and how to stimulate adoption.
Standard Chartered participated in two panel sessions. The first was a look at how banks, central banks and governments can work together to drive sustainable finance forward. The second discussed how finance can help to heal the blue economy. 
The Global Borrowers & Investors Forum - Asia 2019
Singapore
3 September 2019
The Global Borrowers & Investors Forum - Asia 2019 came to a successful close on 3 September 2019, with 350 business leaders, investors, and corporates in attendance. The event opened with Mr Loh Boon Chye, Chief Executive Officer of the Singapore Exchange, delivering the keynote speech.
Attendees discussed the latest issues facing the growing bond markets across Asia-Pacific, and dived into the specifics of green bonds, high-yield bonds and China-related bonds. The future of Asian bonds was hotly debated – in particular whether the current passivity in the market is expected to last. With trade-war implications constantly being raised, the challenge now is differentiating between general market sentiment and true impact on fundamentals, speakers concluded.
On the topic of trade wars, participants concurred that the ASEAN market is generally seeing little impact. Indeed, this region is currently seeing high-yield opportunities for bond investors – with low growth, low inflation and supportive central banks providing a strong backdrop. H1 2019 was a record period for Asian high yield – with primary issuances up 122 per cent year-on-year. As a result, Asian high-yield has now overtaken European in terms of debt outstanding.
Global SSAs were also up for discussion. Speakers shared their insights on what investors should expect in the near term – highlighting potential for growth and a recent uptick in investor interest in the Asia region. Yet for a more developed market to arise, SSAs need a framework for sustainable instruments to be set.
China was of course another central point of discussion. Participants compared the development of both the onshore and offshore markets, with the latter growing steadily, but still very much eclipsed by the onshore market. Both were noted for different merits – offshore markets provide more liquidity and transparency, while onshore provides more tactical trading opportunities at present. Regardless, both are becoming more integrated with each other – particularly with regards to foreign and domestic-China trading practices.
Other points of interest amongst attendees included sustainable financing, an outlook on the European economy and potential bond market impacts, and the development of the APAC securitisation market.