Teamwork and creativity learned through one of our Futuremakers entrepreneurship programmes have inspired a team of young finance students led by Wu (pictured above) to develop a sticky label for people with visual impairment that could prevent medicine mix-ups.
Wu is a 21-year-old ethnic Tujia studying at Southwest Minzu University in China. He developed a keen interest in entrepreneurship after enrolling three years ago and his passion is being further nurtured by our Futuremakers programme, Entrepreneurs for Growth.
The idea 
The Entrepreneurs for Growth programme works with local community partner Enactus to provide young people like Wu with opportunities to develop the skills and ideas needed to start new businesses. The labelling project that Wu led won first place in the national 2019 Entrepreneurship for Growth Competition, which became a Futuremakers programme in China this year.
The idea for the winning project came about after Wu discovered that millions of Chinese people have sight issues. He and his team started to research the lives of visually impaired people and, during a visit to a friend with sight issues, they discovered that he could only recognise medicine bottles based on their sequence on the shelf.
Wu said: "I was shocked. I thought, what if you mixed up the sequence accidentally. My team started to think, is there a simple, effective way to help blind people identify objects in front of them?"
The next step
The team applied the problem-solving and analytical skills they'd learned on the programme to develop labels with braille that could be stuck on everyday items in the home.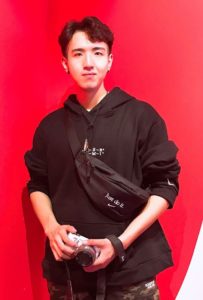 Wu explained: "The biggest problem was finding the right material. None of us has a technical background, but we didn't give up. We asked our teachers for help and finally developed the product successfully. I also learned a lot from the Standard Chartered employees who volunteer their time to advise and guide us as part of the programme, and from other industries in the competition."
With his award win and a wealth of new skills and experiences, Wu is confident that he will achieve his ambition to work in Shanghai's financial hub within five years.
And Futuremakers' impact on Wu's life continues. He has since used his skills to choose a product for his uncle's winery by analysing target customers and mapping different packages to different customer groups.
"I don't have exact experience in that industry, but I realised I can understand the business operation by applying what I learned from the programme," added Wu. "It has opened up many new opportunities for me. With Futuremakers, we can raise people's awareness and advocate for social issues to unlock more resources from the community to solve issues."
What is Futuremakers and Entrepreneurs for Growth? 
Entrepreneurs for Growth is an employability programme for young people. It is part of Futuremakers by Standard Chartered, our global initiative to tackle inequality by empowering the next generation to learn, earn and grow. 
More Futuremakers stories...