Training reignites entrepreneur's ambition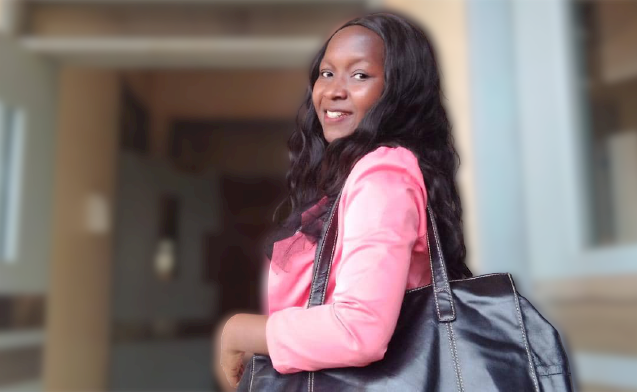 Rebecca, who lives in northern Uganda, is the first-born child of eight children. When her parents separated, her mum could only find insecure jobs to support the family. Her mum dropped out of school due to political instability leaving behind a skills gap that limited her employment options.
From her mum's early life experience, Rebecca learned the value of educating and empowering girls. She was inspired to set up a social enterprise called Shetechtive Uganda in November 2020. It trains girls and young women in technology skills that make them valuable to employers.
When the COVID-19 pandemic disrupted the education of many girls and young women in Uganda, she stepped in to support them in continuing their studies online by selling study tablets and laptops in instalment plans through Shetechtive Uganda.
Kicking down roadblocks to future growth
The COVID-19 experience also gave Rebecca the idea of creating an e-learning module and policy that would shift the Ugandan public school system to e-learning. She solicited support from schools and experts from the Internet Society to help guide the policy document to be submitted to the Ministry of Education. However, she faced several roadblocks familiar to many female entrepreneurs – raising funding, high operational costs, and motivating her team when Shetechtive Uganda had yet to break even.
Rebecca knew she had to tackle these hurdles for the enterprise to survive and thrive, and for her dream to come true. So, she joined the Youth to Work programme delivered by Challenges Uganda and funded by Standard Chartered Foundation.
The programme takes an ecosystem approach based around enterprise placement to strengthen small and medium enterprises' business performance and investment readiness. It prepares unemployed and disadvantaged young people to become work-ready, teaches them in-demand skills and prepares them for work in business or as entrepreneurs.
New skillsets start to make an impact
Rebecca's Youth to Work training involved online sessions focusing on Chartered Management Institute (CMI) modules on data and information use for decision-making and leadership principles. The CMI training equipped Rebecca with the business analysis skills she needed to take her organisation forward, and the leadership and management practices to motivate her team.
Rebecca said: "Through enterprise placement, I gained financial reporting skills that helped Shetechtive Uganda raise funding. I also learned that I need a flat organisational structure. It boosted motivation among staff and volunteers since they all have an active role in problem solving and decision making."
Shetechtive Uganda now has five staff and more than 50 volunteers dedicated to achieving its objectives, and Rebecca feels she is a better leader. She can grow her business more effectively thanks to the programme.
Futuremakers by Standard Chartered
Our global initiative to tackle inequality by promoting greater economic inclusion, supports disadvantaged young people to learn new skills and improve their chances of getting a job or starting their own business.
Since 2019, Futuremakers programmes have reached more than 477,000 young people across 35 markets.
2021 Futuremakers Forum
Successfully held in July with the focus of 'Unleashing the potential of young people to succeed in the future world of work'.
Download the insight papers to learn more about the emerging trends in the labour market and how young people, clients and stakeholders can respond to this rapidly-changing landscape.
COVID-19 Global Charitable Fund
We have raised more than USD57 million for the COVID-19 Global Charitable Fund to safeguard our communities through emergency relief and support vulnerable young people over the course of economic recovery.
Learn more about our funding and its allocation.