SUSTAINABLE INVESTING

Seizing opportunities, making an impact

No matter where your passion lies, we can help identify an investment approach that best translates your personal values into solutions that make a real difference
Future-proofing your portfolios
The decision to invest in companies that incorporate environmental, social and governance (ESG) criteria into their agenda and have sustainable practices can potentially improve the risk assessment and long-term return profile of an investment portfolio.
Sustainable investments can help you capitalise on opportunities that support long term trends such as ageing, rapidly growing populations and resource scarcity.
They also enable you to make a positive impact on the world at large by addressing issues relating to climate change, poverty alleviation, access to quality healthcare and education.
Investment platforms in sustainable investing can range from funds and bonds to private equity and even direct investments.
Continuum of sustainable investing
Sustainable investing is one of the fastest growing areas in both the finance and the social impact sector today. It can be applied to a wide range of asset classes with a variety of approaches – from values based investing to integration of ESG factors and impact investing.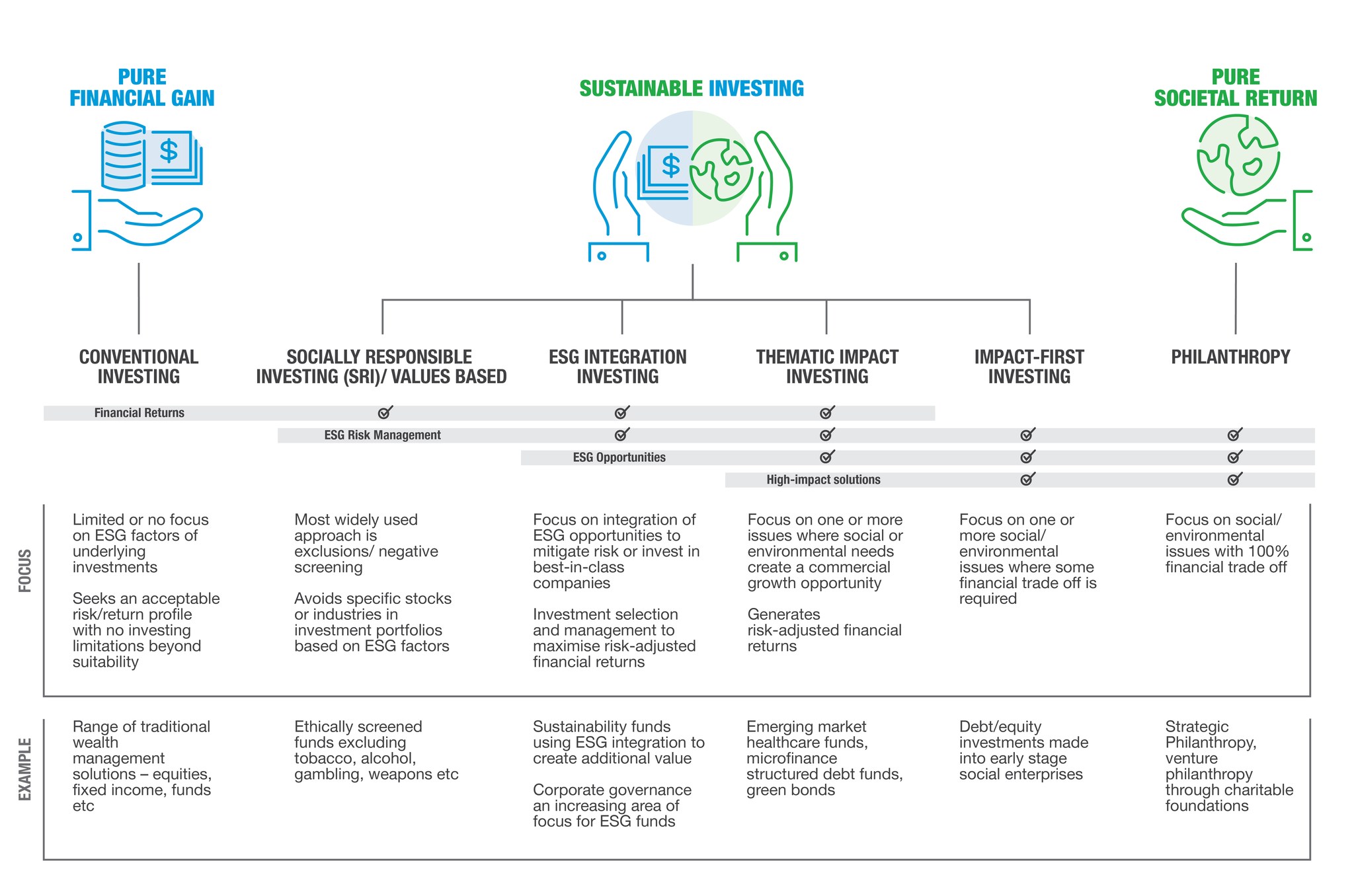 Assessing a company's performance
Sustainable investing goes beyond just doing good. ESG factors can, in fact, be a good longer-term measurement of a company's financial health and its ability to generate returns. For an investor, this means that even if returns with and without ESG factors are similar, applying ESG factors provides yet another risk management lens.
Numerous research and studies have debunked the notion that investors have to sacrifice financial gains to make a positive impact. Comprehensive research conducted in 2015 has demonstrated that sustainable investing is uncorrelated with poor returns*.
* "ESG and financial performance: Aggregated evidence from more than 2000 empirical studies", Journal of Sustainable Finance & Investment, 2015, Vol. 5
It may seem that the "environmental" factor dominates much of the discussion around ESG, but sustainable investing is much more than tackling environmental issues. Many investors are increasingly focused on corporate governance and social factors, and how business ethics and supply chain issues can affect the long-term value of their investments.
"Sustainable investing, when incorporated into a well-defined, long-term investment plan, can be a powerful tool to address some of the world's most pressing challenges, while allowing you to achieve your personal financial goals."
Building a sustainable portfolio
Standard Chartered seeks to be a leading partner in working with you to develop your sustainable investments portfolio. Our open architecture model offers a range of sustainable investing solutions from leading industry providers to help you achieve your goals and align with your personal values. Whether you are exploring investments in mutual funds, bonds, structured products, discretionary portfolios or bespoke investments, contact us to find out how we can work together to make a difference.
Let us together build a more sustainable future for the next generation.
Marketing Materials
General Disclaimer
Standard Chartered Private Bank is the private banking division of Standard Chartered Bank ("SCB"). Private banking activities may be carried out internationally by different SCB legal entities and affiliates according to local regulatory requirements. Not all products and services are provided by all SCB branches, subsidiaries and affiliates. Some of the SCB entities and affiliates only act as representatives of Standard Chartered Private Bank, and may not be able to offer products and services, or offer advice to clients. They serve as points of contact only.
Standard Chartered Bank is incorporated in England with limited liability by Royal Charter 1853 Reference Number ZC18.The Principal Office of the Company is situated in England at 1 Basinghall Avenue, London, EC2V 5DD. Standard Chartered Bank is authorised by the Prudential Regulation Authority and regulated by the Financial Conduct Authority and Prudential Regulation Authority.
The marketing and sale of the products and services detailed in this presentation may not be permitted in some countries under local laws. This document does not constitute an offer, solicitation or invitation to transact business in any country where the marketing or sale of these products and services would not be permitted under local laws. If you are resident or domiciled in countries where fiscal or exchange control regulations may impinge on foreign or offshore investments, you should seek advice before proceeding.
With any investment the value may fall as well as rise and in some circumstances you may not get back the full amount invested. You are not certain to make a profit, and may lose money or make a loss. Changes in rates may cause the value of investments to go up or down. Past performance should not be seen as an indication of future performance. The level, rates and bases of, and reliefs from, taxation are those currently available and may change in the future.
This document does not purport to disclose all of the risks associated with any investment products. In relation to the products and services detailed in this presentation, additional Terms and Conditions may apply. You should obtain details of these Terms and Conditions before proceeding. You should make your own legal and tax determination (including any applicable exchange control regulations) on investment products and should consider carefully whether the investment product(s) are suitable for you in light of your personal risk appetite, liquidity requirement and return objectives (including the legal and tax regimes in your countries of citizenship, residence and/or domicile). You may wish to seek independent professional advice before making a commitment to invest in the investment product(s). In the event that you choose not to seek independent professional advice, you should consider whether the investment product is suitable for you.